What Makes Slots the Universally Favourite Game at Online Casinos?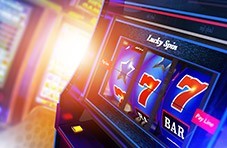 New Zealanders, or Kiwis as they like to call themselves, love to play slots over all the other casino games.  They may not be as devoted to slots as Aussies are to pokies but it's a close "race" of sorts.  So, especially for our gamers from New Zealand who have made Springbok Casino the online casino for New Zealand, we will do a quick review of the many different kinds of slots available here at Springbok and some of the characteristics of many of our Real Time Gaming slots.
How Many Reels Does it Have?
The first slot machines had three mechanical reels.  You pulled the arm and the reels spun around until they stopped.  You had one winning line.  A lot of players still like playing these three reel slots and at Springbok we have six three reel slots, in order to accomodate these players.
Nowadays, even three reel slots can have multiple paylines.  Double Ya Luck and The Three Stooges II have three paylines; Jumping Beans and Santastic have five paylines; and Scuba Fishing has fully 27 paylines.
In addition, four of our three reel slots have local progressive jackpots that add a lot of excitement to every spin.
We carry about 100 five reel slots and 4 six reel slots.  In the five reel slots, the number of paylines usually varies from 20 to 50.  There are a few five reel slots with 80-100 paylines and a few with 243 ways to win.  The big slots in terms of ways to win are Fucanglong and Panda's Magic with 1024 paylines. 
It's important to understand the amazing benefit of 1024 ways to win slots.  This means that in any left to right combination of three or more symbols, you'll win.
It was with the newfangled five reel slots that slots entered the modern era of online gaming.  They have wild and scatter symbols and each slot has unique characters that tell a story that keeps your interest even as you hope to get to the free spins bonus round for the biggest wins.
Progressive Slots
Most of the progressive slots we run are locally progressive.  That means that the jackpot increases on bets made at Springbok Casino.  We also run three progressive slots that are network games.  That means that the progressive jackpot increases on every bet on any online casino in that slot, of course.
The big progressive jackpots run into the millions of Rand so a lot of people play them all over the world.  Remember one thing: when you play a progressive jackpot slot with a multi-million Rand jackpot, you have to bet the maximum in order to qualify to win the jackpot.
Wild and Scatter Symbols
Wild symbols substitute for all other symbols except the scatters.  Wild symbols bring many extra benefits to various slots games.
Multipliers.  In many slots, a win created by the wild symbol pays a multiplier.  This is usually 3x the regular payout for that win but the multiplier can go higher.
Multipliers Part 2.  In the bonus rounds, the payout for a win with the wild symbol is usually higher than in the regular game.
Expanding Wilds.  This means that when a wild symbol lands on a reel it expands to fill the entire reel.  It might, in some games, expand to fill a neighboring reel as well.
Stacked Wilds.  This is very similar to the expanding wilds feature.  In this feature, a full reel of wilds is part of the set of symbols so you can get either a single wild or a reel stacked with wilds.
Sticky wilds.  In this feature, the wild symbol stays on the reel for subsequent spins.  It gives you an edge on the next spins and leads to many situations where wilds sit next to each other creating multiple win lines.
Shifting Wilds.  This is a great variation on the sticky wild feature.  The wild symbol remains but it shifts to the right until it "falls off" the reels.
Scatter Symbols
First of all, scatters pay in all positions whilst in regular slots, payouts run from the left-most reel onward.  This single feature adds a lot to the potential for winning at the particular slot.
In some slots, you win with as few as two scatters.
Finally, three or more scatters send you to the free spins bonus round where it's possible to win a lot more.  Free spins rounds usually have extra features that make winning more common.  There might be extra benefits for the wild symbol on the bonus round that don't apply to the regular spins. 
There might be a heightened multiplier in the bonus round.   You can often retrigger the free spins if you get three or more scatters whilst you're taking your free spins.  In short, the scatters and the wild symbols are the symbols that give you some of the biggest wins.
Cascading Reels
This is a great feature that has won big for many lucky gamers.  The basic idea is that the symbols in every winning line cascade off the reels.  New symbols come down to replace them.  As you can imagine, the new symbols might create more wins and trigger the cascade once again. 
In some slots, there is no limit to the number of times a win will trigger the cascading reels feature.  Many gamers have been literally awed by the number of times one win created a wave of cascading reels and he or she ended up with a vastly improved bankroll.
Slots Themes
We have run out of space to go into depth about slots themes.  We will address this amazing topic next time.  For now, we'll leave you with one basic insight about slots themes.  Slots are pure games of chance, imagination, and flights of fancy.  As such, you can play a slot with an outer space theme and then go smoothly to a slot with a summer holiday theme.
The great number of themes coupled with the great number of game features is what makes slots so much fun and entertaining to play.