Should I Bet on Sports?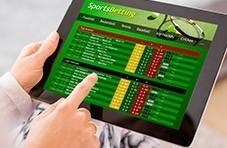 Of course, if you've been paying attention to gambling news, you've heard and read about sports betting in the United States.  Although it's always best to bet on a sport that you know very well, we at Springbok think that it's best to bet on our hundreds of casino games.  Gamers from South Africa, New Zealand, and Australia have discovered the great fun they can have here at Springbok Casino.
Aussies love our large selection of online pokies and everyone in Australia who plays at an Aussie online casino knows about Springbok. 
Sports Betting
This is fast becoming the gambling medium of choice of millennials and many other people in the 21st century.  As outdoors and athletic people, Aussies are especially drawn to sports betting.  In this article, we will tell you a few things about the top four American team sports and we'll tell you why your chances of winning are better at casino games than at sports betting, at least on American sports.
Football
The American football season is nearing its conclusion before the playoffs.  You'll see banner headlines about every big game for the next four weeks followed by the month-long playoffs.  The thing to know is that American football has no real connection to Aussie Rules Football nor does it have any but the most superficial resemblance to rugby.
American football is a start and stop sport of great violence.  The violence often results in severe injuries and can affect the outcome of any game.  This is true of all sports, of course, but the immense level of violence in football makes injuries that much more common.
The American football league is cracking down on concussions.  This season, most concussions come about from heads slamming against the ground.  Players wear helmets that are in fact very protective yet many players get concussions every year and have to sit out the rest of that day's game plus as many as needed until the doctors give him the okay to play.
So, any bet you might make on an American football game is prone to the ravages of injury.
American football is highly tactical.  Teams can advance the ball by running or passing.  In either case, you have men of behemoth size fighting for small advantages of playing field.  A momentary win in the battle of the interior behemoths might result in a large gain in territory or a large loss of territory.
Baseball
This game has very little similarity to cricket despite the presence of a pitcher, a batsman, and defenders.  Haughty Americans claim that any professional baseball team could easily defeat a cricket squad after just a short time practicing and getting to know the game.
Baseball, of all the team sports, is by far the most difficult to win on any given day.  The best player on offence may get four chances to help his team.  Defenses snuff out well hit balls.  In short, a game with 10 runs total, between two teams, is a high scoring game yet to people who understand the game, it's as exciting as a cricket match where one batter reaches a century.  To Americans baseball it's even more exciting.
Teams play baseball almost every day from April to October.  Fatigue can be a big factor in baseball and teams never release information about tired players.  Players get tired from playing every day, travelling across time zones, and the pressure of going from a standing still position to running at full speed in a single instant.
The subtleties in baseball are so numerous that we say that no one who isn't thoroughly familiar with the game should bet on it.
Basketball
American basketball is different than basketball played anywhere else in the world.  American basketball players are taller, quicker, faster, and stronger than their counterparts in any other league in the world.  A player who becomes a star in Europe often could not get a job in the NBA, the top American professional league.
If you're used to watching the lesser leagues play, you'll be shocked by the speed and massive size and strength of American players.  For all their great athletic ability, the bottom half of teams in the NBA rarely beat teams in the top half of the league.  In fact, of all the professional leagues, basketball is the easiest game to win if you're a top team.  That's because the best players play for about 35-40 minutes in a 48-minute game and rest when they get tired.
So, if you want to bet on a straight winner, you'll get very poor odds if you bet on a top team playing a bottom team.
Hockey
Aussies simply have no real sense of what it takes to win at hockey.  Hockey was created in frozen ponds in Canada.  For decades there were no players in the National Hockey League (NHL) from the United States or from Europe - only Canadians.  Today there are many players from both the U.S. and from Europe.  That means that the player pool is far bigger than it was 30 years ago and the game is much faster than it has ever been.
With all the speed in the game, most games revolve around the goaltenders.  These men must face from 25 to 40 shots every night and if they stop 93% of shots, they are considered superstars.  However, if a goalie stops only 91% of all shots against him, he is considered just a run-of-the-mill goalkeeper.
This simple truth makes it very difficult to bet on whether a certain goalie will stop one more shot over the course of 60 minutes of being sniped at by players who can shoot a puck faster than cars travel in urban areas.
Thinking Games
To win by betting on sports takes research, thought, deep analysis, and a full understanding of the game.  We suggest that if you want to bet on sports, stay with Australian sports and leave the other sports to the people who know them well.
If you want to play a thinking man's game, we offer video poker and blackjack.  These great casino games are certainly challenging enough for any gamer.