Why is it Good to See Online Casino Gaming as Entertainment?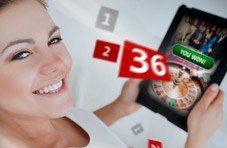 We at Springbok Casino, always encourage our gamers to see online casino gaming as a form of entertainment.  Everyone has their favourite form of entertainment and we would like to create that atmosphere at Springbok: that online gaming is one of your top forms of entertainment.
We know that many people associate online gaming with gambling and certainly there is a gambling element to playing casino games for real money.  Aussies love playing online pokies!  We would like to see Aussies play pokies here at Springbok Aussie online casino as entertainment as well as a gambling activity.
Unlimited Free Play
The first way we try to make online gaming into pure entertainment is by offering unlimited free play.  Many gamers use free play as a way of learning a game that they have never played before.  That is certainly a good strategy: better to play in free play mode than to risk real money on a game you aren't familiar with yet.
Another aspect of playing in our free play mode is that you can play with your significant other or friends.  When you play without placing any bets on the game outcomes, it becomes more than entertainment: it becomes a free pastime. 
What is Entertainment?
We can divide the concept of entertainment into different parts.  First, entertainment keeps our attention.  In this category are hobbies first of all.  Television series that you have to wait a week or even a year to see another episode can also be classified as entertainments because they maintain your attention over long periods of time.
In this sense, casino games are a very important form of entertainment for people who enjoy them.  From one gaming session to the next, there is the anticipation of a few minutes enjoyment even as we are at work, cooking dinner, or otherwise involved in our everyday lives.
A Respite from Everyday Life
Entertainments also take us out of our daily routine.  For that reason, restaurants, movies, and both land based and online casinos provide excellent forms of entertainment.  A restaurant meal is a lot more than just the food.  The atmosphere is important.  The company—meaning who we eat with— is also important.  That's why when we eat alone we either eat at home or at a fast food place.
The price of the meal is part of our entertainment budget.  We could prepare the meal at home for less than the cost of the meal in a restaurant and, in fact, for people who really love cooking preparing a fancy meal at home is more entertaining than eating the same meal in a good restaurant.
Hobbies also take us out of our routines.  Whether our hobby is bird watching, putting puzzles together, or solving logic problems, they all share this one element: we think about the hobby activity more than any other responsibility we might have.  We also budget time for our hobbies. 
In the same vein, we should budget our gaming time.  
Entertainments Make us Smile
The English term "to look forward to" is the perfect term for anticipating an entertaining activity.  When we look forward to something we anticipate it and when we anticipate it, it makes us smile.
No one looks forward to going to the dentist.  We normally don't look forward to flying across the ocean.  We might look forward to getting finished with the dentist and arriving at our far away destination but the trip to the dentist or the flight itself do not put a smile on our face.
Casino gaming should put a smile on our face.  If it doesn't, it's a sure sign that gaming has ceased to be an entertainment. 
One of Many Forms of Entertainment
If we like going to the movies, we are prepared to invest two or more hours regularly on that form of entertainment.  We might feel that online gaming deserves the same level of commitment in time as a movie but it might also deserve somewhat more or somewhat less time.
Playing as entertainment means allowing ourselves to play for the length of time during which we remain happy to be playing.
Modern Day Entertainments
Technology drives the entertainment business these days.  Television, the internet, fast modes of transportation, and money in our pockets make entertainment a major part of our lives.  Even 100 years ago, people worked longer hours and more days per week.  They had less time and less money for entertainment.
Technology also drives the online casino business.  Modern online casinos have to be ready to incorporate new technologies as they come along.  Gamers are always looking for the next exciting innovation so at Springbok we also look every day for the next big technological breakthrough and how we can use it to make our casino games and our players' casino experience better.
What Makes Casino Games Entertaining?
Each game has its unique aspects.  Pokies are far removed from video poker even though both use digital terminals.
Pokies are the quintessential Aussie online casino game.  Players all over the world love pokies as well.  The attraction in pokies is the ability to experience vicariously a time and place far away from where we are in time and space.
Video poker and blackjack present a very different sort of entertainment.  They require decision-making on every hand.  The challenge to make the best decision time and time again is what draws many gamers to these games.
Every casino game appeals to different players.  It is known that at land based casinos, players tend to become rooted in one game.  That's partly because they don't want to give up the game they're playing to try out another game.  Online, this is never a problem.
Online gaming has another element of entertainment that many people overlook: we can play them at our leisure.  When we travel to a land based casino, we have the tendency to play beyond our strength of concentration.  That is, at land based casinos, gaming sometimes segues from fun to a sort of commitment to get the most out of the money we have spent getting there, booking a room, and so on.
In this sense, online gaming can become more a form of entertainment and less a form of gambling.