A Little Slots Trivia Brings Holiday Cheer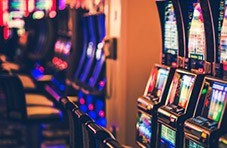 In the interest of bringing some Christmas and Holiday Season cheer to our gamers in "summery" Australia, New Zealand, and South Africa we've chosen to devote this article to slots trivia.
Slots or Pokies
Australians still call these games pokies whilst the rest of the world uses the name slots.  Pokies is a nickname for poker machines which is what the machines were originally called in Australia.  Springbok gamers from Australia call our "slots" online pokies whist in Europe and the Americas, "pokies" are called online slots.
There is some disagreement as to whether there is a singular form for the word pokies.  Some call one game a pokie but others say a pokies.  This is actually similar to the use of slot or slots elsewhere.  Many people sat a slots game whilst others will be more punctilious and will say a slot game.
At Springbok, the top Aussie online casino, we sometimes say pokie and sometimes pokies.  We would love to hear from a linguistics expert to set the record straight once and for all!
Machine or Video Terminal
It is becoming very rare to find a truly old fashioned mechanical pokies machine anywhere.  The old mechanical machines had an arm that players pulled to set the reels reeling.  Thus, a player could actually control the speed with which the reels whirled.  This, of course, had no effect on the outcome of the spin.
The most important point is that until someone pulled the arm, the machine was still.  In video pokies terminals, the Random Number Generator (RNG) runs all the time.  It is designed to stop a very specific length of time after the player clicks on spin.
The RNG is completely digital software.  Even if the pokies has only twelve symbols as is common, the RNG has many more on each reel so you still need a good amount of luck to win consistently.
Big Bertha
The largest mechanical slot is a giant machine called Big Bertha.  The term Bertha in American folklore indicated a very large thing or person.  A book about a famous female hobo of the 1930's in America was called Boxcar Bertha.  The book allegedly chronicles the life of one Bertha Thompson, a hobo, anarchist, and free-thinking woman of the great depression.   Many people felt that the book was actually a work of fiction and that the author used the name Bertha because it evoked size and power.
The German army used a giant howitzer during World War I which the Americans dubbed Big Bertha.
There is a line of golf clubs named Big Bertha.  The idea was to put in the golfer's mind that these clubs would send a golf ball rocketing across the golf course as the Big Bertha howitzer sent shells rocketing across the battlefield.
But, back to slots...er, pokies.
Slots Have Many Names
In addition to slots and pokies, these games are known in England as fruit machines and in Scotland as a puggy.
Online Slots Versus land Based Slots
There are numerous advantages to playing pokier at Springbok or other reputable online casinos.
Because online casinos have far less overhead, the return to player rates will generally be much higher online than at a land based casino.
A land based casino may have hundreds of pokies consoles but they have to supply many of the most popular games.  That means that the actual number of different pokies at an online casino far exceeds the number of different pokies at a land based casino.
You never have to wait at an online casino.  Even if thousands of players are connected to a single pokies game, you never have to wait.
Developing New Pokies
Game providers invest thousands of man hours developing the themes, characters, and symbols for each month's new pokies.  Themes and bonuses are the driving forces behind modern pokies.
Real Time Gaming is always looking to develop new elements that make pokies play more fun.
Popular Themes
Historical and mythological themes are by far the most popular pokies themes.  Many pokies chronicle life under ancient Native American tribes and cultures such as the Inca, Maya, and Aztec cultures.  Others feature ancient Greece, Egypt, and Rome. 
Many pokies have romantic themes.  Many players who prefer action-packed pokies will play romantic pokies as change of pace.  There are also many Christmas themed pokies.  Be sure to be nice!
Men and Women in Pokies
Most females in pokies are full-bodied and quite beautiful.
Most men in pokies are muscular with strong, dimpled chins.
Progressive Slots
If you play a progressive pokies game, you need to bet the maximum in order to be able to win the big jackpot.  Many gamers don't know this simple rule.  If you don't want to go for the huge progressive jackpot, you are better off playing a pokies without a progressive jackpot.
Quandaries and Decisions
In the bonus round, some pokies offer a choice between more free spins with a lower multiplier or fewer free spins with a higher multiplier.  There is still no complete agreement as to which is the better choice.  In those games, it's a good idea to compare the size of the multiplier against the number of free spins.
There is no strategy that works in pokies.  That is actually one of pokies' big attractions: as a game of pure chance, they are also a game of pure fun and entertainment.  We also offer roulette and craps which are considered games of chance as well although some believe that there are winning strategies in both.  Still, there are no strategies for pokies so we always say that you should play them for fun above all else.
Springbok Casino offers unlimited free play in pokies.  We offer so many pokies that we feel gamers should check out, in our free play platform, any game they aren't yet familiar with.
A City of Pokies
It wouldn't surprise us to learn that there are more pokies in Las Vegas than in any other city in the world.  At last count—who actually does the counting and how do they do it?—there were well over 200,000 pokies in Las Vegas.  And for all that, sometimes people have to wait for pokies or they have to walk in the famous desert heat to a different casino just to play their favourite pokies!
Having Fun
Pokies players tend to be more fun-loving than blackjack players and Springbok pokies players are the most fun-loving of all - of course!