The Invaluable Value of Free Play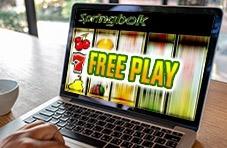 Online casinos offer unlimited free play as a matter of course.  In addition to getting as much free play as you like at Springbok online casino, you can also access free play at Springbok mobile casino. There are some land-based casinos that have caught on to the appeal of unlimited free play offered at online casinos and have begun offering limited free play.
The type of free play offered by land based casinos pales in benefit with the unlimited free play available to all at online casinos.  In this article we will explore some of the well-known and not so well-known benefits of free play at an online casino.
Practice
You find a game that you want to master and you would like to practice the game at little or no cost.  Online casinos also offer low minimum bets on their games especially those games that require thought and critical decisions.  In blackjack, for instance, you can get very low minimums at most online casinos whilst at land based casinos you might have to play at the $2 table. 
Still, even with the low minimums available online, you might want to practice a new variation or the variation that you have been playing for years in free play mode.  At Springbok and most online casinos, your free play is unlimited.
Fun and Entertainment
At the top online casinos, the emphasis is on having fun and being entertained.  At land based casinos, the emphasis is on gambling.  Land based casinos offer some free amenities such as food and alcoholic beverages.  Some offer free rooms for your off hours slumber.  The purpose of offering such freebies is to keep you playing and gambling.  The cost of building, running, and maintaining a land-based casino are so great that they can't afford to let you just play for free.
Online casinos such as Springbok, your online casino for South Africa, have far fewer start-up and maintenance costs.  The return to player rates are higher at online casinos and they can almost always afford to allow unlimited free play.
So, if your goal is simply to have fun and be entertained, the free play offer at online casinos is far more attractive than the cost of going to a land-based casino and playing for real money from the outset.
Free Play in Slots
Slots are by far the largest category of games at both online and land based casinos.  There are slots in many thematic categories.  Most slots players prefer games in one or two categories but also enjoy exploring the slots available under other category titles. 
Sampling such out of the ordinary slots at land based casinos costs money but is totally free online in free play mode.  Looking out of one's normal slots playing themes is one of the most entertaining aspects of gaming at an online casino, an aspect that is sorely lacking at land based casinos.
Additionally, there are more individual slots to choose from at an online casino simply because the casino can carry one of every slot it wants to carry and a million people can all play that one game at the same time whilst that is entirely impossible at land based casinos so they have to duplicate machines for the most popular slots.
Unusual Aspect of "Sampling"
In which other industry does the company let people sample for free?  A shoe store or a clothing store lets you try on a new dress or a new pair of shoes but you can't take them home to "sample" them without paying for the item.
Restaurants don't give free taste samples of their main dishes.  Ice cream shoppes will give you a small taste of any flavor of ice cream you want.  The small ice cream taste would be like giving you one free spin at a new slots game.  Online casinos give you unlimited "free tastes".
Car dealers let you drive around for a few minutes.  But they don't let you take the car home for free.  Try taking a new computer home for a trial period.  The list goes on and on.  In short, online casinos are unique in that they offer unlimited free play.
Conserve Bankroll
Clearly, the availability of unlimited free play allows most gamers to conserve their bankroll.  It makes it so much easier to play without incurring any costs at all.  We would all like to be high rollers but that distinction is reserved for the type of player who doesn't need free play.  And yet, the casinos also offer unlimited free play to their high rollers as well!
Bonuses
There are other aspects of online casino gaming that are not exactly the same as unlimited free play but are close.  One such is the proliferation of deposit bonuses at online casinos.  A 100% bonus is real money.  It amounts to free money.
Land based casinos also offer some bonuses but they have limits to players' ability to completely use the bonuses.  Every casino bonus, whether online or land based, has a wagering requirement before you can withdraw funds.
Online this is no problem at all.  You may take a week, a month, or even longer to complete the play through requirement at an online casino.  At a land based casino, you might have a day or two to complete the wagering requirement.
Comp Points
Another form of benefit from gaming for real money is the accumulation of comp points.  These are available at both online and land based casinos but, once again, the points you accumulate at a land based casino might sit in your account there for many months or longer whilst, at an online casino, you can easily redeem them at your convenience and use the casino credits to play on.
Comfort
We speak often about the convenience of playing at an online casino.  The complementary concept of comfort seems to come up less often but is nonetheless very important.  Being able to access the free play mode whenever you want to, adds a major layer of comfort to your online gaming.
Even if you're having a losing streak but want to continue playing, free play gives you great options.  If that occurs at a land based casino, you might lose your bankroll quickly.  At an online casino, you can play on for as long as you want in the free play mode and conserve your bankroll whilst having fun and being wonderfully entertained.