How Derek ended up with a balance of over R325,000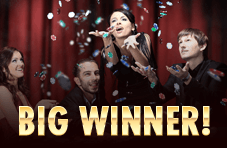 Springbok is a place of winners! For example Derek here never suspected his next bet to be the big win, the one all players secretly anticipate. It just happened! More than once! However, it wouldn't have happened at all if our loyal customer hasn't been persistent and determined to implement his own betting tactics and continue challenging his fortune.
Springbok's account holder Derek played up to a balance of 325K after using his Cashback Bonus at the casino. He made a terrific streak of victories across the video slot lobby at Springbok, spinning the reels of multiple games, from Megaquarium and Bubble Bubble 2 to Eternal Love.
This is how Derek Won
Big Trouble in Little… No - Big Luck in the Megaquarium for Derek
Megaquarium proved to be an extremely lucky game for Derek. With a marine theme, the RTG slot is a real sight to behold. Both calming and colorful, this 5-reel, 50-line slot is packed with underwater creatures acting as your allies on the reels when the columns line up and winning combinations form. The reel grid is submerged deep underwater, close to the ocean floor, and the charming clownfish acts as the Wild. Derek was lucky enough to trigger the Super Game feature which awards 3 Free Games and x5 prize multiplier. The result – a win of R40,800. He doesn't stop there. Derek benefits from an extended feature, the Mega Game feature, which awards a prize worth up to 500x the bet. This time, the loot was R53,100.
The lucky streak continued as Derek obviously had full support from the aquatic creatures, both flappers and static ones. Another Mega Game feature came along with reels 4 and 5 made up entirely of clownfish Wilds and a random prize which can go as high as the already mentioned staggering 500 times the bet. After the feature was played, Derek was richer for R41,250. As his balance was building up, Megaquarium was once again generous towards this extremely lucky punter. Another Mega Game feature brought him a profit of R33,000 after which it was time to leave the deep waters and switch to something …well, bubbly.
Bubble Bubble 2 – Not Scary According to Derek
The fortunate winner was under the spell of terrific video slots at Springbok, including Bubble Bubble 2, a Halloween-themed slot game centred on Winnie the witch and her cheeky sister Wanda. The witches appear on reels 1 and 5 and they act as expanding symbols. Accompanied by ghost Wilds, they can produce some lucrative combos. In the same vein, the slot offers special features for extra wins, and one of them is the Greater Ghosts feature. Unlocking this bonus round comes with 20 free games with up to 9 Wild Ghosts, and that's precisely what happened to Derek. He won R248,380 while playing Bubble Bubble 2. Looks like it pays off being enchanted!
Next Stop - Eternal Love
Still within the horror genre, Derek attempted to find eternal love. Instead, he found a win of R33,750, which is still not bad, right? The teen-vampire-romance-themed slot, Eternal Love, has been on offer at Springbok Casino for a few years now. This is an all-ways-pays machine with 243 winning combinations and magnificent graphics. The deliciously seductive game boasts a number of gratifying features, including the Extended Life Feature – which isn't easy to trigger. To enjoy Extended Life Free Games, one needs to enter the Grouped Wilds mode and monitor the on-screen Life Force meter. After 10 free games, the win value is revealed - if the total win has not reached the Life Force value that's the triggering moment for the Extended Life Feature. Extra free games ensue and in the case of Derek, the overall win reached R33,750.
Hop Onto the Win Train
Whether these impressive wins are enough to maintain your love for all eternity towards Springbok and its slots, they are surely proof of the fact that wins never stop piling up, at least here on our platform. The next big winner can easily be you, so we propose the following - get back to spinning the reels of your favourites and get ready for a shower of rands.