Listen Up Critters…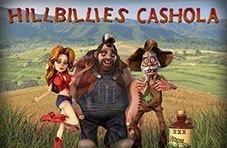 Hillbillies Cashola – the new raucous, red-neck slot from Realtime Gaming – is on it's way!
The hillibillies, Billy Bob, Bubba and Billy Jo, are a mighty accomodatin' folk, and what's more they're very very lucky!
If you have any of the hillibiles with you on screen when you strike it rich, they'll increase your prize! But that's not all, they'll also help you bag prizes, freebies and much much more!
So break out the banjo and shine up that spittoon because Hillbillies Cashola are coming to South Africa's Number One on June 24!