Celebrate The Unusual Animal Friendship Day With Us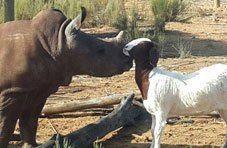 You probably read some of the heartwarming stories we've shared about the unlikely friendships within the animal kingdom. On November 21st we celebrate "Unusual Animal Friendship Day". And this is how!
Abandoned baby rhino Osita was struggling to survive when he met his best animal buddy, goat Bokkie, who taught him how to graze and do all the other things Osita couldn't learn from his human rescuers. Baby elephant Ellie was rejected by her herd but managed to strike a life-long friendship with Duma, the German shepherd, who's probably to thank for Ellie still being with us. Baby hippo Owen lost his family when a tsunami hit the beach but found a faithful friend in Mzee, a 130 years old tortoise.
We share these stories with you because we find the support animals give each other, regardless of their species, size and gender, to be both heartwarming and inspirational. They teach us how to be better people and generously give support to those in need. That's why we've decided to celebrate the Unusual Animal Friendship Day and be generous to our online friends.
Get Your R2,500 Free Bonus and More
Celebration takes place on 21 November and to mark this special day we're giving away R2,500 Free Bonus to all November depositors. All you need to do to claim it is make a deposit until the end of the month – that's all!  Use coupon code UAFDAY on the Unusual Animal Friendship day and collect as much as R3,000 in winnings. Already made a deposit this month? No problem, just log in on 21 November and you'll still be able to join our celebration of the unusual animal friendships. 
Feeling reluctant to stop giving, we're adding an additional offer! If you make a deposit using coupon code FRIENDS4EVER, we'll match your deposit by 150% up to R3,000 from November 14th to November 21st. This can be your way to claim the above mentioned free bonus or to simply get even more enjoyment while playing one of your favourite online games in Springbok Casino.
South Africa's Number One Online Casino With A Heart
We love the trust and loyalty you have been gracing us with for years. That's why we strive to keep enriching our wide games portfolio and come up with more and more of the attractive promotional offers. We think of you as members of our extended family, much like the animals we talk about thought about each other.
We'll celebrate your successes, help you out whenever we can and share with you the stories which make our lives richer, in the hope they'll do the same for you. Like Osita and Bokkie, Ellie and Duma, Owen and Mzee, we look forward to our friendship lasting for a long, long time.
Also visit our Facebook page for special promotions.