Surfing in Elands Bay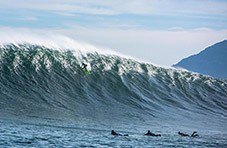 Take a three hour drive from Cape Town up the shoreline and you'll arrive to Elands Bay. Affectionately called e-bay, this is a world-renowned destination for surfers, windsurfers and kite surfers flocking to South Africa from every corner of the Earth. But not only them! The charming little village nestled under the Baboon Point is a perfect place to unwind while enjoying the peace, nature, and typical West Coast laid-back lifestyle.
Whether you're looking for some adrenaline-pumping experience in the waters of the Atlantic Ocean, or a scenic location which offers an escape from the stress of everyday life, Elands Bay will deliver.
High-Performance Surfing at E-Bay
The rocky, kelpy point rounds a corner to end at a small river mouth, producing world-class waves. Peeking off an outside kelp-covered reef and refracting down the point, the swell provides a hollow take-off and a fast cylindrical wall which can run 150 to 200 meters. While not the best location to hop on the board for the very first time, e-bay is a perfect spot for experienced surfers. This is where they can engage in high-performance stuff, demonstrating and improving their skills while doing critical turns and speed runs, going off-the-lip or performing what is known as the mother of all surfing manoeuvres, the barrel ride. Having enjoyed hours of thrilling wave-riding, as the sun sets down, you'll see them heading towards the pub in order to get a well-deserved refreshment while having a chat and a laugh with other surfing enthusiasts.
Other Activities to Enjoy at Elands Bay
Taking a 200 km trip from Cape Town brings you to a scenic area where you'll get to enjoy peaceful surroundings and a beautiful long beach. It's an ideal place to go swimming, walking, or simply kicking off your shoes and basking in the warmth of the sun, light years away from the hustle of the city. The Bay is also a great spot for dolphin and whale watching, as well as engaging in a non-strenuous pastime like fishing. Crayfish diving is another popular activity, though it requires that you obtain a permit from the local post office.
Stretching between Elands Bay and Redelinghuys, you'll find a birdwatchers paradise Verlorenvlei. One of the largest natural wetlands on the west coast is home to more than 200 types of birds, including flamingos and pelicans. Verlorenvlei Heritage Settlement offers a unique insight into the architectural style of 1770's farm buildings which were built using thatch and unbaked clay. Many of the simple and fragile rectangular buildings, known as the langhuis (long house) were lost over time, and those remaining are protected by law.
Originally established as a fishing village, quaint little Elands Bay has not succumbed to commercialization and will provide a sense of quiet and natural beauty, but also some give you an opportunity to taste delicious seafood. It was named a provincial heritage site thanks to the cliffs of Baboon Point, an area which was populated by humans more than 15,000 years ago. Visit Bobbejaanberg Cave and you'll get to admire historic rock paintings showing elands, sheep and red hand prints. During the spring, a magical carpet of flowers covers the area to provide a breathtaking show of colours.