Jeffreys Bay - a surfers heaven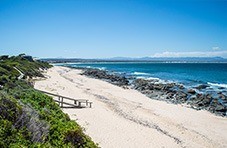 Go for a drive from Port Elizabeth, and in less than an hour you'll find yourself at one of the most famous surfing destinations in the world. Jeffreys Bay, affectionately called J-Bay, is truly a surfer's heaven. The consistent, tubing, and very long right-hand point break welcomes the annual World Surf League event each  July and wave-riders from around the world flocking to catch the legendary waves.
Supertubes Rock
Did you know that the famous wave has become world-known by accident? It all started with the 1960 cult surf movie called The Endless Summer which featured St. Francis Bay. As surfers from every corner of the world came to check it out in person, they've stumbled on a bigger and better thing: faster, stronger, and significantly more consistent J-Bay surf break.
J-Bay is divided into 10 different sections, namely Kitchen Windows, Magnatubes, Boneyards, Supertubes, Impossibles, Salad Bowls, Coins, Tubes, The Point and Albatross. While "Kitchens" provides a fun wave for a more mellow experience, Magnatubes will be better suited to those who enjoy unpredictable, heavy conditions. Boneyards is the very top of the point, breaks hard and fast, and hopefully links you up with Supers. Supertubes is considered to be the best part of the wave. Long-walled, fast and hollow, it has been known to provide rides of more than 1km through several sections all the way to the town beach. Barreling Tubes offers a short and intense but fun ride, followed by the Point which was originally ridden in 1960s by the long-boarders and presents a perfect place to get to know J-Bay the first time you visit. The final section, Albatross, is where you should head to if searching for a bit of peace and quiet. 
When you're done riding the waves, take a walk through the Jeffreys Bay Surf Museum and learn how the ride has developed over time. The history of the sport is traced with the help of newspaper cuttings, magazine articles and photographs, following the evolution from wood, to foam, to glass fibre, and celebrating J-Bay heroes.
Good Food, Good Life
While super-popular among the international surfers' community, Jeffreys Bay has tons of other attractions to offer. Located in South Africa's Eastern Cape Province, this fishing village was named after a person who was allegedly the very first settler. Jeffrey was a senior partner at  Jeffrey & Glendinnings, established at the current town location back in 1849.
The place is famous for great seafood and a beach which is one of the few boasting Blue Flag status. Perfect for swimming and snorkelling on the reef, Dolphin Beach is also a lovely spot to go for a leisurely stroll and enjoy an amazing view.
Situated just outside Jeffreys Bay, Papiesfontein Beach offers a unique horse riding experience. Galloping across a long open stretch of the 13-km ride will give you a chance to enjoy wind on your face and fill your lungs with fresh sea air. The nearby Seekoei, Kabeljous, and Krom River lagoons, home to numerous water birds, provide ample opportunities to go canoeing, sailing or fishing. Each year during the season, whales can be seen as they migrate to Hermanus and Witsand to give birth.
Kabeljous Nature Reserve lies on the Kabeljous River northeast of Jeffreys Bay. There is a 2.5km coastline to walk along, featuring dunes, forests and wetlands, and the lagoon populated by herons, waterfowl and waders. African Dawn Wildlife Sanctuary is located about 20 minutes from the town. It features an endangered cat breeding program and more than 200 animal and bird species which will make sure this is an experience you will not forget.
The beautiful Brakkeduine Dam and surrounding countryside can be found only a few kilometres inland from J-Bay. Circular 14-km long Brakkeduine 4x4 Trail starts at the Klipdrift Dam, popular fishing and boating location, and offers some truly spectacular views to be enjoyed on the way. Several 3 to 7 kilometre walks are available to passionate hikers who'll appreciate encounters with wildlife while admiring the beauty of the surroundings.
Jeffreys Bay is really an all-in-one experience. Having enjoyed one of the best surfing experiences ever, there's plenty of other activities to engage in very close by. If you want to bring along friends who don't necessarily share your passion for this exciting sport, you don't need to fear they'll be bored. As you reunite at the end of a day spent surfing, hiking or just lying on a beach, enjoy delicious calamari over a glass of fine wine while facing the perfect sea view.