Muizenberg- The birthplace of surfing in South Africa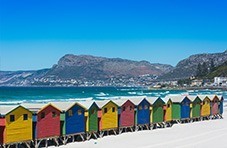 If you've yet to experience the thrill of riding your first wave, Muizenberg is a great place to learn. Situated on the Cape Town coast, next to the mountain of the same name, "Muizies" is considered to  be the birthplace of surfing in South Africa. It boasts the longest break in the Cape Peninsula and waves which can be ridden for about 1.5 km. While not the quickest nor most powerful in the area, they're offering plenty of opportunities to practice.
Surfing Spot for Beginners and Experts Alike
It was in 1910 when an Australian visitor first amused the locals by riding the waves on a plank of wood. What was at the time a new sport where South Africa was concerned, it quickly caught on and became a hugely popular activity enjoyed by men, women and children.
Muizies is one of the few spots in Cape Town where you'll almost always find waves. Appropriately named the Corner, situated in the corner of the bay, is probably the most ridden area. Slow, flat waves are perfect for longboarders and ideal under a north-west wind direction.
A reef break called Dangers, located very close to Muizenberg, offers pretty consistent surf and a choice of left and right reefs . The best time of the year is winter, and the best wind direction from the NW. Scarborough is a good choice for intermediate to advanced surfers and rarely gets crowded. Situated down the road from Muizies, Kalk Bay is a superb reef break surfable at high tide and the place to be for more experienced wave riders. Enormous waves are created when NW winds and S winds meet. Those looking for extreme and adventurous surfing experience should go chasing bigger waves at Cemeteries, on the Strand side of Muizenberg.
Other Things to Do at Muizenberg
Built during the late 1600's, Het Posthuys (the Post House) is considered to be one of the earliest buildings in the Cape. In those days, it served as a lookout post for enemy ships entering False Bay, as well as a toll-house taxing farmers on the way to sell their products at Simon's  Bay.  Damaged during the Battle of Muizenberg in 1795, it remained in military use during the First British Occupation. Today Het Posthuys consists of a small stone cottage and outbuildings which were once used as stables. It was turned into a museum in the early 1980s.The historical remnants of The Battle of Muizenberg, which lasted for three months and ended with the British occupation of the Cape, can be seen on a hillside overlooking False Bay.
If history is not your thing, take advantage of a 20-km long beach that stretches all the way to the Strand. Those into rock climbing should check out steep cliffs hanging above Muizenberg. An alternative activity is a visit to the Zandvlei estuary which supports young marine fish by providing a nursery where they can grow safely. Here you'll also get to see a variety of indigenous fish, threatened plants such as Cape Flats cone bush, and several of those found only in Cape Town. Fauna includes water mongoose, Cape clawless otter, African fish eagle and great flamingo.
Cape Camino Hike is an easy hike which starts at Baileys Kloof and takes you to a cave where you'll get to admire san paintings on the walls. While strolling along Boyes Drive, you'll find a perfect whale-watching point about half way between Muizenberg and Kalk Bay, complete with a mountain man who will offer binoculars and plenty of information about these majestic creatures and other sea life.