Wines of South Africa: Paarl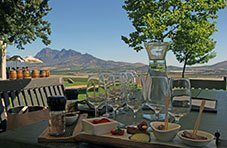 Paarl is another one of the most famous wine-producing areas in South Africa, named after the way rounded granite outcrops on top of Pearl Mountain glisten after the rain. Situated north of Stellenbosch and about 60 kilometres from Cape Town, the area boasts some of the Western Cape's best wineries and a large variety of grapes, Cabernet Sauvignon, Shiraz, Pinotage, Chardonnay and Chenin Blanc being the most important ones. Red, white and rosé Paarl's wine are well recognised among  the wine connoisseurs around the world.
Long History of Wine Production
The wine history of Paarl goes back to 1680s, which is when French Huguenots began to settle.  Mediterranean-like climate and fertile soil provided perfect farming conditions and the settlers began planting vineyards, orchards and vegetable gardens, marking the beginning of Paarl's long history as a major South African wine and fruit producing area. Paarl is today also home to the headquarter of the South Africa Co-Operative Wine Growers Association (KWV).
Since a former Paarl ward, Franschhoek, became a district in 2010, Paarl district consists of  three wards - Wellington, Simonsberg-Paarl and Voor Paardeberg. The Paarl Wine Route ("Paarl Vintners") includes about 70 wine producers ranging from large co-operative cellars to smaller, more intimate family-owned estates. Vineyards stretch over 18,000 hectares across the slopes of Paarl Rock, northern side of Simonsberg Mountain and the Berg River valley. Wines produced from grapes cultivated higher up on Paarl and Simonsberg mountains are considered to be of premium quality thanks to nutrient-poor soil, as the need to dig deeper for nourishment makes the vines stronger. The area enjoys a typical Mediterranean climate, with long, hot summers, and mild winters with plenty of rain.
Paarl Wines
Paarl district features massive variations in terroir - the environmental conditions in which grapes are grown, such as soil and climate, and this provides winemakers with plenty of opportunity to experiment with numerous different grape varieties. Rich and robust red wines, made from Shiraz, Cabernet Sauvignon and Pinotage, display great fruity intensity, while fruity and tropical white wines are normally made from Chardonnay and Chenin Blanc.
The winery Laborie is the largest South African winemaker cooperative and a member of the KWV. It's a true classic, featuring the historic manor house, old oak trees and a rose garden.  Laborie's Tasting Room will give you an opportunity to taste outstanding wines such as the Chardonnay and the Pinot Noir.
The historic manor house of the Nederburg  winery, well-known beyond the borders of this country, nestles in the middle of  idyllic vineyards. It dates back to 1791, when a man called Philippus Wolvaart bought the farm, and together with his wife built a foundation for the later success of Nederburg. In 1937, German brewer Johann Graue acquired the land and  introduced many technological innovations, such as cold fermentation. Today, with its Cape Dutch architecture and colonial furniture, along with great wines made by cellar master Günter Brözel, Nederburg excites visitors from around the world. The yearly Nederburg Wine Auction, frequented by local and international wine buyers, provides an opportunity to taste and bid on a range of distinctive South African wines.
Glen Carlou winery is also part of the Paarl Wine Route. While relatively young,  it manages to produce high quality wines popular amongst critics and connoisseurs worldwide. The winery is renowned for  its Chardonnay, but offers several other grand red and white wines.
Paarl Local Attractions
Clearly, wine tasting is the top touristic attraction in this area. Members of the wine route organise tours during which visitors get to meet winemakers, taste and purchase excellent red and white wines. While there, make sure to note the breathtaking scenery and the Paarl town heritage. This is where Genootskap van Regte Afrikaners laid the foundations of the Afrikaans language, and the Afrikaanse Taalmonument on the slopes of Paarl Mountain, the Language Museum and the Afrikaans Language Route, are visit-worthy memorials to this achievement.
While in the area, you may also want to pay a visit to the Paarl Nature Reserve and explore massive 50 million years old granite rock formations, take a stroll through animal, bird and reptile parks, go hot-air ballooning, hiking or mountain biking.