Find the Best Way to Play Bonus Poker at Springbok Online Casino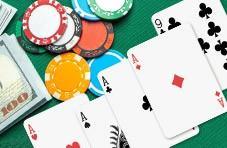 Bonus Poker is a smashing variant of video poker in that it has the simplicity of Jacks or Better but with three bonus pays thrown in.  It's a low volatility online casino game that has its origins in five card draw poker. 
The beauty of Bonus Poker - and all other versions of poker for that matter - is you can hone your card playing skills and influence the outcome of the game.  How do you do that?  Well, it's simply a matter of applying the correct strategy in order to play the game optimally.  When that happens, you can expect an average return of 99.17%... and what's there not to like about that!
Before we get down to the more complex stuff like how to find the appropriate gaming strategy, and where to play the best Real Time Gaming (RTG) video poker games online, let's take a look at how Bonus Poker differs from its closest sibling, Jacks or Better.
Bonus Winnings for Four of a Kind
As you are probably aware the aim of the game is to create a winning poker hand based on the conventional poker hand rankings.  The amount you are paid out is posted on the gaming interface and dependent on the strength of the cards in your hand.
In the case of both Jacks or Better and Bonus Poker you need a pair of Jacks or higher to be in the cash.  A pair pays out even money.  Thereafter you'll be paid out progressively more for two pair, three of a kind, straight, flush and so on.
As an added incentive for players on a quest for a substantial real money return, Bonus Poker offers three different wins on four of a kind:
Four aces pays between 80:1 and 400:5
Four 2s, 3s or 4s pays 40:1 up to 200:5
Four 5s through to Kings pays 25:1 through to 125:5
In real terms that means you can win more loot on four aces than on a straight flush, a card combo that pays out 50:1 up to 250:5 in RTG Bonus Poker.
That's not the best of it.  Along with the extra wad of winnings that's integrated into the game, you can hit pay dirt when you line up a royal flush.  This rare little beauty is what you should be gunning for at Springbok online casino.  There's always a generous jackpot win linked to the highest possible hand ranking in all video poker variants.
Compensation: An 8/5 Game  
To compensate for the bonus winnings, you'll find the payouts for full house and flush are lower in Bonus Poker than the full pay 9/6 Jacks or Better game. 
You'll bank 8:1 for a full house and 5:1 on a flush, which is a slight reduction - but a reduction nonetheless - from the respective 9:1 and 6:1 pays you'll get in Jacks or Better for the matching hands. 
As a result of this cash compensation the return on Bonus Poker is somewhat lower than the sparkling 99.54% you can get playing full pay Jacks or Better right here and right now!
The Probability of Hitting Four of a Kind
What is the probability of hitting four of a kind in Bonus Poker?  The good news is that it's a lot better than hitting a royal flush.  In fact, according to some mathematical wizards who have bothered to do the calculations the odds of hitting four aces over a royal flush are eight times better!
Bonus Poker Playing Tips
Now that you have a deeper understanding of what's at stake when you play Bonus Poker, it's time to look at ways and means to improve your individual win rate.  Our first tip relates to the optimal betting technique.
Other than the cards you strategically choose to keep or discard prior to the second deal, the only decision you have to make is the number of coins you wager per hand.  In the case of video poker, we strongly advise you to bet the five-coin maximum on every hand you play.  If you're wondering why, the jackpot payout for a royal flush is a whopping 4000:5!
Where to Play Bonus Poker Online
Our second tip is to play Bonus Poker at an online casino that you know and trust.  There are dozens of unscrupulous operators out there offering counterfeit casino games.  The last thing you'll want is to achieve a royal flush on a maximum bet only to be denied your winnings due to fraudulent behaviour.
Springbok online casino is a licensed and regulated supplier of certified Real Time Gaming (RTG) developed casino games.  We offer more than 250 games across all the gaming categories, of which video poker is one.
Along with Bonus Poker we supply more than 15 video poker variants that have been independently tested and certified above board by Global Labs International (GL).
Find an Optimal Bonus Poker Strategy
Professional gamblers and other interested parties have gone to extraordinary lengths to develop strategies that outline exactly how to play Bonus Poker for the optimal outcome.  These strategies are based on all sorts of complex mathematical algorithms and calculated odds, probabilities and returns.
To casual players, even understanding these strategies is hard work.  The good news is that you don't necessarily have to comprehend how the strategies work, you simply have to memorise them.  Better still you can print them out and refer to them when you're playing Bonus Poker at Springbok online casino.
Where do you find these strategies?  There are countless websites that offer detailed 8/5 video poker strategy tables that you can easily apply to your game play.  A quick Google search will come up several viable options within a matter of seconds. 
These strategies outline exactly which cards to keep and which cards to discard based on certain card combinations.  As there are so many possibilities, we suggest you cut and paste the information on a Word document or PDF, print it out and refer to it in-play!  With a bit of practical experience, you'll quickly learn what to do, when!