Online Tri Card Poker Strategy Tips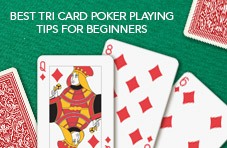 Tri Card poker is one of those great online casino games that pit players against the dealer.  It's quick, simple and has the kind of house edge that makes winning money a reality rather than a dream.  
Whether you ante up at a rough and ready sawdust gambling den in downtown Vegas or punt on the Perfect Pairs at a sleek and sassy online casino, you'll be reminded of the days when poker was boss!
It's a foreshortened version of the swashbuckling card game popularised on the Mississippi riverboats more than a century ago.  Along with fat rolls of chewing tobacco and a bottle of the finest rye or bourbon, the men and women who knew their stuff always had a deck of cards in their packs.  
Some played Omaha, others Texas Hold'em or Stud… but the really smart card junkies played Tri Card poker for its style, simplicity and lack of guile.
Three Ways to Play Tri Card Poker
One of the standout features of the game is its versatile single- or dual-play modes.  You can choose to bet in the Perfect Pairs format, the Ante Bonus set-up or - hang it - wager on a little bit of both. 
The big question is which way is the right way in terms of strategy and house edge?
Before we get into all the complex stuff like when to call and when to fold, let's take a look at the basics of Tri Card poker.  We'll give you a run down of the paying poker hands and how best to brush up on your card playing skills.
We'll also give you a few hints as to why you should always play online casino games at the best casino in cyberspace!
Tri Card Poker Payouts - Perfect Pairs
As we've already mentioned you have a choice of a Perfect Paris wager, an Ante Bonus bet or you can splash out the cash on both.
In Perfect Pairs there are two bonus wins available on the cards.  When you hit any of the combinations listed below, you'll bank the associated payout:
Pair - two matching cards of numerical value - 1:1
Flush - three cards of the same suit - 4:1
Straight - three cards in numerical sequence - 6:1
Three of a Kind - 25:1
Straight Flush - three cards of the same suit and in numerical sequence - 40:1
At an RTG powered online casino like ours, the house edge on this exact pay table is 3.49%.  That means the average return to player is 96.51% or R9.65 on every R10 wagered on the game over time.  You have to admit, that 'ain't too shabby'!
Tri Card Poker Payouts - Ante Bonus
The second available bet you can make playing Tri Card poker online is the Ante Bonus bet.  That's the mode of play that doesn't have any ZAR sweeteners on the pay table.  In this form of the game you can only win money on one of three possible hands, and the payouts are comparatively nominal at best:
Straight - 1:1
Three of a Kind - 4:1
Straight Flush - 5:1
The house edge on this wager is 3.37% which is marginally lower than the Perfect Pairs scenario.  Play the combined bet and the house edge jumps to 5.32%.
Find Tri Card Poker with the Lowest House Edge
Having said that, there are RTG casinos that offer online casino games, such as Tri Card poker, with slightly different pay tables.  In one such example the Three of a Kind on the Perfect Pairs bet pays 30:1.  This minute modification lowers the house edge to 2.32% and raises the RTP to 97.68%.
Tip: If you really want to play Tri Card poker seriously your first step is to find the online casino games with the lowest house edge.  A quick Google search will point you in the right direction.
Pair Plus, Ante Bonus or Combined? Which Tri Card Poker Bet is Best?
It may seem counterintuitive but the best poker players always play the combined bet.  That's notwithstanding the fact that it has the highest house edge of all the available options.
The thought process behind this strategy is that by placing equal bets on both options you balance out the risk.  Remember - the Pair Plus bet has bonus hands up for grabs that may pay out infrequently but when they do, they pay out a wad of cash.
Tip: Wager the combined bet in Tri Card poker but always start with the lowest coin denomination until you know exactly what you're doing.
When to Call and When to Fold in Tri Card Poker
 Unlike almost all the other online casino games you can play at our green and gold casino, the optimal Tri Card strategy is simplicity at best.  You don't have to memorise which cards to discard and when.  You only have to remember two things; bet when you have a queen, six and four or higher, otherwise fold. 
Get Posh at Poker in the Free Play Mode  
 The only way you can expect to beat the dealer on a regular basis playing Tri Card poker is to practice.  By playing regularly in the free play mode you'll be able to identify the bet sizes that trigger the winning combinations more often – if any.
You'll also be able to see which bets you prefer in terms of risk and reward, whether it's the Pair Plus, the Ante Bonus or the combined wager.  Once you're more confident about what you're doing and are familiar with all aspects of the game, you can upgrade to the real money mode.
Be Smart About Your Choice of Casino Online
Lastly, you can only take advantage of the potential payouts that are part of the Tri Card poker experience when you play at an online casino that's honest and fair.
These days there are far too many dodgy gambling destinations that feature counterfeit online casino games rigged in the house's favour.  They're also likely to refuse to pay out winnings and in some cases unilaterally close players' casino accounts.
At Springbok, you're guaranteed online casino games that have been independently certified fair by an internationally renowned software testing facility.  You are also guaranteed fast cashouts of all your winnings.
If you do have any problems with the way we operate our casino, you're welcome to lodge a dispute by clicking on the blue and yellow CDS logo at the base of our home page!
Tip: Register an account at Springbok casino - find fair gaming for everyone!