Tips for Getting the Best Out of Online Casino Games: Caribbean Hold'em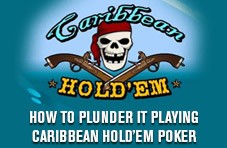 Caribbean Hold'em is a souped-up version of conventional stud poker.  It's one of those thrilling online casino games that offers players the opportunity to scoop up a dazzling real money prize on a side bet.  Along with attractive payouts generated by winning poker hands, there's a progressive jackpot in-play… but only if you want it.
Low House Edge with a Progressive Jackpot in the Mix
As with virtually all table games Caribbean Hold'em has a comparatively low house edge of 2.16 percent. That's just one reason why it should be the first cash game on your 'play now' list.  The pleasure of saddling up, knuckling down and taking on the dealer in a one-on-one version of tournament poker is another.  
Factor in the payouts on the ante bet - payouts that tip the scales at up to 100:1 - and its little wonder card sharps head straight to the Caribbean for a slice of genuine stud poker with a 'purty' progressive twist!
How to Play Real Time Gaming's Caribbean Hold'em
If you're new to the wonderful world of flops, flushes, calls and rivers here's a quickfire poker playing guide. It'll give you a head start when you get down to the business of betting ZAR on the outcome of online casino games at Springbok casino.
The aim of the game is to form a conventional poker hand that is stronger than that of the dealers.  In Caribbean Hold'em the dealer has to hold a pair of fours or better to qualify for the round.
To get the game rolling you have to place an initial bet called the ante bet.  You do this by clicking on one or more of the casino chips stacked on the edge of the virtual table.  At Real Time Gaming (RTG) casinos like ours, chip values range from $2 to $500.
Once you've anted up, the dealer deals two cards face up to the Player box on the layout and two cards face down to the Dealer box.  Three community cards are dealt face up on the centre of the table.  At this stage you have to decide one to two things:
fold - throw in your cards and lose your ante bet, or
call - place an additional wager that's exactly double the value of the ante bet.
When you call, the dealer deals two more community cards and the dealer's cards are exposed.  The best poker hand formed from the two hole cards and the five community cards wins the round.
However, if the dealer's hand does not qualify you are paid out even money on the ante bet and the call bet is a push.  If the dealer's hand wins, you lose both bets but if your hand wins, you're in for a double whammy.  You're not only paid out according to the ante bet pay table featured below, you'll get even money on your call bet - yippee!
What You Can Win on the Caribbean Hold'em Ante Bet
When you form a winning poker hand playing Caribbean Hold'em at Springbok casino, you are paid out as follows on the ante bet:
1:1 - Straight or less
2:1 - Flush
3:1 - Full house
10:1 - Four of a kind
20:1 - Straight flus
100:1 - Royal flush
Progressive Jackpot Side Bet - Yes or No?
Aside from the possibility of banking one or more of the sumptuous payouts listed above, players can ramp up the action.  With an optional side bet made at precisely the same time as the ante bet, you could literally be swimming in Rands and cents.
This neat little blind bet unlocks the game's progressive jackpot, a constantly accumulating pot that's shared with RTG's Caribbean Stud Poker.
Juice the side bet, hit a royal flush and you'll walk away with 100 percent of the jackpot.  At the time of writing the pot had almost reached the princely sum of R300k!  With our version of Caribbean Hold'em it's not the case of the big winner takes all - the progressive side bet pays on a flush and above!
What's the Drawback?
One major drawback of taking that tantalising side bet is the effect it has on the house edge.  Go for the major money win and the casino's share of the profit soars from 2.16 percent to 6 percent.
Having said that, a return to player of 94 percent on a progressive jackpot game is nothing to scoff at.  In fact, its compares favourably to the likes of progressive jackpot slots!
Should you or shouldn't you place that side bet?  Well, that's entirely up to you but if you're feeling lucky, my advice is go for it… but don't let it become a habitual part of your Caribbean Hold'em game play!
How to Improve Your Win Rate
When you play online casino games your primary objective is to win money.  A smart strategy you can implement every time you ante-up for Caribbean Hold'em is to judge each hand on its merits. 
It's far better - and cheaper - to fold than it is to call on a comparatively poor hand hoping that by some miracle you'll get the two cards required to form a full house or four of a kind.
According to the pro poker players who earn a really good living playing cash games like Caribbean and Texas Hold'em, you can expect to fold about 20 percent of the time - that's one in every five hands!
Fire Up Caribbean Hold'em in the Free Play Mode Now
The best way to get a feel of exactly when to call and when to fold is to play the game in the fun mode.  At Springbok instant play casino, you'll find that all your favourite online casino games - including Caribbean Hold'em - are available in the free play format.
All you have to do is click on the game's thumbnail, wait for the game to load and start playing right away.  You don't even need to be a signed up member at Springbok casino to work on your win rate.
Once you've got a hang of the rules and have a better understanding of the different bet types and when to call and when to fold, you can register an account, upgrade to the real money mode and start winning wads of ZAR.
With a return to player of 97.84 percent, the odds of banking a bit playing Caribbean Hold'em at Springbok online casino are pretty good.