Online Casino Games Playing Tips: Pontoon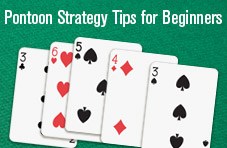 Pontoon is an action packed variation of blackjack.  It's fast, flashy and fun.  Along with a low house edge, a wide range of betting options and a quick turnover of hands, there are more ways to win playing Pontoon online than there are in basic blackjack.
What's even more inviting is the fact that Pontoon is one of select group of online casino games that can be influenced by an optimal gaming strategy.
In other words, you and I can learn how to play the game in such a way we lower the house edge.  As with blackjack and stud, draw and video poker, there's a defined strategy that provides a set of best plays according to the cards you are dealt.
One of the Online Casino Games with a Low House Edge
At Real Time Gaming powered casinos such as Springbok, Pontoon has a return to player of 99.35 percent and a corresponding house edge of just 0.65 percent.  When you play the game according to the optimal strategy it's possible to slash the house edge to 0.50 percent.  
What that means is the probability of hitting a Pontoon, five-card trick or any other paying hand combination is pretty high… and we all know what that means, more money credited to your online casino account.  Now how's that for a great reason to play Pontoon at Springbok casino?
There are marked similarities between Pontoon and blackjack.  The card values are exactly the same and the game play is almost identical, with one major exception - there are no dealer up cards.  With Pontoon you are effectively playing blind.  That makes it a little more difficult to decide whether to hit, stand, split or double down… and that's exactly why a best play strategy is an invaluable asset!
Paying Hand Rankings in Online Pontoon
 As with most online casino games, Pontoon has a few unique rules and payout combinations.  Aside from hitting a Pontoon, which is an ace and any ten point card that pays at 2:1, you are paid out on the following hand rankings, provided your hand is stronger than that of the dealer's:
Any five card trick of less or equal to 21 - 2:1
Any hand consisting of three or four cards with a points value of 21 - 1:1
Any hand consisting of three or four cards with a points value of less or equal to 20 - 1:1
Winning combinations are ranked according to strength.  That means a Pontoon always beats a five card trick, a three or four card hand totalling 21 beats a lower hand, and so on.  If the hands are tied, the dealer wins.
Player and Dealer Rules
Before you play Pontoon for real money, it's essential to know the rules.  In this form of blackjack, players can:
Stand on any five card hand
Stand on a total greater than 15
Hit on any points total
Double down on two to four cards
Split and re split once on aces
Draw and double down after splitting aces
Get paid 2:1 for a Pontoon on a two card 21 after splitting aces
The dealer peeks at his down cards and if he has Pontoon he automatically wins.  He hits on soft 17 and stands on any five card hand.  In this variation of blackjack there is no option to surrender.
Optimal Pontoon Strategy Table
We've talked about an optimal strategy that can lower the house advantage when playing Pontoon online.  In the table below we've listed the best possible decisions you can make based on the total points and number of cards in your hand.
This strategy is based on the statistical probability of forming paying hands when there are eight decks of cards in play.  If you want to beat the dealer on a regular basis and build your bankroll over time, all you have to do is memorise the moves outlined in black and white right here.
 

No of Cards In Hand

Hand Total

2

3

4

 21

S

S

S

20

S

S

S

19

S

S

S

18

S

S

S

17

H

S

S

16

D/H

S

S

15

D/H

S

S

14

D/H

H

H

13

D/H

H

H

12

D/H

H

H

11

D/H

D/H

D/H

10

D/H

D/H

D/H

9

D/H

D/H

H

8

D/H

H

H

7

 

H

H

6

 

H

H

5

 

 

H

4

 

 

H

A + 10

D/H

D/S

S

A + 9

D/H

D/H

S

A + 8

D/H

D/H

S

A + 7

D/H

H

H

A + 6

D/H

H

H

A + 5

D/H

H

H

A + 4

D/H

H

H

A + 3

D/H

H

H

A + 2

 

H

H

8 + 8

 

 

SP/S

A + A

 

 

SP/H
| | |
| --- | --- |
| H | Hit |
| S | Stand |
| D/H | Double otherwise Hit |
| D/S | Double otherwise Stand |
| SP/H | Split otherwise Hit |
| SP/S | Split otherwise Stand |
Best Pontoon Betting Strategy for Beginners
As you are now aware, the payouts in Pontoon are 2:1 for pontoon and a five card trick and 1:1 for the rest.  It's worth pointing out yet again that you only win ZAR when your hand beats that of the dealer's hand.  A tie means you lose your bet.
As with all online casino games, you can choose the value and number of chips you want to wager on the outcome of each hand.  However, unlike certain categories of games like video poker, there are no major incentives to bet the maximum.
That's why we advise you to start off wagering just one of the lowest available chip values until you are familiar with the game rules.  You should also be practised when it comes to applying the basic Pontoon strategy to your game play.  Once your win rate is on an upward trajectory you can slowly and cautiously raise the stakes.