Live Blackjack vs. Blackjack Online Casino Games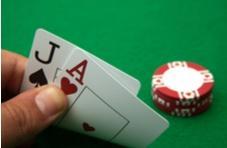 If you normally head to the blackjack table when you enter the casino, you know why it's one of the casino's most popular games. It's quick and exciting, offers the chance to compete with and against other players, combines skill and luck and offers a nice payout for your wins. 
Playing blackjack at the casino isn't always an option. That's why the online casino features a blackjack lobby where you can find multi-card blackjack, multi-player blackjack  and other fun-filled variations of the game. 
If you're accustomed to playing blackjack on-site, you should remember some of the main differences between land-based and blackjack played as an online casino game.
Minimum Bet
When you play at a Las Vegas or other land-based casino, you might need to make a minimum bet in order to play blackjack.  That's because many of the most exclusive casinos impose table minimums, meaning that participating players must wager a specific minimum amount in order to play. 
The casinos don't want low-stakes players competing at a high-payout game like blackjack.  They don't want budget gamers taking up valuable table space which prevents the high rollers from joining the competition. 
The online casinos offer online blackjack to all players, regardless of betting level or previous gaming experience.  You don't have to be a high stakes punter to play at the online casino -- you can join your favorite blackjack game at any comfortable betting level and play for as long as you want.  
The online casino even has a Free Mode so you can play blackjack for free. There's no obligation to join a real money game so you can do so at your leisure. Free mode is not available at all at on-site casinos.
Subtle Differences 
Online blackjack rules can be subtly different from the rules of on-site blackjack games. The slight variations in the rules create big changes on basic strategy. It's important to read the rules of each gme variation before you play online. Don't assume that side bets and special payouts are the same, and the more you know, the better you'll be able to maneuver the game to your advantage. 
Technology
The technology used in online blackjack games means that it's impossible for the dealer to make mistakes or cheat.  The unfortunate fact is that, almost every month, there's a report that a land-based casino has caught a dealer collaborating with friends or cohorts to cheat the casino and other players through various means. That simply can't happen when you play online. The dealer cannot -- either on purpose or by accident -- give clues that will alert a cheater about hidden cards. 
Card Counting
Likewise, card counting, a time-honored casino cheat, is impossible when playing online. Snce the computer shuffles the deck after every hand, counting is useless.
Psychological Warfare
Casinos actually play psychological warfare with their customers. They employ all sorts of tricks and tactics to keep people playing longer.  They play music with no beginning and no end, serve free drinks, design their casinos with no clocks and no windows, make it difficult for people to find the exits…….anything to create an atmosphere that keeps customers playing games.  They even pump oxygen into the casino to create a feeling of euphoria and place the check-out desks in locations that force people to walk through the gaming area before they can cash out and leave.  
If you're playing blackjack online, however, you sign in when you want, play for as long as you want and sign out when you're ready.  No tricks or strategies to keep you playing…..you play in a way that fits your personal needs. 
Bonuses
When you play blackjack at a land-based casino, the bonuses that you collect are casino-based bonuses -- discounts on casino meals, hotel stays, etc.  When you play online you are given casino bonuses that you can use to win more cash prizes. Those prizes are then added to your regular game payouts and you take those bonus points, cash and credits home as real cash prizes. 
Know the difference between land-based and online blackjack and enjoy the best of both!