How to Play Casino War at the Best Mobile Casino South Africa!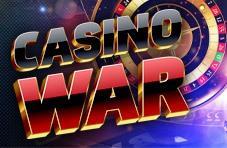 There's nothing better than killing time by playing casino games on your phone.  Along with the possibility of banking a few rand here and there, you'll enjoy top entertainment defined by a thrill-a-minute.
The trick is to choose a game that offers a quick turnover - in spins, hands or throws.  At Springbok mobile casino South Africa, the options are endless. 
You can pick and choose from blockbuster mobile slots with their cash-rich game features.  Alternatively, you can get your vibe on with those big paying video poker games that have oh la la top wins and bonus payouts.
Casino War: Where There's a Fifty-Fifty Chance of Winning 
If you're really smart, you'll choose a game that's easy to play and offers a fifty-fifty chance of winning.  Casino War is exactly that kind of gambling opportunity. 
You don't have to be a genius to play the game and you certainly don't need to follow a complex strategy in order to bank ZAR.  All you have to do is visit Springbok, best-ever online casino for South Africa and click, bet and if needs be, 'Go to War'.
Rules and Game Play of Casino War 
How do you play Casino War?  Well that's the easy part.  It's a straight forward comparing card game played against the dealer.  The aim?  To get the card with the highest value.
In Casino War the suit of the cards is immaterial.  The only thing that counts is the value of the cards and in this casino game, aces are always high.  Other than that, face cards count according to their ranking - king over queen over jack - and all the other cards count as their face value.
In Casino War it's a one-on-one card match up.  Each game ends with one of two outcomes - either you win even money on the highest value card or you lose your wager because the dealer holds a higher card.  
It's when there's a tie that things become a bit more interesting.  When that happens, you have two options.  You can 'Surrender' and forfeit half your wager or you can 'Go to War' and double your bet.  
At this stage the dealer will deal two more cards.  When the second card dealt to you is equal or higher than that of the dealer's you are paid out even money on the raise bet but your original wager is a push.  When the dealer's card is higher you lose both bets!
Casino War Playing Tips 
Whether you play Casino War online or at Springbok mobile casino South Africa there are ways and means of improving your win rate.  Here are a few tips that will help you exploit this simple card game to the fullest:
Never Surrender 
The old Churchillian phrase applies equally to Casino War as it did to the Second World War.  Surrendering is simply not an option.  In this form of battle, it's not pride that's at stake it's the house edge.
Under normal circumstances the house edge on RTG Casino War is 2.42 percent.  That means the return to player (RTP) is 97.58 percent.  For every R10 that's wagered on Casino War at Springbok mobile casino South Africa R9.76 is paid out to all players in the form of winnings. 
However, this simple equation changes the moment your surrender half your bet.  Instead of the house edge quoted above the casino's advantage leaps to 3.7 percent.  Similarly, the average return to player drops from 97.58 percent to 96.3 percent. 
To the novice gambler that may not seem all that significant but over time the slightly higher house edge can gobble up large chunks of your bankroll.
Avoid the Side Bet
In some forms of Casino War there's an optional side bet on a tie.  This bet pays out at whopping 10:1 odds. With that kind of real money return, it may seem like a no brainer to place an extra 'Go to War' bet.
The reality couldn't be further from the truth.  With the optional wager in play the house edge is 18.5 percent.  That reduces the RTP on Casino War to just 81,5 percent!  Now why on earth would anyone take a foolish risk like that?
Go for a Small Stakes Betting Strategy
As Casino War doesn't have bonus payouts or a jackpot in play there's no reason to bet high stakes wagers.  In fact, the most sensible betting strategy for new players is to place small bets instead. 
A small stakes betting strategy allows you to extend your betting sessions and enjoy double the fun.  It also enables you to build the balance in your betting account by accumulating even money payouts offset by the occasional minimal value loss.
Fifty-Fifty Odds May Be Good Enough for High Rollers
Having said that more experienced players may opt for a high stakes betting strategy.  The fact that there's a fifty-fifty chance of winning may be enough to persuade seasoned gamblers to splash out - big time - when they play Casino War for ZAR.
Whatever betting strategy you choose should ideally be dependent on your gambling experience and the size of your betting budget. 
If you know what you're doing, go for it but if you can't really afford to spend any more money playing Casino War - or any other casino game for that matter - at Springbok mobile casino South Africa, walk away.  You can always come back another day!