Online Gambling Real Money Tips – How to Enjoy a Winning Streak!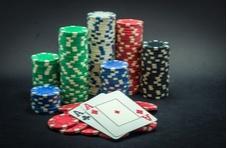 More often than not, online gambling real money wins don't come easy, so when luck is on your side, you need to make the most of the situation.
According to statistics, when you play online blackjack, most winning or losing streaks will last for approximately 3-4 hands. However, it is still possible to go on a prolonged winning streak.
If you look at the numbers alone, you have a 22.5% chance of having two consecutive wins, a 10.6% chances of winning three times in a row, and 5% of going on a 4-hand streak.
As you can see, winning more than three hands in a row is quite rare but not unheard of – as you still have a 0.1% chance of going on an astounding 9-hand streak.
When you're on a roll, you need to know how to make the most of the situation, as you won't be able to keep winning forever.
The Best Strategy for a Winning Streak
The moment you start having a successful gambling session, you should adjust your strategy to the situation.
First and foremost, try to rule your emotions as much as you can. Often enough, people who start winning throw all their plans out the window and allow the situation to get out of hand. Even if it seems that you're invincible, remember that every winning streak ends at some point. Stay cool and stick to your strategy at all times, without exceptions.
Secondly, remember that even if you lose every once in a while, it doesn't necessarily mean that you won't ever win again. Just like a winning streak, losing streaks don't last for long. You should listen to your instincts, and if you wholeheartedly believe that you'll have the upper hand eventually, don't give up.
Last but not least, let's talk about maximizing your wins. Before you even start playing, you need to have a plan in place in case you enter a winning streak. You need to think about how much money you're willing to spend and set three money limits:
The minimum amount you're willing to spend
The maximum bet size you're willing to place
The amount of cash you're set on winning during your gambling session
Let's say your betting limits are set between $5 and $50, and you want to win at least $200 while you play.
When you hit a winning streak, and you notice that you've won more than a couple of times, you should automatically raise your bet to $50 and go with the flow. 
Stick to this strategy as long as possible, but if you lose more than twice, your winning streak might be over, and you should go back to your minimum bet limit, which is set on $5 in this case.
Stay with this betting pattern at least till you earn the $200, which is the amount your heart was set on winning at the beginning of the gambling session. Once you accomplish your goal, you have two options: either quit while you're ahead or keep playing.
Sometimes, leaving the blackjack table with a small win in hand is better than keep playing and losing everything you've earned. However, if you truly believe that your streak is not over yet, you should listen to your gut, and keep gambling till you run out of steam.
Increase Your Wins While Playing Blackjack!
If you have a clear plan in mind on how to deal with a winning streak, you will be able to increase your chances of winning big every time you play. Are you ready to hit the blackjacktables?