Double Down in Online Casino Blackjack - Yes or No?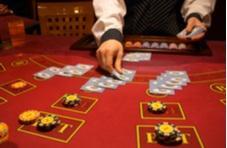 If you are a regular at Springbok Online Casino you will know that Blackjack features prominently on the casino games' menu.  What you probably do not know is the house edge for Blackjack is low – and that is a major plus for players like you and I.
What is even better news is it is possible to lower the edge even further by making the right decisions at the right time.  What do we mean by that?   Well when you hit the Double button according to an optimal strategy you can boost your bankroll in double quick time.
Before we get down to the nitty gritty of when – and when not – to double down in online casino Blackjack, let's take a look at how the Double feature works:
What is the Double Bet in Online Casino Blackjack?
The double bet is an optional wager that effectively doubles the payout on a winning hand.  Your decision to hit the Double button – and raise your bet by 100 percent – is based on the total value of your first two cards, together with the dealer's up card.
When making the double bet the most important element to consider is the one card rule.  It states only one more card is dealt to your hand once you have doubled down on your original wager.
Ideally you should only double your bet under certain conditions and these conditions are outlined in an optimal double down betting strategy featured further down the page.
A word of warning – you can still lose money on the double down bet in Blackjack regardless of whether you implement the strategy or not.  That is why we strongly advise you to bet with a low chip value. 
Springbok Casino supports responsible gambling.  As such, we request that you play our real money casino games with money you can afford to lose.
Always Take the Rules of RTG Blackjack into Account  
Before you double your bet, it is essential to understand the rules of RTG online casino Blackjack.  If you do not know exactly how often you can double down or when the dealer has to hit or stand, you will not be able to make an informed decision as to double down or not.
Springbok Casino features online casino Blackjack developed by Real Time Gaming (RTG).  According to the rules of this particular game the dealer automatically stands on 17. 
The rules further state that you can:
Only double once
Double on any two cards
Double on any split cards including aces
Optimal Double Down Betting Strategy for Online Casino Blackjack
In reality there are only a few instances when you should risk doubling your wager in online casino Blackjack.  That is largely because you only get one more card to achieve a winning hand of equal or as close to 21 as possible.
Here are the best double down permutations:
Soft 16, 17 and 18 - double down when you are dealt an ace with a five, six or seven and the dealer has a two, three, four, five or six as the up card.
Hard 10 and 11 - hit the Double tab when you have a two and an eight, a two and a nine, a three and a seven, a three and an eight and so on but only when the dealer's up card is lower than 10.
Hard nine - double your wager if your two cards total nine and the dealer's up card is any value lower than seven with the exception of the ace.
Split 10s - double on split 10s when the dealer shows a three, four, five or six.
What is a soft or hard total in online Blackjack?  If an ace contributes to the total of the cards it is a soft total.  Otherwise it is hard.
How the Double Bet Impacts the House Edge in Blackjack 
As we have already alluded to in this article the house edge for RTG online casino Blackjack is low.  In fact, it is only 0,54 percent.  That in turn means that the average return to player is a whopping 99,46 percent.
In real terms that means players at Springbok Casino get back R9,94 of every R10 wagered on Blackjack in the form of winnings.  The casino banks just 0,54 cents as profit.
When you use the Double bet to your advantage you can lower the advantage to the house by an additional 0,14 percent.  That reduces the total profits to 0,40 percent and raise the average RTP to 99,60 percent… and that means more money for the likes of you and I!
Tips and Tricks for the Best ZAR Returns 
You now know that Blackjack is one of the best gambling propositions you will ever find at the online casino.  However, that does not mean you will rake in the cash every time you play the popular card game at Springbok Casino.
If you are serious about building your bankroll, we suggest you memorise the basic blackjack strategy and apply it to your game play.  We can also highly recommend familiarising yourself with the game rules and spending a few weeks playing Blackjack right here in the fun mode.
Why Practicing in the Fun Mode is Worth Its Weight in Gold
What are the benefits of playing Blackjack in the fun mode?  Firstly, it will give you a chance to fine tune your Blackjack strategy. 
Secondly, you will get to experience the winning and losing streaks that are always part and parcel of gambling – whether at a star rated online casino such as ours or at a brick and mortar gaming establishment in Cape Town, Joburg or Durban.
Thirdly, by playing online casino Blackjack in the fun mode you will be able to practice the fine art of splitting and doubling down but without risking your hard-earned cash!
In answer to the question posed in the article title – Double Down in Online Casino Blackjack – Yes or No?  We can safely say only if the perfect conditions exist as per the best ever double down betting strategy!