Quick Online Games Guide: 5 Tips for Better Blackjack Results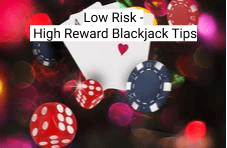 Blackjack is one of the low edge online games you will find at Springbok Casino.  A low edge means maximised real money returns for players who know how to the play the game strategically.
If you want to benefit from odds that pay up to 3:2 for a two-card 21, you have to be prepared to put in the hard yards.  In the old days that meant counting the cards or crunching the numbers to come up with statistical probabilities. 
Only the smart guys like mathematicians, statisticians and systems engineers had the brain power and technical know-how required to beat the dealer at his own game.
In the tech driven era of the 21st Century the internet has changed all that.  It allows ordinary folk like you and I to play blackjack, baccarat and a host of other online games directly on our PC or digital device. 
That is only one facet of the World Wide Web… and an awesome one at that. 
The Internet is an Invaluable Resource for Online Gamers 
The other, equally ground breaking facet is the internet's role as an infinite resource containing helpful information pertaining to every subject under the sun - including how to play online games like a seasoned pro.
At Springbok Casino we like to make things easy for our rapidly expanding player base.  That is why we have compiled an online games guide targeting blackjack. 
If you want to boost your chances of banking ZAR every time you play blackjack online right here at Springbok Casino South Africa, here are 5 simple strategy tips to get you on the right track:
Tip #1 - Stand on a pair of nines when the dealer's up card is a seven 
Although the instinctive move is to split the nines and play two separate hands, that is not the wisest strategy.  Why?  Well as you know there are four times as many 10 value cards in play compared to the other ranks.
That means the probability of the dealer's hole card being a 10 value card is high.  When that happens, you will be in the proverbial pound seats as your 18 automatically beats that of the dealer's 17 - and at Springbok Casino the rules of blackjack state that the dealer stands on soft 17! 
Tip #2 – Double down on 10 when the dealer shows nine or less
When you hold a two card 10 to the dealer's nine or lower you are always the favourite to win the hand.  The reason is obvious.  There are 20 cards in the pack that can make you a winner - the 16 x ten value cards and the four x aces. 
When the odds are stacked in your favour like that, it really is a no-brainer to double down on your bet - and that applies to all the online games at Springbok Casino.  In gambling, it is always about the odds!
Hard Versus Soft Hands in Blackjack - A Brief Explanation
Before we get into the third tip in our online games guide here is a brief explanation of the hard and soft hands in blackjack.  In this context the ace is the key determining factor.
When one of the two cards you are dealt is an ace, the hand is deemed soft.  Why?  Well an ace can count as either one or 11 - and that means you have more flexibility when it comes to decision time.
A hard hand is consequently a two card hand that does not contain an ace.  It is rigid in the sense that there is no manoeuvrability when it comes to the points total.
Tip #3 - Hit on a hard 12 when the dealer has a two or three as the up card
In normal circumstances the modus operandi would be to stand on a hard 12 for fear of busing.  However, when the dealer is showing a two or three the odds are you will lose whether you hit or stand.
Here is where common sense prevails.  When you hit on hard 12 you will give yourself the chance of winning at least some of the time.  Standing on hard 12 means there is little to no chance of winning.  It is the strategy that carries the most risk.
In online games terms, you should always follow a strategy with the lowest risk… even if it does mean busting some of the time!
Tip #4 - Split on a pair of eights
When you hold a pair of eights the best strategy is to split them into two separate hands, regardless of what the dealer has as an up card.  Rather than playing one hand valued at only 16 you will have a distinct advantage over the dealer.  The odds are that at least one of your split hands will win.
The same strategy applies to a pair of aces.  As you are well aware, aces count as both one or 11 so there is a good chance you will hit 21 with one of the hands.
Tip #5 - Avoid splitting a pair of fives or tens
When you are dealt a pair of fives the urge may be to split them into two separate hands.  Avoid that urge.  Why?  It is always a better strategy to hit to a 10 than to play two hands starting at five apiece. 
Similarly, even though splitting a pair of tens can result in a win, standing on a hand valued at 20 is statistically the better play. 
What is the best strategy when it comes to online games?  Make the plays with the lowest risk and the highest probability of winning and there is plenty of opportunity to bank wads and wads of cash at Springbok Casino ZA!