The Surrender Option in Blackjack Online Games – Good or Bad?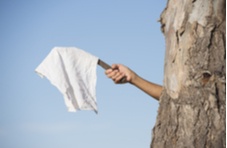 As online games go, blackjack is pretty straightforward.  There are defined moves you can make based on the cards you are dealt.  Most of us are already familiar with the concept of hitting, standing, doubling down and splitting.
There is however one further option that can occasionally crop up at online casinos and brick and mortar gambling dens.  This decision is one that allows you to throw in your cards in exchange for half your wager – a move that is known as surrender.
Surrender: a Tactical Online Games Decisions
Folk who are not that experienced in playing online games like blackjack may abuse the surrender rule and end up discarding what would otherwise be winning hands.  Understanding the concept so that you can use it to your advantage is key to whether you win or lose money at the casino.
As we have already mentioned, the option to surrender has become increasingly rare especially in the online games format.  Nevertheless, it is better to be forearmed so that when surrender is allowed, you will know whether it is a good or bad tactic to employ at the time.
Surrender is usually only permitted as a first move - in other words immediately after your initial two cards have been dealt.  If you feel that your hand has absolutely no chance of beating that of the dealer's, surrendering your cards rather than hitting, standing, splitting or doubling down may be the most viable option.
Two Versions of Surrender in Blackjack – Early and Late
To complicate matters, there are two versions of surrender - early surrender and late surrender.  Casinos can offer either one or the other.
The most prevalent version is late surrender and in this form of the rule, the player can only forfeit his or her cards after the dealer has checked for blackjack.
In early surrender on the other hand you can throw in your hand before the dealer's hole card has been revealed.  That means if the dealer does have blackjack, he will only win half your stake!
Early surrender is obviously skewed in the player's favour so it is seldom - if ever - available in the online game's arena or for that matter at land-based casinos.  At Springbok Casino for instance there is no surrender rule - either early or late - that pertains to our blackjack online games.
When to Use Surrender as a Blackjack Gambling Tactic 
Right, now that you know the basics of the rule it is time to learn when to use surrender as part of your gambling tactics.  As with the basic blackjack strategy your decision should be based on the value of your two cards and the dealer's up card.
As early surrender is hardly ever in the equation, let's rather focus on when you should implement the late surrender rule.  To put it another way, you should only discard your two-card hand and forfeit half your bet when you have:
hard 17 and the dealer shows an ace
hard 16 and the dealer's up card is a 9, a ten-value card or an ace
hard 15 and the dealer's visible card is a ten-value card or an ace
In case you are not quite sure what a hard 17, 16 or 15 is, here is a brief recap. 
A hard hand is any two-card hand that does not contain an ace.  In other words, the two cards that can make up a hard 17 are 10 and 7 or 9 and 8.  Similarly, a hard 16 can be 10 and 6; 9 and 7 or 8 and 8.
Play Blackjack in all its Popular Variants at Springbok ZA Casino! 
Although Classic and European Blackjack and popular variants like Face Up 21, Blackjack and Perfect Pairs, Match play 21 and Suit Em Up Blackjack do not offer the surrender option at Springbok Casino, they are really lucrative low edge online games that are fun and easy play.
At Springbok Online Casino we offer a plethora of real money online games that vary from slots and scratch cards to table games.  Sign up now and settle in for some of the best cash-infused entertainment around!