Best 21 Casino Games Online: Pontoon or Blackjack?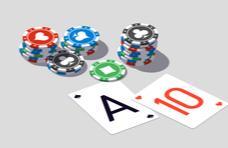 Blackjack is one of the more popular casino games and has been for hundreds of years.  It is a simple gambling opportunity that is easy and enjoyable to play. 
It is also a game that has been slightly modified over the years to create different versions of what is essentially a game with one ultimate goal – to create a winning hand that totals 21 or less.
Different Variations of 21 Games offer Varying Payout Rates
At Springbok Casino we offer an eclectic array of blackjack variants – one of which is Pontoon.  The question that many South Africans ask is; in terms of potential payout rate, which is better?  Blackjack or Pontoon?  Although they do both quack like a duck, there are some differences when it comes to how statistically rewarding the different variations are – and even slight differences in what constitutes a winning hand.
Blackjack and Pontoon – Winning Hands 
The two Real Time Gaming developed online games closely resemble each other with a few exceptions.  In Blackjack there are only two possible winnings hands:
Blackjack – two initial cards that add up to 21
Any hand that is higher in value than that of the dealer's without going over 21 (or else you go 'bust')
Pontoon actually offers a bit more flexibility when it comes to what could result in a winning hand.  There are in fact three possible hands that pay out winnings:
Pontoon – a hand totalling 21 with two cards
Five-card trick – a hand consisting of five cards that totals 21 or less
A hand that beats the dealer's without going bust
Dealer Rules 
What further differentiates the two casino games – albeit it only slightly – is the fact that there are a few additional dealer rules in Pontoon, one of which is that the dealer's five-card hand always beats the players five-card hand.  As importantly, in Pontoon the dealer wins all ties.  
In contrast, when playing Blackjack, ties are deemed a push – and you will get half your bet back.  This might sound like the dealer has the upper hand in Pontoon for the most part.
Rules Comparison: Blackjack versus Pontoon 
Here is a brief comparison of the rules that pertain to playing Blackjack and Pontoon at Springbok Online Casino:
Blackjack

Pontoon

Dealer hits on soft 17

Double down on any two cards

One card dealt on split aces

Insurance is available when dealer shows an ace

Dealer hits on soft 17

Player hits on 14 or less

Double down only once at any time

Hit after double down

Split up to two times

Potential Payouts 
How about the payouts generated during by the respective casino games?  Are they close in value?  Or does one game pay a lot more than the other?
As already mentioned, there is one additional way to win when you play Pontoon – and that is the five-card trick.  Here is a breakdown of how the money stacks up in Blackjack versus Pontoon:
Blackjack

Pontoon

Blackjack pays 3:2

Insurance pays 2:1

Winning hands pay 1:1

Pontoon pays 2:1

Five-card trick pays 2:1

Winning hands pay 1:1

How about the average return to player and house edge?  Here again, there is nothing much separating the two casino games. 
Pontoon has an average RTP of 99,62 percent and an edge of just 0,38 percent, whereas the Blackjack RTP is 99,60 percent, and the advantage to the house is consequently 0,40 percent.
The Verdict
What do all these rules, payouts and statistics ultimately tell us?  The two casino games are hard to separate on just about every level that really matters.
They are clearly different sides of the same coin but with slightly different rules and payouts.  Is one better than the other?  Hardly.  They both have their pros and con's like all the online and mobile casino games you will find right here at Springbok Casino South Africa!
Sign Up at Springbok Casino ZA and See Which 21 Casino Game You Prefer
The only way you can ascertain which of these 21 real money games you prefer is to play them right now.  At Springbok Casino you will find that all our games are available in the free-play and real money modes.
Go on, sign up at Springbok Casino and join the hundreds of thousands of South Africans who bet, play and win in ZAR!