Online Gamble Real Money Tips for Suit Em Up Blackjack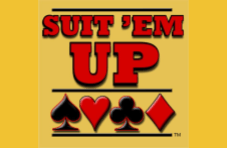 Suit Em Up Blackjack is an exhilarating version of the popular 21 card game.  Along with the conventional blackjack bet there's an optional side bet to rev up the online gamble real money returns. 
It's an online casino game of two distinct parts, some pretty awesome payouts and an average return to player in the main game that rivals the best.  If you want to ramp up your gambling experience at Springbok Casino, this exciting variant of blackjack is guaranteed to give you the edge. 
Let's take a quick look at the rules of Suit Em Up Blackjack and how the two 'games' fit together.  We also provide a few tips and tricks that you can use to exploit the odds.  Lastly, we share a basic blackjack strategy that'll ensure your online gamble real money grows and grows!
How to Play Suit Em Up for Online Gamble Real Money
In Suit Em Up Blackjack your objective is to beat the dealer by achieving a hand equal or as close to 21 as possible.  In addition to betting on your hand being higher than that of the dealer's, you can also bet that your first two cards will be of a matching suit. 
The side bet is of equal value to your blackjack bet.  Both wagers are made at the beginning of the round and before the cards are dealt. 
If your first two cards are the same suit, you win the side bet and are paid out according to the Suit Em Up paytable.  If not, you lose the bet and play the rest of your hand as you would in a standard blackjack game.
Payouts on the Suit Em Up Blackjack Side Bet 
What are the payouts for suited cards?  Here's what you can win on the Suit Em Up side bet at Real Time Gaming casinos such as ours:
60:1 - suited aces
10:1 - suited blackjack
5:1 - suited pairs
3:1 - suited eleven
2:1 - remaining suited cards
Suit Em Up Side Bet: Yes or No?
The side bet is the primary reason for playing Suit Em Up Blackjack.  It's a straight bet that doesn't involve any strategy or strategic play.  It's also a bet that has a reasonably low house edge of 3,41 percent. 
What that means is the average return to player is 96,59 percent or R9,66 on every R10 placed on the suited bet.  That's not a bad online gamble real money return.  In fact, it's equal or higher than the RTP of most online slots.
Should you take the side bet?  Hell yes… isn't that why you're playing this variation of blackjack after all?
Suit Em Up Blackjack Rules
In this form of the high hit rate online gamble real money casino game:
the dealer stands on soft 17
you can double any two cards
one card is dealt on split ace
blackjack pays 3:2
Insurance pays 2:1
What is Insurance?
When the dealer's up card is an ace, you can protect your hand from losing by taking the insurance bet.  It costs the equivalent of half your original wager and pays out at 2:1 on a dealer blackjack.  If the dealer does not hit a blackjack, the bet is lost.
In virtually all blackjack strategies, it is strongly advised to avoid the insurance bet.
Blackjack Strategy for Beginners
The blackjack portion of Suit Em Up has a house edge of just 0,54 percent.  That means the return to player is 99,46 percent or R9,95 on every R10 wagered on RTG blackjack at Springbok Casino. 
To achieve this kind of RTP you have to play the game perfectly.  To do that you need a strategy that's not only easy to memorise but mathematically correct. 
Here's a strategy you can follow - one that will help you win more hands than you lose.  When you're more familiar with the game, you can level up to a more complex blackjack strategy and lower the house edge. 
Soft hands: hands where ace is counted as 11:
Always hit on 17 or lower
Stand on 18 if the dealer has six or under; hit on seven and above
Always stand on 19 or higher
Hard hands: hands where ace is counted as one:
Always hit on eight or Less
Hit on seven or higher
Double down on six or less
Double down on 10 and 11 if your total is more than the dealer's up card, otherwise hit
Stand on 12 to 16 if the dealer has six or less, hit if the dealer shows seven or more
Always stand on 17 or higher
Splitting Pairs
Split eight and ace
Don't split four, five or 10
Split two, three, six, seven and nine if the dealer has six or under; don't split on seven or more 
Sign Up at Springbok and Put our Tips into Practice… For FREE!
Now that you know how to make plenty of online gamble real money playing Suit Em Up Blackjack, it's time to get serious.  In our book that means registering an account at Springbok Casino, redeeming the welcome bonus code and putting our tips and tricks into practice.
As we'll be bankrolling your first few forays into the wonderful world of gambling online you really have nothing to lose!