Angola Online Casino Tips: The Secret of Doubling Down in Blackjack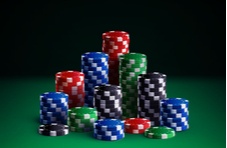 One of the most popular games at Springbok Angola Online Casino is blackjack.  It is a simple comparing card game where you have to achieve a higher valued hand than that of the dealer's.
The major money is generated when you hit a two-card total equalling 21.  In the gambling world it is a perfect score known as… blackjack.  
At our Angola online casino, you are paid at odds of 3:2 for the perfect hand.  Any other cards' total that beats that of the dealer is paid out even money which, in terms of odds, is 1:1.
There is no limit to the number of cards you can draw in the quest for 21.  However, the betting round ends when you or the dealer go bust or in layman's terms, accumulate a hand total that eclipses that magic number of 21.
Double the Money at Springbok Angola Online Casino for Double the Bet 
The basic actions of Real Time Gaming (RTG) developed blackjack are hit, stand, split and double.  In this article we are focussing on the double function or as it is generally known, the double down in blackjack.
When you hit the double button, you are effectively taking an additional bet equal to that of your initial wager.  In the form of the game that you'll find at our top ranked Angola online casino, you can double down on any two cards.  You can however only double your wager once per round and draw exactly one more card.
The beauty of the double down feature in blackjack is you have the opportunity to view your first two cards plus the dealer's up card before you make the decision to double the bet.  That way you can evaluate your chances of beating the dealer after being dealt just one more card.
Decisions Based on Probabilities 

As with all the casino games you can play at our Angola online casino, hitting the winning cards is not an exact science.  You can, however, base your decision-making on probabilities.
When there is a reasonably high probability that you can beat the dealer based on the three revealed cards on the table, doubling down can be a lucrative tactic.
Tactical Tips to Up the Win Rate
Now that you know about the mechanics of doubling down in blackjack at Springbok Angola Online Casino, it is time to give you a few tactical tips that can help you maximise your win rate.
As you are probably aware blackjack is categorised as a game of skill.  That means you can actually learn how to play the game in the mathematically correct way.  When you do that, you will win more rounds than you lose.
How do you learn to play blackjack optimally? Fortunately, professional blackjack players have made it really simple by doing all the hard work on your behalf.
In fact, all you have to do is download a basic blackjack strategy table from the internet and use it to determine exactly when to hit, stand, split, double down and surrender, given your two-card hand total and the dealer's up card.
Best Double Down Strategy in Blackjack  
For the sake of expediency, we have lifted the data pertaining to the double down action from the strategy table and presented in a more legible format.
Here is a quickfire reference guide that you can use as the benchmark for doubling down in blackjack online:
Double down when you hold:
Hard 9 and the dealer's up card is 3, 4, 5 or 6
Hard 10 and the dealer shows 2, 3, 4, 5, 6, 7, 8 or 9
Hard 11 on any card
Ace + 2 and the dealer has 5 or 6
Ace + 3 on the dealer's 5 or 6
Ace + 4 and the dealer's up card is 4, 5 or 6
Ace + 5 and the dealer shows 4, 5 or 6
Ace + 6 and the dealer has 3, 4, 5 or 6
Ace + 7 and the dealer reveals 2, 3, 4, 5 or 6
Ace + 8 and the dealer shows 6
5 + 5 and the dealer has 2 to 9
If you are not quite sure what a hard 9, 10 or 11 means, it is simply a hand that does not contain an ace and totals 9, 10 or 11, such as 4+5, 7+3, 9+2 and so on.
Capitalise on the Low House Edge and High RTP in Blackjack
When you play blackjack the way it should be played at Springbok Angola Online Casino, you can win frequently and systematically build a bankroll.  It is not the kind of game that pays out huge amounts of cash but it does have one of the lowest advantages to the house… and that means there is more money in it for you.
Get your double down tactics spot on you can capitalise on an average return to player (RTP) of 99,46 percent. What does that mean in terms of rands and cents?
Well for every R100 wagered on blackjack at the number one Angola online casino in cyberspace, a whopping R99,46 is returned to all players in the form of long-term winnings.  Now that is a statistic that is most definitely worth pursuing!
Play Multiple Blackjack Variants at our Angola Online Casino  
What's more, you can find a host of exciting blackjack variants that offer all sorts of big-paying surprises at Springbok Angola Online Casino.
Besides the standard version of the game, RTG has developed seven variations that you can play right here in both the fun and real money modes - Blackjack and Perfect Pairs, European Blackjack, Face Up 21, Match Play 21, Suit Em Up Blackjack and Super 21.