Best Online Games Tips: When to Split in Blackjack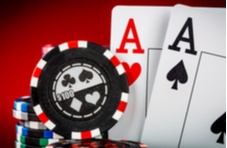 If you are a fan of blackjack, you will know that there are limited actions that you can take to; one, beat the dealer, two, improve your win rate and three, accumulate a greater amount of cash winnings.
The good news is that blackjack is already skewed in your favour.  By that we mean that the advantage to the house is lower in blackjack than it is in many of the other online gamesat the casino. 
When the house edge is low, the average return to player (RTP) is nice and high.  To anybody who knows anything about gambling, a high RTP means the odds of banking ZAR playing blackjack right here at Springbok Casino are good – to very good! 
In the case of the online blackjack variations that you can play right now, the average return is a distinctly pleasing 99,46 percent, and the edge the casino skims off as profit is just 0,54 percent!
Basic Blackjack Online Games Rules
If you don't already know the basic rules that pertain to blackjack and the multiple online games that are similar in design, here is a quick heads-up;
Your task is to accumulate cards that have a collective value that is close, or equal, to 21.  The idea is to get a hand that is higher than that of the dealers without going bust – a term associated with exceeding the number 21, which results in an instant losing hand.  The payout for a two-card 21, known as blackjack, is 3:2.  Any other winning hand is paid at even money.
In the online version of blackjack, you are dealt two face up cards to the dealer's one card.  Based on the three cards on the gaming interface, you can make one of four decisions – hit and draw another card, stand with the cards you are dealt, double down by doubling your wager and drawing precisely one more card, or split.
In this article we are focussing on the split action.
The ABC of Splitting in Blackjack  
The only time that you can hit the split button in blackjack is when you are dealt two cards of exactly the same value or in other words, a pair. 
When that happens, you can split the two cards into two hands and play each hand separately and simultaneously – provided you place an additional bet of equal value of the original wager.
What that in effect allows you to do is double your chances of winning by achieving 21, or a score that is higher than that of the dealers, in at least one of the hands.
Rules Pertaining to the Split  
Online games by the different game developers have slightly different rules.  In the case of Real Time Gaming developed online blackjack that is available at Springbok Online Casino, you can split pairs as often as you like, provided you keep getting the same card.
The one exception to the rule is aces, which can only be split once.  At Springbok Casino, you can also double down after a split in blackjack… and that means potentially more money in your pocket!
Once you have split the hands, you play as you normally would do by opting to hit, stand or double down based on the value of the cards in hand and the dealer's up card.
Best Practice Tactics  
As with all skill-based online games, there is a strategy that you can use in blackjack that outlines exactly when to split and when not to split.  This information is available in tabular form and you can download the basic blackjack strategy table from the internet for free.
We have also summarised the strategy right here so that you can get the best possible outcome every time you load RTG blackjack - or one of the super-exciting variants - on your PC or phone.
A Simple Split Strategy for Blackjack
Here is a brief synopsis as to when to, and when not to, split in blackjack, and the online games that fit neatly into the genre – Blackjack and Perfect Pairs, European Blackjack, Face Up 21, Match Play 21, Pontoon, Suit Em Up Blackjack and Super 21.
There are a few constants when it comes it come to splitting in blackjack.  In other words, there are pairs that you should always split regardless of what the dealer is showing.
The first constant is to always split two eight value cards.  The reason is not hard to see.  A pair of eights has a collective total of 16.  Anybody who knows anything about blackjack is aware that 16 is one of the worst starting hands you can get.
By splitting the eights, you have a double bite at the cherry as the odds of being dealt one of the 16 x ten value cards to at least one of the hands is reasonably high.  As the dealer stands on 17 in RTG blackjack, that means you'll bank even money on a total of 18 or 19, which to beginners, is an eight and an ace.
Similarly, it is best practice to split aces.  In blackjack and most of the associated online games, an ace counts as one or 11, and that opens up a world of opportunity when you have two soft hands that you can play at the same time.
It is also optimal strategy to split a pair of twos, threes and sevens when the dealer shows a two through to seven!
How about double fives?  Well, in this case you would double down and draw exactly one more card for an additional wager.  A grand total of ten has a very high probability of turning into a winning hand.
As for double fours, the best online games strategy is to keep them intact.  Why?  Well, eight is a positive starting hand that can easily level up to 18!  Bear these tips in mind next time you're playing 21 based online games and you'll soon master how to master splitting to win!