How to Win Money Playing Caribbean Stud at the Best Online Casino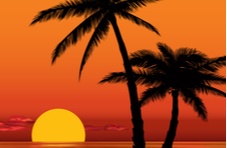 Caribbean Stud is a high-octane card game that is a dead ringer to poker.  Along with Caribbean Hold'em, Tri Card Poker and a host of tantalising video poker variations, Caribbean Stud is one of the best online casino games in terms of winnings.
Opt for the progressive side bet and there is up to R400k – yup you read right – four hundred thousand smackeroos that could be yours, provided the cards play their part in the real money magic.
Although Caribbean Stud is one of the less complex table games you will find at Springbok Casino, there is a basic strategy you can adopt to enhance the win rate.
No Real Way to Influence the Outcome of the Game
How can you win more money playing Caribbean Stud at the best online casino in cyberspace?  Unlike draw poker, where you have to decide which cards to hold to the draw, the only decision you have to make is whether to raise your bet or to fold the hand.  The key indicators that determine whether you raise or fold are the cards in your hand and the dealer's up card.
What that in effect means is that once you have anted up and the cards have been dealt, there is no way of influencing the outcome of the game.  You either raise your bet based on the probability that your five-card hand will beat the dealer's, or you throw in your cards and lose your ante bet.
Standard Caribbean Stud Paytable
Before we get into the very basic Caribbean Stud strategy, let's take a look at how much you can win if and when you hit one of the paying poker hand rankings:
| | |
| --- | --- |
| Royal Flush | 100:1 |
| Straight Flush | 50:1 |
| Four of a Kind | 20:1 |
| Full House | 7:1 |
| Flush | 5:1 |
| Straight | 4:1 |
| Three of a Kind | 3:1 |
| Two Pair | 2:1 |
| One Pair | 1:1 |
| High Card | 1:1 |
OK, we get that you might have a look of complete and utter confusion written all over the face right about now...  Didn't we say earlier – and to great fanfare – that the top pay in the game was R400,000?
We sure did… but the inconvenient truth is you have to place a progressive side bet to qualify for the really humungous winnings.  Having said that, it only takes a little more of your hard-earned cash to unleash the money beast.
In fact, if there is plenty of personalised good fortune floating around, you could become somewhat richer than you were when you first barged through the virtual doors of the best online casino in cyberspace!
How much richer?  Well, firstly it is important to note that every cent that is placed on the progressive side bet funds the pot.  That means the jackpot kitty is constantly ticking upwards and upwards until someone somewhere hits the big fat payday.
Progressive Caribbean Stud Paytable at the Best Online Casino
Here is what you can win with a progressive side bet in-play:
| | |
| --- | --- |
| Royal Flush | 100% of the jackpot |
| Straight Flush | 10% of the jackpot |
| Four of a Kind | R4,000 |
| Full House | R800 |
| Flush | R600 |
There is however a caveat in play here.  The maximum amount you can ever win playing Caribbean Stud at the best online casino is capped at R400,000.
Even when the total progressive jackpot is more than R400k, which by the way has now surpassed this total by a lot, you will only ever bank the maximum amount as per the rules of the casino – and only if you hit a five-card royal flush!
There is one more point we have to cover before we tip you on how to win – and that is the indubitable fact that the dealer must have an ace, king or better or a pair or better to qualify.  Should the dealer fail to qualify, you'll win even money on the ante bet and the raised bet is returned to you.
Simple Caribbean Stud Strategy
Now to the business end of this article – our dead easy Caribbean Stud strategy for our favourite customers at Springbok, the best online casino in South Africa:
Always raise on a pair or better, whether it is a low denomination pair or not.  Statistically and rather surprisingly, two identical cards beat the dealer more often than not.
Always fold when the dealer's upcard is an ace or king and you are holding a jack or queen
Always fold when you do not have at least one high card
Avoid raising on ace high hands as the best outcome you can expect is to win the ante bet as the dealer won't pay a raise bet without an ace, king or better
That way you can lower the house edge – which stands at a comparatively high 5,22 percent – and drive the average return to player (RTP) a little higher.
Top Caribbean Stud Tactics  
Besides the strategy we've outlined above there are a few tactics you can employ to boost the payout probability.  The first is to take the progressive side bet.  It'll cost you a little bit extra but it'll also ensure you automatically qualify for the major money prizes when you hit a flush or higher.
The second is to play the game without emotion.  In other words, you should anticipate the probability of hitting losing streaks along with winning streaks, but rather than walking away when you hit a bad patch, lower the stake you are playing at, sit tight and recoup the losses.
As with most, if not all online casino games, a win is never a given… but my implementing simple betting strategies, you can still mitigate losses and try and stay on the winning side of things.  So, armed with what we've covered above, you now have our blessing and the know-how to go and play Caribbean Stud like a seasoned poker pro at Springbok, the best online casino!