Convert Casino Games into ATMs: Get the Best Craps Trainer Apps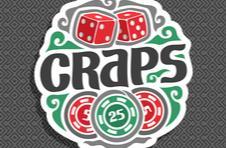 Of all the online casino games available at Springbok Casino, craps is probably the most intimidating.  As a dice game you would think it would simply be about predicting the roll of dice and pocketing wads of cash for your efforts.
In one respect, that is exactly what happens.  A quick glance at the layout, however, usually brings a furrow to the brow.  With craps it is not the game play that confounds betting beginners.  It's the betting options and the tactics required to turn casino chips into hard cash that are the most difficult to master.
If you want to get a steady return on investment every time you load casino games onto your PC or phone, you need to be adequately prepared.  In the case of craps, prep means having an intimate knowledge of the rules and bet types.  It also means knowing exactly where you have gone right and where you have gone wrong. 
An interactive trainer app that points out your mistakes and shows you how to correct them, is worth its weight in gold.  What are the best trainer apps for casino games that fall squarely into the craps category?  Here is a brief overview of the iOS and Android apps that have garnered the most favourable user reviews:
Craps Trainer Free App
The Craps Trainer Free app is an interactive training tool that helps you learn the finer points of the game… as you play.  It has all the features you would expect from an app known and loved for its intuitive UX.
You will instantly benefit from helpful betting advice that zooms in to the finer art of placing wagers in optimal amounts.  You will also get an idea of what it is like to play craps at an online or B&M casino, thanks to the authentic stickman calls.
One of the standout features of this freemium app are the handy little windows that pop up to give you a tutorial on how best to play the game.  Get it all right and turn your chips into chip stacks and a winnings window is pasted across the screen displaying the initial wager, the odds and the cumulative winnings in your account.  The Craps Trainer Free app is available at the Google Play store.  It is the perfect tool for folk starting out on the craps journey and the first baby step towards mastering one of the most complex casino games of all.
The second step is to sign up at Springbok Casino, hit the Speciality Games tab and load Craps onto your device.  You can finetune your tactics in the fun mode, where no ZAR is exchanged.  Once you are confident that your strategy is working and you are winning more bets than you lose, all it takes is one click to upgrade to the money mode!  Then it's 'Hullo ATM'!
Aw Craps! App
Aw Craps! is an award-winning training app compatible with iOS devices.  Along with a table layout that precisely simulates the real deal, the app features animated 3D dice to add a touch of full screen shooter to the mix. 
Factor in bona fide stick calls and game play that is so realistic you'd be forgiven for thinking you are in the thick of things at the Bellagio, and Aw Craps! more than lives up to its reputation as a premium casino games training tool.  Overall functionality is smooth and seamless, you will get all the pointers you need to improve your game and there are even a few maths lessons to help you maximise your betting tactics.
To top it all, there are five different types of dice to pick and choose from - hot, warm, standard, cool and cold. Customisable dice allow you to test your newly acquired betting strategies against the kinds of shooters you are likely to encounter in the live craps setting.
Aw Craps! may be considered a trainer app but there are plenty of experienced players who load it onto their phone to enjoy whenever there is a free hour in their day!
Craps - Casino Style App
The Craps - Casino Style app has all the features of a standard training tool.  The graphics are realistic, the audio adds the required calls and ambience to the occasion and game play is pretty slick.
All in all, it emulates the genuine casino games experience but it is a bit light on the kind of information most new craps players are searching for.  The app does however offer you ample opportunity to practice your tactics but the general consensus out there is that it is more suitable for players who already know their pass line from their don't pass line bets!
Craps - Casino Style is compatible with Android and iOS devices and available for free at the respective app stores.  For those who need a more elevated gaming experience, there are in-app purchases to ramp up the action.
Skip the Craps Trainer Apps and Sign up at Springbok Casino Instead
Springbok Casino really is one big trainer app!  As you are now fully aware, all our casino games are available in two modes – the fun, or 'free play' mode and then the real money mode where real cash winnings are a given.  Thanks to the dual interfaces, you can however learn how to play craps in a zero-risk free play environment.  
That doesn't mean the mechanics are any different to what you will find in the real money mode.  Every aspect of the game is exactly the same – from the chip values and bet types to the payouts.  Choose to play for free to practice casino games like craps and Springbok Casino will give you R1000 in virtual coins to do so with zero risk!
Once you have mastered the art of winning playing casino games in the fun mode, you can upgrade to the heart stopping action where a roll of the dice can boost your ZAR betting account ever upwards!