Why Classic Blackjack Takes the Top Spot in Online Gambling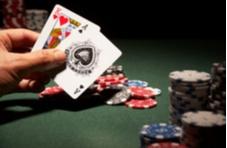 The online gambling platform has resulted in an explosion of blackjack variants, one more exciting than the other.  There are games with bonuses for diverse card combinations and variants that feature side bets capable of unlocking payouts at fantastic odds.  Despite all this, classic blackjack remains one of the best bets at Springbok Casino… and here's why:
Best Online Gambling Odds 
What is the key to online gambling success?  Finding the casino games that give you the best chance of winning.  How do you find the top casino games in terms of win probability?  According to the odds of course!
As you probably know by now, the published odds represent the probability of a specific outcome actually occurring.  In European Roulette the numbers bet pays 35:1.  In reality, you have 1 in 37 chance of correctly predicting which numbered pocket the ball will land in.  That equates to a calculated probability of just 2.63%!
Play Jacks or Better video poker at Springbok Casino and the odds of hitting one of the top paying poker hands lengthen to 25 to 1 for a four of kind, 50 to 1 for a straight flush and a massive 250 to 1 for a royal flush.  Those are all long shots in anyone's books and it is reflected in the calculated probability ascribed to each of the hands, stats that stand at 3.84%, 1.96% and 0.40%, respectively! 
In the Classic Form of the Game Blackjack Pays 3:2
How does blackjack compare when it boils down to the odds?  Well, in the classic form of the game that you can play right here at Springbok Casino, a natural two-card blackjack pays out at odds of 3:2.  That equates to a 60% probability – and that is a statistic that proves that blackjack is indeed king in the world of online gambling!
It is not only the probability that is important to players over the long term.  It is the rands and cents that you can win when you do achieve the perfect hand in blackjack.  Browse through the blackjack variants featured at Springbok Casino and you will soon discover that not all the games are equal.  The likes of Face Up 21, Match Play 21 and Super 21 only pay even money for blackjack.  They do however have all sorts of other surprises in store for you as compensation!
Low House Edge
There is another equally important indicator that points to the good, bad or indifferent online gambling propositions at Springbok Casino – and that is the house edge.  What is the edge?  It is the statistical advantage the casino has over the players and it fluctuates wildly from game to game.
It is also directly juxtaposed to the average return to player (RTP) or payout rate.  The house edge and RTP are basically counterweights of each other.  What is the edge for RTG Blackjack?  It is a meagre 0.54% and that of course means the average payout rate is 99.46%.
How the Edge in Classic Blackjack Compares with Other Casino Games 
How does the nominal 0.54% advantage to the house compare with the other online gambling games featured at Springbok Casino?  Here are a few of our high hit rate casino games together with the respective edges and payout rates:
| | | |
| --- | --- | --- |
|   | House Edge | RTP |
| American Roulette | 5.26% | 94.74% |
| European Roulette | 2.78% | 97.22% |
| Baccarat (Banker Bet) | 1.06% | 98.94% |
| Let It Ride | 3.51% | 96.49% |
| Caribbean Hold'em | 2.16% | 97.84% |
| Three Card Rummy | 3.23% | 96.77% |

What is clearly evident from these figures is blackjack has one of the lowest edges of all.  In fact, it is only the games in the video poker category that give the card games of the 21 variety a run for their money. 
The Edge and RTP - Classic vs Bonus Blackjacks at Springbok Casino
We have determined that the entire blackjack genre is worth its weight in gold.  Now how about a stand-off between the casino classic and the other blackjack variants, the ones that offer side bets and bonus pays? 
Here is a snap shot of the vital statistics for a few of the more popular bonus blackjacks that you can play right here and right now:
| | | |
| --- | --- | --- |
|   | House Edge | RTP |
| Classic Blackjack | 0.54% | 99.46 |
| Face Up 21 | 0.75% | 99.25 |
| Match Play 21 | 0.73% | 99.27 |
| Super 21 | 1.06% | 98.94 |

Although there isn't too much separating one game from the other in terms of the theoretical advantage to the house, the reality is the classic form of blackjack wins yet again.  What is more, it is possible to lower the edge of all skill-based table games and that obviously includes blackjack. 
All you have to do is learn the basic blackjack strategy and you can find that kind of stuff online.  If that sounds too much like hard work, why not print out a blackjack strategy chart instead.  When you do that, you can refer to the moves you should make in real-time, based on the cards you are holding and the dealer's up card – and that could well mean you are on your way to beating the house!
Play Blackjack for Free at Springbok Casino
One way of pumping up the payout rate in blackjack is to practice.  At Springbok Casino, we offer all our games in the fun mode.  That means you can try out different tactics, betting systems and online gambling tips – on the house.  Once you have found a strategy that works for you, you can sign up, fund your casino account and get down to the real business of online gambling… and that is winning lots and lots of real money, of course!