Why Single-Hand Blackjack is Best for Beginners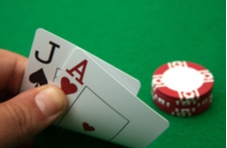 In most instances, more is best.  When it comes to playing blackjack at our online casino South Africa, the opposite is true – especially if you are a gambling greenhorn.  Playing just one hand of blackjack per game round at Springbok Casino has a key advantage… and it's called 'variance'.
What is variance?
All the casino games you can play at the best online casino South Africa have a theoretical variance.  In layman's terms, variance is the deviation between the game's wins and losses.  It is an indication of the fluctuation in fortunes that you can expect when you play real money games at Springbok Casino – the anticipated swings between hot and cold streaks.
In a low variance game, both the wins and losses are comparatively nominal in value.  That means your bankroll lasts longer and your gambling sessions at Springbok Online Casino South Africa are extended as your result. 
How Variance Relates to Single-Hand Blackjack 
How does that relate to single-hand blackjack?  In the normal scheme of things, playing just one hand of blackjack at a time does not have the ability to break the bank, nor generate big wins.  Even with the maximum R500 stake in-play, the most you can win is R1,250 that is duly paid out for a blackjack at odds of 3:2.
It is worth bearing in mind that the probability of hitting a blackjack with six decks of cards in-play is just 4.75%.  That means the most likely wins are the even money payouts offered on a winning hand. 
As the majority of players are risk-averse and typically stake low value casino chips – at Springbok Casino that is R2 and R10 – the payouts are either R4 or R20 for a win at 1:1 odds and R5 or R25 for a blackjack.
What all this means is single-hand blackjack has a comparatively low variance.  You won't lose your shirt and you won't win life changing amounts of money either.  If you play blackjack the best way you can by using the basic blackjack strategy, you can accumulate a bit of cash here and there and end your gambling sessions in positive territory.
Expect Higher Wins and Losses in Multi-Hand Blackjack 
Had you elected to play multi-hand blackjack instead, your stake would obviously rise, as would the value of the wins and losses.  In a five-hand game, for instance, the minimum stake would escalate to R10 or R50 per round when using the two lowest available chip values. 
Although the odds are still fixed at 3:2 and 1:1, there is always a chance that you would win more than one hand per round… or not.  That of course means the variance is much higher in multi-hand blackjack. 
As a result, you can expect to lose a lot more of your hard-earned cash – per game round and over time.  When you get the right cards and play the game according to the basic blackjack strategy, you can win more money too.
At the end of the day, variance is closely associated with risk.  That is exactly why we only feature our classic online blackjack and all the awesome variants in the single-hand mode right here at the number one online casino South Africa!
Is the House Edge the Same in Single- and Multi-Hand Blackjack?
The most seasoned gamblers will tell you 'the edge does matter.'  What is the edge?  It is the advantage to the house that is built in to all the casino games at Springbok Casino.  It is how the casino makes enough money to cover the cost of the software, support personnel, bank charges, web and mobile app developers and so on and so forth.
A low edge casino game has obvious benefits.  Why?  The largest percentage of all the wagers placed on that particular game is returned to players as payouts.  The good news is blackjack has one of the lowest edges of all.  The question is… does the edge fluctuate based on the number of hands in-play?
Individual Hands Equals a Matching Edge
The answer is no.  In multi-hand blackjack each hand is played individually.  You place a bet on each hand and hit, stand, double down or split based on the cards in that particular hand and the dealer's up card.  If that hand beats that of the dealer, you win.  If not, you lose and the game moves on to the next hand.
The only difference between single- and multi-hand blackjack is in the latter format, up to five individual hands are played at the same time.  As a result, the edge is the precisely the same, whether you play one hand or five hands.
Find the Best Low Edge Blackjack at Springbok Online Casino South Africa
Although we don't offer high variance multi-hand blackjack at our top-rated online casino South Africa, we do provide the full gamut of low edge blackjack games.  Here is a sample of the best online blackjack games you can play at Springbok Casino, together with their respective edges and RTP percentages:
| | | |
| --- | --- | --- |
| RTG Blackjack  | Edge  | RTP  |
| Classic Blackjack  | 0.54 | 99.46 |
| Face Up 21  | 0.75 | 99.25 |
| Match Play 21  | 0.73 | 99.27 |
| Perfect Pairs  | 0.54 | 99.46 |
| Pontoon  | 0.65 | 99.35 |
| Super 21  | 1.06 | 98.94 |

If you want to build the balance in your Springbok Casino account and have more time and money to enjoy great gambling on-demand, play the low edge single-hand blackjack games featured on our site.  Yes, your returns per hand won't be as grand – but you'll stay in the game and get to have fun for much longer, at less risk to you!