What is the 6-Card Charlie Rule in Online Blackjack?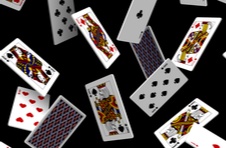 Have you heard of the 6-Card Charlie rule?  No?  Well, it is a blackjack rule at our online casino that works in your favour.  It may be increasingly hard to find, but when you play casino games online, even the slightest advantage can pay off.  Here is what you need to know about 6-Card Charlie…
Only Two Pays in Standard Blackjack Casino Games
In the standard version of blackjack, payouts on the ante bet are limited to just two hands – a natural two-card blackjack and a winning hand.  No other card combinations are relevant.  The actual value of the payouts can vary from casino to casino.  At Springbok Casino, we pay 3:2 for blackjack and even money for a win.
That is in the normal course of events.  The reality is that casino games like blackjack are available online in a wide range of variants.  Some versions have slightly different rules, others offer optional side bets linked to bonus payouts.
More Ways to Win at No Extra Cost

!

Now, one of the casino games in the blackjack genre featured at Springbok Casino is an interesting hybrid.  It provides players with additional ways to win but at no extra cost.  In other words, an expanded paytable is in play, but without the pre-requisite of a side bet.
What is a 6-Card Charlie?
Here is where it gets interesting.  Besides banking money on a conventional blackjack, there are four more ways of racking up the wins – one of which is a 6-Card Charlie.  Not sure what a 6-Card Charlie is?  It is a six-card hand with a collective total of 20 or less!
Realistically, drawing to a six-card hand without going bust is no easy feat.  In fact, the chances of doing that are around 400 to 1.  Even with those odds, the 6-Card Charlie is a potential boon for players at Springbok Casino – and one that should not be overlooked.
What is the Big Deal About 6-Card Charlie?
Why are 6-Card Charlies considered such a big deal in the world of casino games?  First off, the rule is predominantly offered by online casinos.
Gaming halls in Vegas, Paris and Macau would baulk at the suggestion of offering cash winnings to players who accumulated six cards… any six cards.  How come?  The 6-Card Charlie rule lowers the edge – the inbuilt advantage to the house.
Extra Pays… at Reduced Odds
The vast majority of online casinos, however, offset the extra pay by tweaking the odds.  Rather than paying 2:1, 3:2 or 6:5 for blackjack at the online casino, the winnings are reduced.  Casino games with the 6-Card Charlie typically offer even money for a two-card blackjack – and Springbok Casino adheres to the norm.
What does a 6-Card Charlie pay?  At 1:1 odds.  Now that may seem like an unfair swop – exchanging the 3:2 odds for even money for a natural blackjack, while getting only 1:1 for the extra pay.
Before you get totally disillusioned, it is worth emphasising the fact that there are three more ways of winning… over and above blackjack and 6-Card Charlie.  What is more, they pay out at enhanced odds.
Where to Find Blackjack Games with the 6-Card Charlie Rule at Springbok Casino
In essence, there is only one blackjack variant at our online casino which offers 1:1 odds for a six-card hand… and that is Super 21.  It is one of several online casino games exclusive to the full download version of Springbok Casino.
Once all our casino games have been upgraded on the HTML5 platform, Super 21 will be easily accessible on the instant play and mobile casino platforms.
What Can You Win Playing Super 21 Online?
We mentioned there were free bonus pays to compensate for the reduced blackjack odds.  Here are the Super 21 payouts in black and white:
Natural blackjack – 1:1
Diamond blackjack – 2:1
5-Card 21 – 2:1
6-Card 21 – 2:1
6-Card Charlie – 1:1
How to Improve the Odds of Winning
As with all online casino blackjack games, Super 21 is a game of skill.  What that effectively means is any player, including you, can learn how to play the game optimally.  That may sound challenging but when you know how, it is dead easy.
In the days before online casinos, players would have to memorise the mathematically correct moves to make based on the cards in hand and the dealer's up card.  Nowadays all it entails is downloading a strategy chart and referring to it while you play the game!
Where to find the Best Super 21 Strategy Chart
At Springbok Casino we provide regular gambling tips covering all the online casino games categories.  Where we can, we have reviewed the best titles and given little hints on how to maximise your time gambling online.
You will find all you need to know about popular online blackjack variants under the dedicated 'Blackjack and Table Games' tab at the top of the gambling tips page.
What is more, there is a detailed overview of the rules, payouts and RTP pertaining to Super 21.  There is also a best-play strategy chart that gives you a blow-by-blow account of when to hit, stand, double down and split.  It is yours to use at your convenience!
Sign Up at Springbok Casino: Play Super 21 for Real Money
You now know all about the 6-Card Charlie rule.  You also know precisely where to find the tips, tricks and strategies required to beat the dealer at blackjack at our online casino.
If you are not a registered member of Springbok Casino, now is the time to sign up and settle in for some of the best online gambling around!
Besides a great selection of online casino games, our promo page is jam packed with Springbok Casino bonus codes redeemable right now at the cashier.