Why Suit Em Up Blackjack is Well Worth a Punt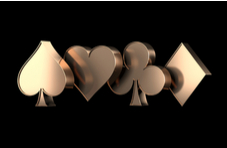 As the best online casino in terms of gaming diversity, Springbok Casino offers several exciting variations of online blackjack.  The game currently in our sights is Suit Em Up Blackjack… which, to players in the know, is the standard game with an optional bonus side bet in the mix!
Multiple Betting Options Support Full-On Gambling Flexibility
What we particularly like about Suit Em Up Blackjack is the versatility of the game.  You can choose to play straight-up blackjack, as you normally would.  Alternatively, you can maximise your chances of winning by taking the optional bonus side bet.  You can even hedge your bets by taking out insurance when the dealer shows an ace!
What that essentially means is you have optimal flexibility when your play what has to be one of the best online casino games in the blackjack genre!  Here is a quick recap of how the game actually works…
How to Play Suit Em Up Blackjack at Springbok Casino
The gameplay of Suit Em Up Blackjack is precisely the same as the standard game.  In this variant, however, you have the option to place an additional wager over and above the conventional ante bet.  You do this by tapping on the Suit Em Up logo on the gaming interface.
Bet #1 – Suited Cards
Once the bets are down, two face up cards are dealt to the player position and one up card and one hole card to the dealer.  If your cards are of matching suit, you are paid out according to the bonus payable.  If not, the side bet is collected and the game proceeds.
Bet #2 – Natural Blackjack or a Winning Hand
At this point, you can hit, stand, split or double down based on the value of your cards and the dealer's up card.  When the dealer shows an ace, the optional insurance bet is active – which you can accept or reject.  From thereon forward, the game follows the standard rules of basic blackjack.
Two Times the Loot? Yup… When It Is Your Day!
Aside from the conventional blackjack payouts – 3:2 for a natural blackjack, even money for a winning hand and 2:1 for a successful insurance bet – how much does the bonus side bet pay out?  Well, it is these odds that instantly catapult Suit Em Up Blackjack into the best online casino games category… and you are bound to agree.
What You Can Win Playing the Best Online Casino Game at Springbok Casino
Here is what you can win when the first two cards you are dealt are of the same suit – be it hearts, spades, diamonds or clubs:
Suit Em Up Bonus Bet Paytable
Any suited two cards – 2:1
Suited 11 – 3:1
Suited pair – 5:1
Suited blackjack – 10:1
Suited aces – 60:1
Breaking Even in Suit Em Up Blackjack
One of the key elements of playing side bet blackjack is you have the opportunity to break even.  With two wagers on the table, or occasionally three in the form of the insurance bet, the chances of winning at least one bet are in your favour.  Hence our reference to Suit Em Up Blackjack as one of the best online casino games around.
What are the Chances of Winning the Suit Em Up Side Bet?
When we refer to chance, what do we actually mean?  As the mathematicians out there will tell you, it is the calculated probability of hitting a particular two-card hand – be it a natural blackjack or a suited pair.
As you can well imagine, the hands that pay out at the highest odds are the most difficult to achieve.  They are the combinations of cards with the lowest probability of occurring.
Mathematical Probability of Hitting Suited Hands
In a six-deck game, like the online blackjack variants we offer at Springbok Casino, you have a 1 in 870 chance of hitting suited aces.  That, of course, is the statistical probability over the long term, usually around 100 hands.
That said, there is no universal rule that says you can't or won't be dealt a pair of matching aces on the first or second game round. It all depends upon whether it's your day or not – and this is just about where luck comes in, in an otherwise strategic game!
How do the rest of the bonus blackjack hands pan out as far as chance or probability goes?
Lower Odds Equal Higher Probability and Better Chances
The great news is, your chances of banking a bit on the side become progressively better from hereon in.  In fact, you have a 1 in 84 chance of being dealt a suited blackjack and a 1 in 25 chance of hitting a suited pair.  When it comes to suited 11 and any other suited cards, you can bank on getting one of those combos every four to five hands.
Now do you see why we rate Suit Em Up Blackjack as one of the best online casino games?  When the side bet is in play and you are familiar with the basic blackjack strategy, you really can win more hands than you lose – and even turn a small profit!
Get a Thrill-A-Minute at the Best Online Casino!
Recreational real money gaming at Springbok Online Casino is not only about rands and cents.  It is about having fun.  With an online casino game like Suit Em Up Blackjack, there is an added chance of winning… and that in itself provides plenty of thrills.
When you consider blackjack is one of the best online casino genres in terms of the house edge, then it really is a no-brainer to sign up, login to Springbok Casino and hit the table games tab.  It is what all our smart patrons do!