Best Blackjack Tips & Springbok Casino No Deposit Bonus Codes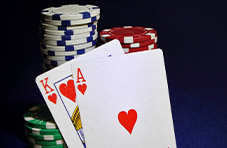 When you know how to use Springbok Casino no deposit bonus codes, you can benefit big time.  That sentiment applies to the hard and soft hands in blackjack at our casino.  Here is what you need to know about the role of the Ace and why you must adapt your tactics accordingly.
Hard vs Soft Hands in Online Blackjack
Along with online slots and roulette, blackjack is the backbone of any gaming platform.  At Springbok Online Casino, you can play the classic form of the game.  You can also dabble in a few choice variations offering optional side bets and bonus payouts.
Notwithstanding your online casino games selection, all blackjacks have hard and soft hands.  The significance of this is that the way in which you play the respective two-card totals is critical to your overall win rate.  Make the incorrect move… and there is a strong likelihood you will bust the hand.
Before we focus on strategy, let us take a quick look at the hands themselves.  What are the defining characteristics of a soft hand over a hard hand?  As we alluded to in the opening paragraph, the Ace is the key.
As you probably know, in blackjack, the Ace counts as either one or 11.  It can also transition from one rank to the other, in the same betting round.  Fortunately, you don't have to worry too much on that score.  The gaming software at Springbok Online Casino automatically allocates hand totals – highlighting both soft options – as the game progresses.
The Ace is the critical component in the opening deal.  If one of the two initial cards you are dealt is an Ace, the hand is soft – and soft hands are flexible hands.  As with our Springbok Casino no deposit bonus codes, it is the kind of thing you want to see a lot of.
What does a soft hand look like?  As an example, A-7 – an Ace combined with a 7 value card – is considered a soft hand.  The hand value can either count as 8 or as 18.  That gives you plenty of leeway in terms of decision-making.
Theoretically, you can hit and try and improve the hand, as in A-7-5-8.  Alternatively, you can choose to stand.  That way you have a good chance of beating the dealer.  That is especially true when the rules make it mandatory for the dealer to hit on soft 17.
Hard Hands Have Maximised Rigidity
A hard hand does not contain an Ace.  It is cast in stone, so to speak.  There is no flexibility in terms of the value of the two-card total that you're initially dealt.  When you are dealt 6-4, for instance, the total can only be 10.  It is what is is.
When you get a hard opening hand, there is no space to play with when it comes to decision making.  The only way to play the hand is according to the basic blackjack strategy.  In the case of 6-4, the correct decision is to double down.
If you want to gain a profit playing blackjack at Springbok Online Casino, you must rely on the correct strategy.  As you have no doubt gathered, the gameplay for soft hands is markedly different to that of hard hands.
Stand, draw, split or double down at the wrong time… and you can kiss your bets goodbye.  Not even the most generous of Springbok Casino no deposit bonus codes will be able to resuscitate your bankroll!
Soft Hand Strategy for Online Blackjack
Here is how the seasoned pros play the soft hands in blackjack… and so should you:
Soft 20 / Soft 19 – stand, regardless of what the dealer is showing
Soft 18 – double down when the dealer's up card is 3 through 6 and stand when the dealer has 2, 7 or 8, otherwise, hit
Soft 17 – hit when the dealer exposes 2 or 7 through Ace.  Double down when the dealer shows 3 through 6
Soft 14, 15 and 16 – always hit unless the dealer has 4 through 6.  In that case, double down instead
Soft 13 – hit and only double down when the dealer's up card is 5 or 6
How to Play the Hard Hands in Blackjack
When you play hard hands in online blackjack, the decisions you make are dependent on a few things.  The rules of that particular game, the dealer's up card, and the number of decks in play are the most critical.
At Springbok Online Casino, six standard decks of cards are in the virtual shoe.  The cards are shuffled after each betting round.  The rules for all Real Time Gaming (RTG) developed online blackjack games are as follows:
Dealer hits on soft 17
Double down once on any two cards
Only one card is dealt to split aces
Based on that information, here is the best blackjack hard hand strategy to adopt – but only when you are dealt a hand that does not contain an Ace:
Hard 20, 19, 18 and 17 – always stand, regardless of the dealer's exposed card
Hard 16, 15, 14, 13 and 12 – hit when dealer shows 7, 2 or 3.  Stand if the dealer has 4 through 6
Hard 11, 10 and 9 – double down when the dealer's up card is 4 through 6, otherwise, hit
Online Blackjack and Springbok Casino No Deposit Bonus Codes
Springbok Casino no deposit bonus codes open the door to free gaming.  They are like comps to the biggest festivals in South Africa!  Our no deposit codes are directed at both new and returning players.  Besides our free cash bonus, identified by the coupon code TEST-Springbok, no deposit bonuses range from loyalty and birthday bonuses to tournament prizes.
As far as Springbok Casino no deposit bonus codes and blackjack are concerned, here is what you need to know.  The free cash or free bets linked to our Springbok Casino no deposit bonus codes cannot be used on any of our online blackjack games.
Similarly, wagers on RTG blackjack do not count towards the wagering requirement.  That essentially rules the popular card game out of the equation.  This rule does not only apply to Springbok Casino no deposit bonus codes but it applies to deposit and cashback bonuses too.
The quickest, easiest and most entertaining way of clearing Springbok Casino no deposit bonus codes is to play online slots.  7 Stud Poker, Bingo games, European Slot Poker, Keno, Pai Gow Poker and Scratch Cards also count towards the playthrough.
Don't let the bonus eligibility deter you from playing our top-quality RTG blackjack though.  It is, after all, a game of skill!  Springbok Casino no deposit bonus codes and other bonus money aside, simply play your cards right, and you have a great chance of winning ZAR!
Sign Up & Play Blackjack for Real ZAR at Springbok Casino
As for how to play soft and hard hands?  There is an easy solution to settle any remaining confusion.  Simply register an account at Springbok Online Casino and hit the Table Games tab.  You will find all our online blackjack games are available in both the real money and fun modes.
This means that you can play blackjack in a no-risk environment, which will allow you to familiarise yourself with the rules, the hands and the basic blackjack strategy.  Tap or click on the 'Try It' button as it provides instant free access to the best blackjack online!