Ready to Bingo?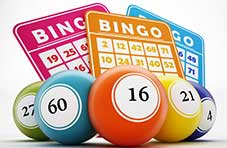 Bingo is not only a fun and relaxing form of gambling, it's also an intergenerational game enjoyed by fans of all ages. Rules are extremely simple and straightforward, with no complex strategies one would need to master in order to play and win. Its origins go back to lottery-style game called Lo Giuoco del Lotto d'Italia which was played in 16th century Italy.
From there it first spread to neighbouring countries such as France and Germany, and thanks to European immigrants, during the 19th century it also made it to the States. This is where it was named beano, because when a number was pulled from a box, players would mark it on their cards with a bean.
As is the case with many other forms of gambling, online casinos have massively contributed to the popularity of this game across the world. Two of the major advantages online Bingo has over its live version is that it's super-fast and very convenient to play. All one needs to do is purchase a card (or more of them to increase winning chances), and winning numbers will be marked on player's card automatically. There are different ways to win at online Bingo, ranging from simple patterns such as vertical, diagonal and horizontal, to more complex ones like four corners, a plus sign etc. What's more, you'll find varieties which pay additional rewards and even progressive jackpots in addition to standard prizes. If you want to benefit from multiple win opportunities, take advantage of couple of exciting Bingo games featured at Springbok – Roaring Twenties Bingo with no less than 3 progressive jackpots, and equally fun Bonus Bingo with several special extras. 
Roaring Twenties Bingo
This version of Bingo uses 5x5 cards randomly filled with numbers from 1 to 90, allowing you to bet as many as 100 cards per draw. Balls are drawn from a pool which also contains a Wild ball. If the latter gets drawn, the centre position on every card is hit. Pressing "play extra balls" button doubles your bet and draws 5 additional balls.
What makes this variant even more exciting are randomly awarded Minor and Major progressive jackpots, as well as Maxi progressive which is won by a full card win. If you're playing multiple cards, there is a chance to win Maxi jackpot multiple times, in which case the first card will land you the progressive amount, and others will award 10,000x the minimum bet per card. There are 8 complex patterns paying between 3 and 250x your bet, plus simpler combos in the form of vertical, horizontal and diagonal lines paying from 1 to 25x the bet. Turbo button will allow you to accelerate the drawing  should the action seem too slow. 
Bonus Bingo
To start off, Bonus Bingo will offer 4 cards to pick from. While you can play as few as one, do note that playing all four gives you extra win opportunities. Cards can be changed should you feel they don't contain your lucky numbers; simple hit the "Change Cards" button and you'll receive new ones.
The game allows bets as low as R0.05 per card and up to R1.00 per each. You'll win by matching a pre-set pattern or hitting all numbers on 2, 3 or 4 horizontal lines. Having made your choice, clicking "Play" button will launch the draw and it will take no more than a few  seconds to find out what you've won.
The game will offer a random surprise in the form of x2 or x3 multiplier and give you the option to choose which card you want to use the multiplier on. When playing all 4 cards, Mystery Balls could be randomly drawn at any point during the game and award extra credits. Additionally, if you manage to complete a set of five special balls, you'll win a passage to the bonus round and bank up to 150x your bet.