Play Exciting Three Card Rummy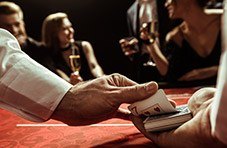 One of the great games that RealTime Gaming, our game provider, has in its menu of games is Three Card Rummy.   This game has a lot of exciting nuances so sit back and we'll explain this fun online casino game to you.
Keep in mind that at Springbok Casino, we emphasize the fun side of gaming so before you online gamble for real money, we suggest you to play this game in our free play mode.  You'll see there are some subtle aspects of 3-Card Rummy so it's a good idea to practice play before you play for real.
Let's Start with the Basic Rules:
The cards all have their face value the same as in blackjack except that the ace is always worth one point.
The idea is to get fewer points than the dealer.
The dealer has to "qualify" to win by getting 20 points or less.
If the dealer qualifies, you can win both of your bets or you can lose both of your bets or:
If the dealer qualifies and the two point totals are the same, it's a push.
If the dealer does not qualify, you win your ante bet and the second bet is a push.
The player makes an ante bet.  You can bet up to 200 units on this game.
You can also make a bonus bet that pays you according to a separate chart.
If the dealer qualifies and you win the hand, you will win something on your bonus bet unless you win with 13 or more points.
The player gets three cards face up and the dealer gets three cards face down.
The player has to decide if he or she wants to continue in this particular deal.
If you want to continue, you make another bet that is equal to your ante bet.
When you count up your points and the dealer's points there are some card combinations that are worth 0 points.  These are a pair or three of a kind and two cards of the same suit in a row, (as if going for a straight flush in poker).
Oh, Boy!
Yes, the rules do seem very complicated at first.  So, now we're going to break down all these rules so you see how this super exciting table game works.
Unlike in Blackjack…
You want to get fewer points than the dealer.  It's that simple.  If you are a dedicated blackjack player, you will have to make a big switch in order to play Three Card Rummy because of this one rule.  Believe us, if you're a big blackjack player, you'll love Three Card Rummy.
Aces
The ace is always worth one point so you just add up all the points easily.  This means that ace, two, and three of the same suit is a run worth 0 points which is good for you if you get it and Queen, King, Ace is not a run.
The Dealer Has to Qualify
This means that if the dealer does not qualify, the house cannot win and you cannot lose even if you have more points than the dealer.
If the dealer qualifies, the casino adds up the two totals and decides who has won, who has lost, and if there is a push.
If the dealer does not qualify, you win your ante bet and the raise bet is a push.
Folding
You can fold your hand before you make the raise bet.  When you fold, you lose your ante bet and the bonus bet if you made one.
When and if it's a good idea to fold is the most basic aspect of strategy in Three Card Rummy.
If you decide to go on, which means that you decide not to fold, you make a raise bet that is equal to your ante bet.
Counting Your Points
This is where most new Three Card Rummy players make their biggest mistakes.  You have to be aware at all times of the combinations that count as 0 points.
We try to help as much as we can by telling you on the screen exactly how many points you have and how we figured that number out.  Somehow, some new players miss all that and see 8, 9, and 10 and figure that it's 27 points and fold their hand before they realize that it was really 0 points.
In other words, they have a fantastic hand but counted wrong.  With 0 points, you would want to raise 1000 Rand but of course the most you can raise is 200 Rand so get that thought out of your head!
Let's Take the Next Step
Let's say that you count your points correctly.  Now what do you do?  Some players say that if you have over 20 points, you should fold.  If you have less than 20 points you should always raise.
Let's look further.  There are 13 cards in each suit.  The seven is the middle card in each suit.  So, you can expect the hands to average out to 21 points over the long run.  This seems to show that at the very least, if you have 21 points, you should raise.
The dealer could also go over 20 points and fail to qualify.  When he does, you win on your ante even if you have a lot more points than she does!  Most people who analyze games say that you should fold because otherwise, you would be left making a lot of bets on hunches.
Bankroll Management
We always emphasize fun.  So, if you have made a very large ante bet, you might be more inclined to fold with more than 20 points but if you make the minimum ante bet and you made no bonus bet, you can ride out the hand.  You'll win some and you'll lose some and you'll have a lot of fun doing so.
Bonus and Raise Payouts
There are extra payouts for exceptionally good hands.  These extra payouts come from either the raise bet, which you have to make to stay in the hand, or the bonus bet which you can make if you wish to do so but that you can decline to make.
To see the extra payouts, click on the "rules" icon and you'll see the good news.  We have some players who make Three Card Rummy their go to game.  Others use it as a fun diversion from their top game.
Everyone has a great time when they play Three Card Rummy!