Ready to Take on the Challenge of Caribbean Hold'em?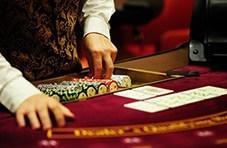 In our long experience running an online casino, we find that there are basically two types of online gamers: those that like to play the games of chance like slots or roulette, and those that like to play the games of skill like blackjack or poker.
Springbok Casino also allows unlimited free play.  Still, most players also prefer to online gamble for real money.  The key to safely gamble for real money is to play for the fun of it and to manage your bankroll properly.
The theme of this blog is how to play Caribbean Hold'em Poker with the best strategy to make your gaming more fun and, with good luck, also profitable.
The Basic Rules
The game is very similar to regular Hold'em but there is no round by round betting and no bluffing.  You basically play against the dealer.  This is a very important part of this great table game.  At a land based casino, you might sit down at a Hold'em table with very good, experienced players.  They can spot a tell a kilometer away.  To do well in this kind of scenario, you need a lot more than just the ability to analyze cards; you need to be able to analyze people as well.
In Caribbean Hold'em at Springbok, you only need to be able to analyze the cards.
The player gets two cards facing up and the dealer gets two cards facing down.  Then the flop comes in with three cards facing up.  Now you have to decide if you want to continue or to fold.  If you fold, you lose your ante bet even if the dealer had a worse hand than yours after the first five cards were dealt.
Fold or Continue
If you choose to go on, you have to make a second bet which is always twice the size of your ante bet.  The most important strategy is when to fold and when to continue.  Surrendering your ante bet is like surrender in blackjack.  Keep in mind that it's good strategy to surrender in blackjack when your chances to win are really small such as when the dealer has an eight showing and you were dealt 16 points.
In Caribbean Hold'em, you don't see either of the dealer's cards.  So, it stands to reason that you should continue most of the time.
Many analyses of winning strategy all came to the same conclusion: you should fold only about 20% of all the hands you get.  The hard part is to know when one of those 20% has come.
The Dealer Needs a Pair
In this game, the dealer has to qualify for you to win your call bet.  If she does not qualify, you win only your ante bet.  The dealer qualifies by getting at least a pair of fours.  Any lesser hand is a non-qualifying hand.
Payouts
First you have to win the hand.  The ante bet gets paid out 1-1 except when you have a very strong hand—flush or better.  In some cases, it pays to follow video poker strategy and go for the higher paying hand instead of accepting a small return for a small win.
Hand Calculators
There is super-cumbersome software that tells you the best strategy in every possible hand.  There are better ways to figure out what you should do.  The best way to decide whether to go on or to fold is to think of this as the same as regular Texas Hold'Em against real opponents.
Managing your bankroll is also very important because a call bet is always two times the size of your ante bet. 
If the Dealer Does Not Qualify
Some players get very frustrated when they have a big hand and the dealer doesn't qualify.  That's part of the game.  There is no shame in making the right decision and winning less than you had hoped.  You have to be sure of your own decision and you have no way of knowing what the dealer's hand will be in the end.
Here are some basic strategies to follow:
You should call in about 80% of the hands you have.
Call with any pair or when you have an unpaired ace or a king.
Call when you have two cards that are higher in value to the three community cards.
The odds change when there is a possible straight or flush on the table and you don't have any play for either hand.  In that case, you should fold anything less than an ace of king high or a pair.
By way of contrast, if you have four cards to a straight or a flush, you should always call.
You should fold when the cards on the board don't help you at all and you have low ranking cards that give you no possibility of improving them.
You should fold if there is a pair on the board that qualifies the dealer and you can't improve your hand.
Side Bets
Caribbean Hold'em also allows a small side bet that gives you the chance to win a jackpot that runs into the hundreds of thousands of Rand if you get a straight flush or a royal flush.  We always suggest that you can make the side bet only if your bankroll allows it.  If you are realistic about your bankroll, and you know that it's too risky to make the side bet, then, please, play without the side bet.
Compare to Video Poker
As we said above, in many cases it's a good idea to look at your hand as if you were playing video poker.  Always ask yourself how you might improve your hand.
You can't see the dealer's hand so there will be plenty of times that you make the right move and the dealer wins anyway.  Look at it as the nature of gaming.  You win some and you lose some. 
A coach of an American football team was known as a very fiery guy.  He had his team in the championship which in the hyperbolic American way is called the Super Bowl.  His team lost the game.  As the fiery coach met his wife and young daughter after the game, the daughter was in tears.  The coach leaned over to her and said, "You can't win them all."
That's the perfect attitude for playing Caribbean Hold'em and every casino game for that matter.  The key is always to have fun within your means and try as hard as you can to make the best moves at all times.