Card Counting Comes in Several Shapes and Sizes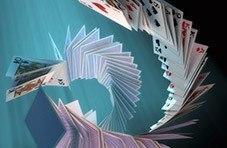 Casinos have two types of games.  This is true both of a land based casino and an online casino.  There are the pure games of luck.  Slots fit in this category.  The great draw in slots is the way the game plays.  Gamers like to "get into" the games and vicariously experience the motif of each slots game they play.
Springbok, the top online casino for South Africa, has over 100 great slots from Real Time Gaming in many theme categories.  Slots remain the most popular type of game we offer.
Decisions, Decisions, Decisions
Then there are the games of skill, deep thinking, and analysis.  The two best casino games in this category are poker and blackjack.  Poker divides into regular poker against opponents, casino poker in which you play against the house, and video poker in which you actually play against the pay table.
In blackjack, you always play against the house.  The house edge in blackjack may be about 1% or less and there are systems that help gamers reduce the house edge to near zero or even less than zero.  The most prominent system for enhancing your chances in blackjack is card counting.
Some players are a bit intimidated by card counting and they feel that they can never learn how to do it.  This is a mistake as we shall show in this tips article.
Plus-Minus System
The most well-known card counting system is the plus-minus system.  Here you count to determine whether the deck is "loaded" with low cards or high cards.  The low cards are 2 through 6; high cards are 10 through ace; and 6 through 9 are considered neither high nor low.
As the cards come out, you count each one as a -1, a +1, or a 0.  It is true that most players get all twisted up at the beginning.  That's one of the big advantages of playing at Springbok Casino.  You can play for very small stakes and simply practice counting cards.  You can also play in our unlimited free play mode.
Practicing card counting is a valuable addition to the other analytical skills you develop as you get better at blackjack.
When you play a one-deck game, card counting raises your chances by close to 1%.  It doesn't really matter if the card count is positive or negative.  The information is valuable to you depending on what you have and what the dealer is showing.
Alternative Card Counting Systems
There are systems that work best with a one deck game but these games may be hard to find at a land based casino.  Many land based casinos have other tricks to turn the advantage back in their favour.  One is the continuously shuffling deck.  In this situation, you can't really count cards so the best advice is simply not to play these blackjack games.
This may be hard to do at a land based casino because players don't like to wait for a seat, so many choose to play with a continuously shuffling deck and their chances of winning drop by at least 1%.
Six Deck Shoe
It is also very hard to count cards in the classic manner when the table uses a six deck shoe.  But there is one system that requires you to keep track of the number of 10 point cards and aces in the first two decks.  This also requires you to keep track of the number of cards that have been dealt.
This system is called the Ace-Ten system.  If the remaining four decks have an abundance of aces and tens, you increase your bets on these latter decks because your chances of getting either blackjack or high point counts are enhanced.
In this system, you don't assign plusses and minuses to the cards.  Instead, you simply count aces and 10 point cards.  In two decks there are 8 aces and 32 ten point cards.  If by your count, there are more than a statistically expected number of aces and 10 point cards left after two decks, you gamble more on each subsequent hand until the decks get reshuffled.
Ace-Five System
Michael Shackleford, who calls himself the Wizard of Odds, developed a card accounting system that requires players to count only fives and aces.  Each five gets a plus one and each ace gets a minus one.  The idea is that if the count gets to plus two, it means that there are more aces in the deck than fives.  At that stage, you increase your bet hoping for blackjack. 
It also means that the dealer is a lot less likely to hit 21 when he has to take a card with 16 points.  This system works very well for those players who can't seem to catch on to the plus-minus system.
Knock Out System
This system works with large shoes.  When the game uses six or even eight decks, the standards plus-minus system is a lot less effective.  The knock out system works bets in these games.
The idea is to count cards as usual but to start the count at minus 20 after all the decks have been reshuffled.  You make small bets until the count goes to minus 4.  This means that the shoe is rich with low count cards and you're a lot less likely to bust when you hit with 12 points or above.
Speed Count System
Although this system is considered easier to learn than the standard plus-minus system, many players find it more difficult!  First, you start the count after the shuffle with 27 for a six deck shoe and 30 for a two deck shoe.  Then, you count only low cards.  This means that you don't have to pay attention to high cards or aces at all.  You count +1 for every low card.  Of course, it means watching every hand carefully including the dealer's hand. 
The next step is to subtract 1 for every hand that was played in a round.  So, if there are seven players at the table, you automatically subtract 7 from the preliminary card count.
You increase your bet only when the count after you've finished all computations reaches +31 or higher.
The Joy of Card Counting
Whichever system appeals to you, you will derive a lot of pleasure from practicing and mastering it.  You'll see yourself winning more than before, possibly coming out ahead a lot more often than before.