All about All American and Joker Poker Video Poker Games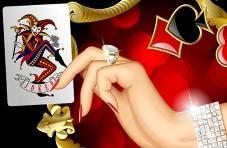 Let's take a look at some of the video poker games on offer at Springbok Casino that we have not yet discussed in this tips series of articles.  Before we begin, please remember that we encourage all players to play any game that they aren't completely familiar with in our unlimited free play mode.  We are also the top no deposit casino for South Africa so you can play any game with your substantial no deposit bonus for new players.
Online casino gaming has many important advantages over land based casino gaming.  One of them is that because online casinos have a lot fewer expenses than land based casinos have, an online casino can offer higher payout rates.  This is especially true in video poker.  Not only do we offer a very wide variety of video poker variations, we offer over 99% payout rates in the game.  Many gamers find that if they follow the best strategy in video poker they can actually have over a 100% return to player rate.
All American Video Poker
As always, we encourage players to check out the pay table.  You'll see that the payouts are different for some of the hands.  This will affect your strategy as we'll see.  The payout rate for a Royal Flush is standard as are the payouts for Jacks or better and three of a kind.  The rates are lower for a full house and two pair and are higher for a straight flush, a standard flush, and four of a kind.
The differences in the pay scales make it a lot more profitable to go for four of a kind over two pair for example.  Going for a straight is also more profitable in this variation than in others.  Holding two pair may not be sound strategy as the payout for three of a kind is three times higher.  Still, most analysts say to hold two pair and hope for a full house.
As is standard in all video poker games, the payout for a Royal Flush carries a large extra bonus if you've bet the maximum on that hand so we always urge players to bet the maximum.  Royal Flushes are rare but they do happen and it pays to go for them in certain situations.  If your bankroll doesn't allow you to bet the maximum, then you never need to go for the Royal Flush.
Here is a quick rundown of the basic strategy after the obvious ones of holding a Royal Flush, straight flush, standard flush and so on.
If you have little else, it's okay to go for an inside straight.  Remember, straights pay off a lot more in All American Poker than in most other video poker variations.
Given the extra payout for a straight, there are more reasons to go for a straight than a simple winning pair.  The pair pays one coin whilst the straight pays eight coins.  That is a huge difference in a game where the house margin is about 1%.
You'll go for a flush more often than in other variations but keep in mind that a flush and a straight pay the same in this game even though statistically a flush is harder to get.   So you'll often not go for a flush if you have a better chance to get a straight.
The same analysis applies to a full house.  It pays the same as a flush or a straight so there is little statistical reason to go for a full house if a flush or straight is possible. 
Four of a kind pays a lot more in this video poker game than in most others so there is a financial and statistical reason to shoot for four of a kind in some situations.
Joker Poker
In this excellent video poker variation, you really have to look at the pay scale before you begin playing.  The single joker in the deck makes a huge difference in payouts and strategy.
The joker is a wild card so it helps you make so many winning hands in Joker Poker that the minimum winning hand is Kings or better.  That means that queens and jacks are no more valuable than tens or less in Jacks or Better.  To compensate for that, Joker Poker gives you a giant 10,000 coin bonus for a sequential Royal Flush. 
A regular Royal Flush without the joker pays the same as in every other video poker variation.  You can also get a Royal Flush with the joker and that pays 400 coins with a maximum bet.
In this game, you can get five of a kind.  That is the third highest hand and pays 750 coins with a maximum bet.
Because of the joker, straights are a lot more common so the pay scale for them is much lower than in All American Poker.  That means that you'll go for a straight a lot less in this variation than in others.  Instead, you'll go for a full house and four of a kind.  If you're dealt three of a kind, you have twice the chances of getting four of a kind in this game than in a video poker game without a wild card.
Let's say that you were dealt two queens.  You don't have a winning hand yet but you keep the pair because you could get three of a kind or better and the joker increases you chances of getting three of a kind by one third.  However, if you have four to a flush, you might choose to give up the pair.
The wild card and the much different pay scale that it creates make a big difference in the way you approach continuing after the deal.
Learning the Video Poker Variations
We cannot stress this point enough: in order to close the gap with the house, you need to know the games very well.  Keep in mind that the house edge in video poker is less than 1%.  We offer unlimited free play in all our games here at Springbok.  So, play for free and see how much fun and excitement you can generate with our large collection of video poker games.