What Should I Think about Before Playing Blackjack?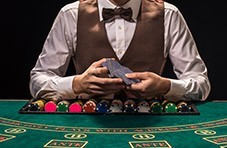 In this blackjack tips article, we're going to give you some pointers that you can use here at Springbok, your top online casino for South Africa and also for when you go to a land based casino to play.  You see, as much as we feel that there are many more advantages to playing online here at Springbok Casino, we also know that even our most loyal gamers go from time to time to play in a land based casino.
So, you can use theses nuggets of advice both here and "there".
Walk Around the Casino
Of course, you can't literally walk around an online casino.  We give you a no deposit bonus when you join and also allow unlimited free play so that you can use both of these platforms to figuratively "walk around" our casino.
At any land based casino, there is so much visual and audio stimulation that we feel that you would be putting yourself at a disadvantage if you simply sat down at a blackjack table with an open seat.  There are possibly many different types of blackjack games going on.  Take some time to walk around and learn the variations being offered before sitting down to play.
One big difference at land based casinos is the minimum bet.  At Springbok, you can bet as little or as much as you like but at land based casinos, you might find that the only available seat is at a table with a minimum that is too high for your bankroll.
Know the Rules
It's also very important to know the rules governing each game offered.  For example, there are some variations that give you a slight advantage but even a slight advantage is worth pursuing.   The four prominent variations are doubling at any time; doubling after splitting; late surrender; and being allowed to split aces again.  These don't come up often but when they do it's to your advantage to be playing at a table that allows them.
The opposite side of the coin is that the house employs several techniques that increase its advantage.  One of these is automatic reshuffling.  You can't count cards if the deck is constantly getting reshuffled.  As the number of decks increases, the better the house advantage is.
Another is allowing the dealer to hit on soft 17.  This gives the house another strong advantage as 17 is very often a losing total for the house so by hitting on soft 17 the house gives itself the chance to win in losing situations.
Finally, whilst most tables pay 3-2 for blackjack, some might pay less.  The 3-2 payout for blackjack is a big plus for players.
If you are at a casino that has several of these disadvantages in their blackjack games, either wait for a table with better options or play a different game.  We recommend video poker but be sure to play at a 9-6 terminal and always bet the maximum at video poker.
Use Strategy Cards
There are strategy cards for every variation and some include the types of options variants we discussed above.  Many land based casinos don't like when players use strategy cards.  First, the casinos know that strategy cards help players win.  Secondly, they definitely do slow down the game.  Other players don't like the slow play so they might leave to a different table or leave the casino altogether.
Here at Springbok Casino, we encourage you to play our many blackjack games using a strategy card.
Take Advantage of All Bonuses
At Springbok, we offer many deposit bonuses.  Land based casinos can't compete with online casinos on deposit bonuses because players stay at a land based casino for only one or two days usually.  So land based casinos offer other bonuses like meals, drinks, rooms in the hotel, and so on.
At a land based casino you have to ask to get a player card which records your action and gives you points toward benefits.  Here at Springbok, we automatically register you into the Loyalty Club where you get comp points.
So, when you go to a land based casino, make sure that you get a player card.
Try to Avoid Getting Too Emotional
At an online casino, you might get emotional when you win or when you lose.  At a land based casino you might also get emotional by the behavior or speech of someone else at the table.
When someone else at the table bothers you, we urge you to simply leave the table.  This points to one of the biggest disadvantages of some land based casinos.  Some land based casinos are the only casinos in town.  In Las Vegas, the next casino might be a couple of hundred meters away but in many places there is only one casino.
Nevertheless, it's vitally important to keep your cool even when someone else at the table is drunk, or obnoxious, or rude.
Avoid Overbetting
This is something that happens when a player is having bad luck.  If you're having bad luck at home on your mobile device, you can close the session and come back to the game later or the next day or whenever.  When you have travelled to a land based casino and taken a room in the hotel, it's a lot harder to get up from the table during a losing streak. 
Overbetting is a phenomenon we see very often in land based casinos.   It's another of the big disadvantages of gaming at a land based casino: they tend to encourage overbetting.
Keep a Clear Head
A land based casino will do anything it can to muddle your thoughts.  One way, of course, is whisky.  There are many other ways.  Casinos encourage women to dress provocatively.  This certainly distracts most men.  The casinos have no clocks or windows so you don't kinow what time it is or if it's day or night.  That encourages you to underestimate the amount of time you've been playing and encourages you to play when you're tired.
Some blackjack players at land based casinos take pride in playing until very late at night, sleeping for just a few hours, and then getting back to the blackjack table.  This set of behaviors might not cause you to lose more than you should on the first day but it almost always causes players to lose more than they should on the second day.
At Springbok, most of our blackjack players close a session when it gets to the time that they should close a session.  And then they come back to play when they are fresh and refreshed.