Cheating or Staying Solvent? UK Bookies Confront the Government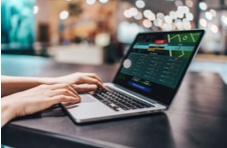 Big bookmakers in the UK including online casino operators William Hill, Betfred and Paddy Powers think that they've found a way to offset new no deposit casino bonus rules that limit wagers on fixed odds betting machines. Up until March of 2019, the limit on bets was £100 on the Fixed Odds Betting Terminals. That high limit led to intense criticism that the machines, which can accept several bets per minute, were causing people to lose too much money too fast. Now the highest legal bet on such machines is £2 which is causing mayhem in the industry.
Preparation
Bookkeepers have been bracing for the curbs on the FOBTs for months. They have been warning that reducing FOBT stakes to £2 would trigger store closures and job losses. They warned that thousands of shops could close which would cause tens of thousands of jobs. FOBTs are a major source of income for the bookies in the UK. Now they are considering ways to beef up other aspects of their businesses to counteract the tremendous losses that they expect from the new FOBT guidelines.
Roulette Machines
One controversial strategy involves the introduction of a new roulette-style machine where bets can go quite high – up to £500. Critics say that this simply takes players back into the realm of high bets on fast-moving machines while the bookies retort that they are economically dependent on such fast-moving betting games.
As soon as the new guidelines on the FOBTs hit PADDY Power and Betfred introduced – and then quickly removed – their new roulette style games. The games came under intense criticism from the regulator and MPs but the bookmakers say that they might bright them back in the near future. The games, called Pick "n" 36 and Virtual Cycling are, the game operators say, a more interactive and entertaining roulette variation. Critics say that these games are simply designed to circumvent the rules that were designed to minimize the risk of people losing large amounts of cash in a short space of time. 
Betfred's Virtual Cycling game allows gamblers to place bets on when a cyclist, traveling around a track, will be overtaken by competitors. The graphics are similar to those of a roulette table but the bets are placed at the counter and not through a machine. One of the major criticisms of the game involves the maximum stake which is £500 -- five times what was allowable on the now-banned FOBT games.
In the Paddy Power Pick "n" 36 game, players bet on numbers between one and 36, like a roulette game, with the maximum possible stake of £100.
William Hill is also considering launching a similar game but hasn't yet done so.
Betfred said that they've taken down Virtual Cycling for now and will determine what steps to take after further discussion with the Gambling Commission."
Paddy Power said: "This game was introduced as part of a short trial in a selection of shops. The trial was ceased within 24 hours of commencement and this product will not be launched across our estate."
The bookmakers point out that the games are different than the FOBTs and other machine games since customers place their bets over the counter. Therefore, they say, such games shouldn't fall under the restrictions on the FOBTs.
Impact
Meanwhile, the impact of the £2 stake on FOBTs has been noticeable in the bookie shops but it hasn't been devastating. Most bookmakers are taking a watch-and-see approach, hoping that players will simply navigate to other gaming options.
One William Hill employee described the new atmosphere. "We've lost a bit of business but it's not been too bad.  You'd be surprised how some people kick off. They're saying 'I lost all my money last week and now you're stopping me winning it back'. That doesn't make sense to me. If you lost your money, you lost your money."
Paddy Power seems to be better prepared to cope with the lowered limits on FOBTs than the other operators. Their business plan has focused on traditional sports betting rather than opening stores in local "clusters" where rules that limited the numbers of FOBTs per shop to four were circumvented.  
One of Paddy Power's shops even features a sign informing bettors of the "new and exciting" £2 roulette game.
Alternatives
The FOBT machines had been big moneymakers for the bookie operators. Now the bookies need to consider alternatives to the traditional FOBTs that allow them to achieve their previous £3.2bn annual revenue. One way to bridge the gap is to divert players towards alternative gambling games. In fact, as the bookmakers decide which employees to keep on staff, they are examining how successful the employees are at convincing the players to turn to different games.
The roulette option is a popular one at Betfred wherein one such roulette-style game alternatives players put up to £2 of their own money. Then they can place a further wager of up to £28 in virtual chips on the digital roulette table. The machine can stake all £30 of those chips, both virtual and real. Maximum prize is £500.  The odds still favour the house --it takes all of two minutes to lose £20.
Oversight
The Gambling Commission is warning that, now that FOBTs are out of the way, it will be "looking closely at player protection on other high street machines" as well as at the online casinos.
Shadow culture minister Tom Watson, a long-time critic of the gaming machines, described the new roulette-style games as "FOBTs through the back door".
Richard Watson, executive director for enforcement at the Gaming Commission, said: "We have been absolutely clear with operators about our expectations to act responsibly following the stake cut implementation this week. We have told operators to take down new products which undermine the changes, and we will investigate any other products that are not within the spirit and intention of the new rules.''
Tracey Crouch who has been a leading campaigner to cut FOBT stakes. Said that any attempt to circumvent changes to the maximum stakes "would be morally irresponsible."