Online Casino Tips: How to Play Roulette and Win ZAR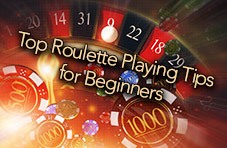 Roulette is a timeless casino classic that involves wagering on where the ball will land on a spinning wheel.  It's one of those casino games that evokes images of luxury, wealth and stylishly dressed players clustered around piles of brightly coloured casino chips.
What's unique about roulette is the number of different bet types available on every spin - some with much higher odds of winning than others.
What this means is as a player you have a choice.  You can opt for the high risk bets that have the lowest probability of winning but when they do, the payouts are pretty impressive.  Or you can play it safe and go for low risk wagers where wins are frequent but the real money returns are nominal in value.
Before you randomly throw chips down on the table it's essential to learn a bit more about roulette.  Knowing which bets are the most lucrative and which variations have the lowest house edge can make all the difference to your overall win rate. 
If you intend playing roulette at Springbok - which is the best online casino for South Africa by far - we suggest you read a few tips that'll help you build a bankroll… rather than going bust!
Understand the Bet Types  
Wagers on online roulette are divided into two categories - inside bets and outside bets.  Inside bets are those which have the lowest probability of winning.
Although there are more creative variations of roulette online that do offer additional inside and outside wagers, in the classic forms of the game there are traditionally six types of inside bet:
Straight up - betting on one number
Split - betting on two contiguous numbers
Street - betting on three consecutive numbers in a row
Corner - betting on four adjoining numbers arranged in a square on the layout
Trio - betting on 0-1-2 or 00-2-3
Six time - betting on consecutive numbers in a row
To inexperienced players the inside bets with their attractively high payouts may seem irresistible.  However, when you consider the low probability of hitting the inside combinations, these types of wagers are not recommended.  It's a high risk and reward strategy that can quickly deplete the available funds in your online casino account.
Outside bets are also known as even money bets as they pay out at a rate of 1:1.  These are the wagers with the best odds of winning.  Unlike inside bets where you wager on the likelihood of the ball landing on one up to six adjoining numbers, outside bets are those that pay out when the ball lands on red or black, odds or evens, groups of 12 numbers or a numerical column on the layout.
Tip: Place low risk low reward inside bets.
Play the Online Roulette Variant with the Lowest House Edge  
As with most casino games online, there are dozens of different variations of roulette.  Some are creative renditions of the classic game but with side bets and bonus payouts.  You'll find games like Multi-wheel roulette, Speed roulette, Roulette Royal, Double Ball roulette and even Marvel roulette.
Although these games may appear exciting, the truth is the monetary advantage to the house is much higher.  In other words, when you wager on these types of bonus games the casino takes a much larger percentage of the bets… and that leaves less cash to share around as winnings.
What are the variations of roulette with the lowest house edge?  European roulette should be one of two roulette games you focus on.  Unlike American roulette that has two zeros in play and a house edge of 5.25%, the European version only has a single 0 on the wheel.  That fact alone means it has a house edge of around 2.7% and an associated return to player of 97.3%.
The other game that offers the highest payout rate of all is French roulette.  It's an exact replica of the European version but with two special rules that can be beneficial to players - the La Partage and En Prison rules.
A combination of these rules and one zero means French roulette has an average house edge of just 1.34% on even money bets and 2.78% on inside bets.
Tip: play French roulette for the best return to player.
Exploit the La Partage and En Prison Rules in French Roulette
We now know inside bets are the smart way to wager and French roulette offers the highest payout rate to players.  The reason for this is that the French version of the game traditionally has one or two special rules in play.  These rules are known as the La Partage and En Prison rules and only ever apply to even money or inside bets.
The La Partage rule states that if you make an even money bet and the ball lands on zero, you'll automatically get half your wager back.  The En Prison rule, on the other hand, imprisons your stake on the layout until after the next spin.  If the ball lands on zero again you'll lose your bet but if it lands anywhere else, your stake is returned to you in full.
Tip: Play roulette games with the En Prison rule in-play.
Find a Roulette Bonus   
Another way to maximise your chances of winning real money at an online casino is to find a roulette bonus. These types of bonuses are usually in the form of conventional match deposit offers where the casino matches a percentage of your cash deposit by up to a certain amount.
What's key is that you can use the bonus to fund your inside bets on different variations of roulette.  In some rare cases, your roulette wagers may even count towards the bonus playthrough.
Tip: Play European or French roulette with free cash released by the casino.
Beware the Roulette Betting Systems   
As with most skill-based casino games, you'll come across all sorts of roulette strategies and betting systems that are meant to increase your win rate.  Some advocate wagering your way out of a protracted losing streak.  Others are based on placing relatively meagre bets when winnings are up. 
Although there may be some value to these systems, roulette is a game of chance.  Along with applying the tips above, you need an element of luck in order to hit the winning numbers.  Even intricate strategies based on mathematical equations like the Martingale Strategy and the much-vaunted Reverse Martingale Strategy have not proved to be effective online. 
It's worth remembering the results of all online casino games are generated by software that uses complex algorithms to create random sets of numbers.  As a result, it's highly unlikely - even impossible - for any betting system to correctly predict the outcome a Random Number Generator will provide.
Tip: Avoid implementing roulette betting systems and strategies online.
Now that you've got a better idea of how best to play roulette, why not sign up at the best online casino for South Africa.  At Springbok casino you'll find the recommended low house edge variations - European roulette and French roulette - along with their more racy American counterpart!