Playing Live Roulette Online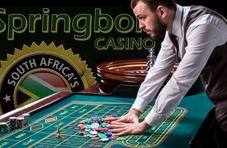 You don't have to travel to a land-based casino in order to enjoy a game of roulette with lucrative Springbok Casino no deposit bonus codes. You can open the online casino on your PC or mobile device and compete against a live dealer at any time and from any location.
Live Roulette
Live roulette is an online game of roulette where you play roulette with a real dealer. Live roulette differs from video roulette in that you aren't competing against a machine – you're playing against a real live dealer with whom you can chat while you watch as she spins the wheel, tosses in the ball, declares the results and pays out the wins.
Live Roulette is a real money-only game. There's no free live roulette – you must make wagers to play (though you can observe for free). 
Live Roulette is made possible via 21st century live streaming software. You'll see a live video feed of the dealer and watch the other participants who are tuning in from various parts of the world. The atmosphere is that of a real casino but you have the advantage that, as you play, you're sitting at home in your own easy chair.
When
Not all online casinos run their live games 24/7 - but Springbok does.  Just download the casino and you're on your way to live roulette fun.
In other casinos you'll need to check the schedule to ascertain on which day and at which time the live roulette option will be offered. So, obviously, Springbok is the casino of choice for live roulette with the mood strikes.
Convenience
It's true that playing online is different from playing at a brick and mortar casino. Some people prefer the online action while others find that they most enjoy the land-based choice. But there are definite advantages to playing on an online platform, regardless of whether you are playing a video roulette machine or playing with a live dealer.
Obviously, convenience is a major benefit of online play. You can open your PC or mobile device and play live roulette (or any of the other live casino games) at your leisure. Live roulette is accessible on mobile so you can join in a game or two while you're traveling on the train, waiting for your appointment or lounging in bed before you go to sleep. 
You can also play against a video roulette machine but many players find that the graphics don't offer as good a visual experience, or as interactive an experience, as the live streaming feed.
How to Play Live Roulette
Playing live roulette is relatively simple, once you have opened your casino account. You join a game, either a scheduled game or a pick-up game in which you find an available dealer to play with. Some casinos offer a simple choice of live European Roulette or live American Roulette while others have a wider live roulette game selection – check Springbok's live dealer games lobby to find out which type of roulette your up for today.
Next, you place your bet. The bets are the same as those offered in video roulette games and land-based casino games. That means that you can select any one of the chancier inside bets or one of the less-risky outside bets that are featured in other casino environments.
Remember, in a regular online game there isn't any time-frame but with live roulette, if you're playing a game in which other players are involved, the wheel will spin at a certain time. The dealer will announce how long players have to place bets. You can make your bet in the allotted time or you can just sit in a round or two and watch without betting.
Throughout the whole play, the dealer will be keeping everyone on track -- when the betting opens, when the betting closes, when the wheel will spin, etc. As soon as the dealer announces the spin you'll see the wheel whirl. When the final result is determined, the dealer will pay out the wins.
No Limit Tables
In the last 20 years, many casino enthusiasts have migrated to the online casino to play roulette because the online casino offers no limit betting. That means that, not only can you bet as much as you want, but you can bet as little as you want.
Whereas brick-and-mortar casinos almost always have table limits – if you don't make a minimum bet, you can't participate – the live dealer roulette at the online casino offers no-limit play. You can make a large bet or a small one, according to what works best for your individual gaming budget and preferences.
The Live Roulette gaming option is open to all.