Roulette Online Casino Games Bonus Give-Aways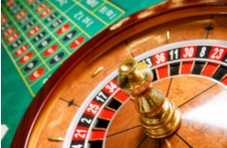 Roulette players at the Springbok online casino can enjoy a wide range of bonus offers that make roulette one of the casino's most exciting and engaging online casino games.  
Roulette
Regardless of whether you play roulette when you're on the go, during a work break or while you wind down before you go to sleep, you will almost certainly have noticed that roulette is one of the online casino's most entertaining game options. You can play with a friend, family member, co-worker or against a new gaming friend from across the world.
Roulette is the perfect game to introduce to a gaming night where dozens of players can compete against one another. Alternately, you can play in the quiet of your own living room against an online live dealer or on a roulette machine against yourself.
You might be focusing on the real money prizes when you play roulette, or perhaps you simply wish to enjoy some fun-filled competition.  The casino's roulette bonuses will add an additional layer of entertainment to any gaming event.
What is a Roulette Bonus?
Casinos add bonuses to the roulette games to encourage you to play their roulette. There are hundreds of online casino sites and the competition between them is fierce. That's good news for the player who can, with a little research, find the casino that offers the best bonus give-aways to make the game more lucrative than ever. 
Gamers can find the information about the casino bonuses on the "Promotions" or "Bonuses" webpage of the casino's website.  The site will give a full overview of the various bonuses that are available.  That way, each player can determine for him or herself the casino at which is it the most worthwhile to play.
The bonus payouts are added on to regular game payouts.  So in addition to a regular roulette payout, you can add a bonus payout and double or even triple your original win. 
Changes
Roulette bonus offers can change. In the same way that stores have sales to make it advantageous to buy certain items at certain times of the year, casinos offer bonus deals at times that make it financially feasible to give a deal.
Many of the casino's roulette bonuses are given for players who play roulette at specific times of the day or days of the week.  Those are, generally, "slow" times for the casino.  So it makes sense for the casino to offer extra bonuses at those days and times in order to entice players into the casino. If the casinos bring players into the casino at those slow times, they'll fill in the periods at which the casino would, otherwise, be operating on less-than-full capacity, allowing them to earn more money at a time that they might not be able to earn any money at all.  It's  a win-win situation for everyone.  
Types of Roulette Bonuses
Springbok offers a wide range of roulette bonuses. Some of the most frequently featured bonuses include:
Welcome Bonus
The welcome bonuses offers new players money, in the form of casino credits, cash and points, so that they can play their games for free during their initial visits to the casino (usually on their first three or four visits during their first week of casino gambling. Some of the Welcome Bonuses are small while others  can reach into the thousands.
Basically, you receive match credits on the credits that you deposit, so you end up playing half of your games for free with no additional deposit requirements.  Then, you actually collect the wins on those free credit plays. 
Comp Points
The longer you play at the casino, the more comp points you'll accrue.  These points accumulate over time. When you're ready to use them, you will have them waiting to play roulette or any other casino game at your leisure.
Time Bonuses
The casino features a number of time-related bonuses that are designed to bring people into the casino.
These bonuses are often the most lucrative of all.  There are bonuses for games played at specific times of the day, on specific days of the week, at low times of the weekend and so on.  Basically, you'll be able to play more roulette for more time without adding more bets.
Playing with bonus credits, cash and points is the best way to maximize your roulette event and get the most out of your gambling budget.