5 Ways to Play Roulette & WIN at the Best New Zealand Online Casino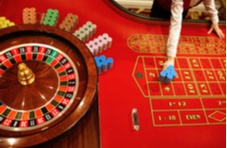 Roulette is a quintessential casino game.  It instantly evokes images of elegantly dressed punters throwing the dice down the length of table and scooping up armfuls of chips when their numbers come up. 
At the best New Zealand online casino, we have replicated the passion, pizazz and prodigious wins that define roulette and rolled it out remotely on your desktop, laptop, tablet and phone.  Now you can enhance your odds of winning real money playing online roulette right here and right now.
How can you improve the odds when we all know roulette is a game of chance?  The results are random after all… or are they?  Here are a few pointers that will ensure you win more bets than you lose when you play the numbers game at Springbok.
1.  Always Play the Best Variant of Online Roulette
As a seasoned gambler you will know there are three different types of roulette - American Roulette, European Roulette and French Roulette. 
European and French Roulette are exactly the same with the exception of a few rules - the so-called La Partage and En Prison rules.  These games are played on single zero wheels with 37 numbers.  American Roulette is a double zero game with 38 numbers. 
As a result, the odds of winning are longer in American Roulette.  There is also a marked difference in the house edge - the percentage of all the wagers retained by the casino as profits.  The American version has an edge of 5,26 percent compared to just 2,78 percent for European and French Roulette.
What does that tell you?
If you want to win money playing roulette at our New Zealand online casino the only variant on your radar should be the European or French versions. 
As we do not offer the French variant at our instant play or mobile casino, European Roulette has to be your number one choice!
2.  Understand the Odds in Online Roulette
In roulette, winning bets are paid out at different odds.  These odds are a reflection of the win probability.  Even money bets that pay out at odds of 1:1 are obviously a lot more likely to win than bets with odds of 35:1.
The even money bets are the outside bets located on the outer edge of one side of the layout.  They are bets on numbers 1 to 18, numbers 19 to 36, odd or even and red and black.  As you progress towards the centre of the layout the odds get progressively higher. 
The rows and 1st, 2nd and 3rd 12 numbers pay out at 2:1; a square of four numbers pays at 8:1, two adjacent numbers pay winnings at 17:1 and a single number pays out at odds of 35:1.
By understanding the odds properly, you will know exactly how the game pays and which bets you want to make based on your individual appetite for risk. 
As the even money bets have the best chance of winning at our New Zealand online casino, a good strategy is to always play the outside bets in roulette.  It may take a little time to build up your bankroll but you will build a positive balance nonetheless.
3.  Hedge Your Bets
Online roulette is one of the few casino games where you can make multiple bets on each spin of the wheel.  There is also no limit to the types of bets you can place.  That means you can play a whole range of bets - black, odds, first 12 numbers, a row or a column and a specific number.
If you win the numbers bet you will be over the moon as it pays out at the highest 35:1 odds.  If you don't, the likelihood is you will win at least one bet - or possibly more - thereby recouping some of your losses on the other bets.
A sound strategy to employ at our New Zealand online casino is to take the combination bets on two, four or more contiguous numbers on the layout.  Combination bets have a far better chance of winning and they pay out at much higher odds than the outside bets.
4.  Try a Roulette Betting System
We already know there is no optimal strategy that can sway the odds in your favour.  However, there are plenty of players who swear by online roulette betting systems.
Some players double up their bets when they lose, others halve their bets and only revert to the original wagers when they start winning again.  Although there is no empirical evidence that proves the systems actually work, there is no harm in trying.
The good news is you can experiment with one or two betting systems without any risk at all.  At Springbok New Zealand Online Casino all our casino games - including American and European Roulette - are instantly available in the free play mode.
What's even more amazing is you do not even have to be a signed up member to enjoy the thrills and spills of our games.  However, if you want to capitalise on the heaps of cash that is available in all the games in the real money mode, you do have to register a New Zealand online casino account right here at Springbok!
Why not try your hand at online roulette right now?  Simply visit the instant play casino lobby, click on the 'Speciality' tab and activate the game by hitting the white arrow on the thumbnail.
5.  Stay off the Booze and Gamble Responsibly
Roulette may be a game of chance but it does require your full concentration.  Gambling when you have a had a few alcoholic beverages is not a smart idea.  You simply do not have the wherewithal to make the right decisions.
When you are even a little bit tipsy it may seem like a great idea to bet on one or two 'lucky' numbers with the highest available chip value - but we all know that's the easiest way of blowing your bankroll!
The only real winners at the online casino are the players who gamble responsibly.  That means managing your gambling spend, limiting the time you spend at the tables and never ever wagering with money you cannot afford to lose.
When you play online roulette at Springbok New Zealand Online Casino with these tips in mind there is a better than even chance your betting bankroll in ZAR will swell and swell!