Turning Roulette Physical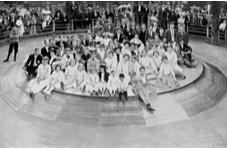 The Human Roulette Wheel has been featured at fairs and festivals since 1910.  The Teufelsrad wheel, often called a "Joy Wheel" or a "Devil's Wheel," gives roulette enthusiasts a chance to turn a game of roulette into a physical manifestation of entertaining thrills for online casino South Africa enthusiasts and others.
The Human Wheel
The Human Roulette Wheel, which has been a highlight of the famous Oktoberfest for more than 100 years, is a rotating circular platform. Riders sit or lie on the platform and the wheel spins slowly, increasing its speed in increments as riders slide off.  Spectators stand around the platform as the announcer provides commentary and everyone waits to see which participant will be the last one holding on.
The walls surrounding the platform are cushioned to minimize injuries but every once in a while, someone gets hurt through collisions between participants and spectators or collisions between multiple participants. Sometimes the platform's operator slows the wheel down so participants can re-position themselves towards the center.
Parties and Private Events
The Devil's Wheel, which was a favorite at Coney Island for many years, can also be set up at private events. These involve smaller wheels with only one rider on the wheel at a time. Organizations that are running betting contests often bring in a Human Roulette Wheel and allow wagering on into which of the numbered slots the rider will fall.  The wheel works on a mechanical motion base, similar to those that control mechanical bulls.
At such events, one participant at a time either sits or lays flat on the padded roulette wheel.  The machine spins the rider around in ever-faster spins.  When the participant gets dislodged from the wheel, s/he falls off into one of the numbered slots.  Each slot has an inflatable mattress to prevent the participants from getting hurt in their fall.
Before the rider falls, observers are encouraged to "place their bets" as they wager on into which numbered pocket the rider is going to fall. The betting table can be as elaborate as that found in a regular roulette game or it can be a simple bet on the numbered pocket into which the rider is predicted to fall. Bets can be taken vocally or with casino chips.
Oktoberfest
The annual Oktoberfest, traditionally held in Munich from the last Saturday in September to the first Sunday of October, has the biggest human roulette wheel in the world.  The 2019 Oktoberfest was the 186th and involved more than a dozen women, wearing traditional Bavarian dress.  
Some of the women are amateurs while others are pros with years of experience. As the minutes tick by, speed and obstacles – swinging balls and lassos -- are introduced to increase the challenge. The last person left in the middle of the turntable becomes the Teufelsrad Königin.
The Oktoberfest Human Roulette wheel has different rounds for each demographic including contests for men, women and children.