Double Zero Roulette on the Road to Success in the UK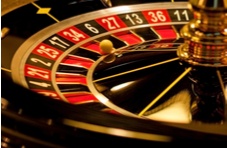 This article is a bit different as we're going to deal with what's happening out there, in the physical bookie shops (shoppes?) in the UK.  As exciting as it may be, we suggest it's still more fun to login right here at Springbok and take advantage of our amazing Springbok Casino no deposit bonus codes - because...what's better than no deposit bonuses???
But back to the UK, for now....Chisholm Bookmakers has launched a game of double zero roulette in its bookie shops. The introduction of the roulette game is aimed at mitigating the loss in revenue that occurred after the British government reduced max stakes on fixed odds betting terminals.
The new rule, to reduce maximum bets at FOTBs, was set in place in April 2019. According to the new law, maximum stakes on FOBTs (fixed odds betting terminals) can now not exceed £2. (prior to the law, maximum bets could reach up to £100.  Chisholm, one of several independent bookies, saw roulette turnover drop by 15% while net profit rose by 70%.
Chisholm said, "When roulette was a B2 game with £100 per spin maximum, the game probably accounted for over half of all gaming machine income. This was due to the size of stakes that could be played, the game was offered in a single zero format. Yet, since the government ruling came in on 1 April, B2 games have become unviable and so roulette is now offered as a category B3 game. Serious roulette players have, therefore, left the betting shop for online or land based casinos where stakes are higher."
Gaming Standards
In the UK, B1 machines are available only in casinos that operate with a 2005 act casino operating license or a 1968 Act casino operating license. B1 machines must display the "theoretical target percentage return to player" – the RTP and that value must be verified by either an accredited test lab or by the manufacturer.
B2 machines are available only in casinos, betting shops or at tracks with pool betting. As with the B1 machines, the B2 machines must display the RTP, as confirmed by the manufacturer or by an independent testing lab.
B3 machines are only available in casinos, tracks with pool betting, betting shops bingo halls or adult gaming centres.  A betting shop may place a number of B3 machines in the shop that does not exceedg 20% of the total number of gaming machines which are available for use on the premise. Whereas maximum bets on B2 machines can be as high as £100, maximum bets on B3 machines are £2.
Chisholm explained that "Consequently, the proportion of income generated by roulette games in a betting shop has dropped substantially. It is now probably between 10 and 20% of gaming machine income."
Raised Margin
Chisholm's major concern is whether roulette gamers could play the game in the shop with a 5.4 percent margin. "Slots games available on B3 generally run at margins of between 7 and 12%," Chisholm noted. "However the margin of single zero roulette is only 2.7%; this is small in comparison to slots. Introducing double zero roulette with a margin of 5.4% takes it closer to slots but still represents good value against slots for the customer."
"It appears that the leisure players that are now playing roulette in betting shops are not as price sensitive as bookmakers might think," Chisholm concluded, noting that turnover had dropped only by 15%. "Yet, this should be taken into context. A 70% increase in roulette income only represents an increase in gaming machine income of between 7 and 14%. This is compared to a more than 30% drop in gaming machine income that has occurred since the change to B2 stakes on 1 April.  So, as I said at the Trade Fair, it is a small but definite improvement to gaming machine income."
"The concern that most bookmakers have is that doubling the margin on a game should, in theory, half the turnover as customers will, on average, be losing their money twice as quickly – i.e. if margin doubles and turnover halves then gross win says the same."
Curbs on FOTBs Driving Players to Roulette
Another FOTB operator said that curbs on fixed odds betting terminals have put independent bookmakers under tremendous pressure. As soon as the maximum stake on FOTBs was reduced from £100 to £2, the gross win of bookmakers on the machines fell by over 40%.
Over the counter bets saw an increase and Chisholm CEO Harry Chisholm has  indicated that, in addition to the double zero roulette, he may expand virtual racing in his shops.
"This would seem logical since the gaming machine customer looking to bet in amounts more than would buy a large packet of crisps is going to look for a similar product that is engaging and entertaining….virtual racing fulfils that requirement."
A different form of high-betting roulette games was introduced in some shops – though not in Chisholms --  after the ban on high-bet FOBTs was first introduced in April 2019. They were quickly withdrawn following a warning from the Gambling Commission.