5 Steps to a Winning Roulette Experience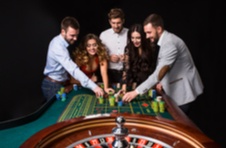 Think of yourself as an online slots player?  Well, read on....you just might find a new game.
Roulette is one of the oldest casino games. It's history traces back to the early 18th century when it was a favourite of royalty and high society casino goers. Over the centuries professional roulette players, observers, and other punters have had numerous chances to analyze the game and develop tactics for maximizing their chances to win.
Winning at roulette is heavily dependent on Lady Luck but it's not totally a luck-based game. Gamers can play around with the odds so that they enjoy more opportunities to achieve wins.
What do you need to do to win at roulette:
Casino
Find a reputable casino - ahem....Springbok Casino - that provides you with a safe and secure gambling environment in which to play.  Our casino is licensed and supervised by relevant supervisory bodies overseeing the management of the casino.
In the case of a land-based casino, the Gaming Board of the state in which the casino is located should be overseeing the casino's activities.  Our casino is authorized and regulated by the Government of Curacao.  In the case of a player dispute, we work with the CDC to work out he issue.
If you were to try another casino without certification of a regulatory agency, you might never see your winnings. Another danger is that you could have your personal information (including your payment information) used in a way that you didn't want or even passed on to a third party.  Playing at a casino that isn't regulated gives you no recourse in case of a dispute. 
In short, stick with us - Springbok.
European vs. American Roulette
There are two main types of roulette, European and American. Savvy roulette  players always look for the European roulette wheel which gives the house a lower house edge than it gives in the American roulette game.  
Simply put, the European roulette wheel has one zero pocket. The American roulette wheel has two 0 pockets, a single-zero and a double zero pocket.  That extra pocket increases the house edge from 2.70% to 5.36% .  That's because you have a higher chance to land a winning combination in a European roulette game. (If you're lucky enough to find a French Roulette table  the house edge drops even further, to 1.35%, thanks to the inclusion of En Prison and La Partage rules that apply to even money bets.)
Free
Always begin your gaming session with some free play. When you play you can practice your game and your betting strategies with no cash commitment. The casino's Free Mode features roulette sets that are made with fun credits which are used as stakes instead of cash. Free Play rules and requirements are exactly like those used in real money versions so you can practice for as long as you want before playing for real.
The demo games allow you to learn the basics, test gameplay techniques and experiment with different strategies. You don't have to play in the Free Mode for long, just long enough to get into the swing of the game before you play for real.
Outside Bets vs. Inside Bets
There are two types of betting strategies at the roulette betting table, Inside Bets and Outside Bets.  Inside bets carry more of a risk because you're wagering on a smaller group of possible outcomes.  But the payouts on Inside Bets are higher.
Inside bets include (payouts given are for European roulette unless otherwise indicated)
Straight Up Bet is a bet on a single number. Payout is 35 to 1
Split Bet is a bet placed on two adjacent numbers. Payout is 17 to 1.
Street Bet is a bet placed at the end of the row. Payout is 11 to 1.
Corner Bet involves a bet on four numbers at a time instead of three where the wager is placed on the corner at which the four numbers touch each other on the betting table. Payout is 8 to 1.
Five Bet involves the numbers 0, 00, 1, 2 and 3 in which the bet is placed just at the corner next to 0 and 1. Only used on American roulette tables. A winning payout is 6 to 1.
Line Bet involves two rows containing 3 numbers each. Bet is placed right at the end of the two rows, between each other. Payout is 5 to 1.
Outside Bets have less of a risk because they're broader – each bet covers a larger range of possibilities.
Outside bets include (payouts given are for European roulette unless otherwise indicated)
Columns Bet covers the 12 numbers in one of the columns. A winning payout is 2 to 1. Table coverage for European roulette is 32.4% and 31.6% for American roulette.
Dozens Bet allows you to bet 12 numbers – either the "1

st

 12" box, the "2

nd

 12 box" or the 3

rd

 12" box. Winning payouts are 2 to 1. Table coverage for European roulette is 32.4% and for American roulette the table coverage is 31.6%.
Colors Bets includes bets on all of the numbers that are black or all of the numbers that are red. A winning payout is 1 to 1.
Odds/Evens bets are wagers on either all of the odd numbers or all of the even numbers. Winning payouts are 1 to one. Table coverage 48.6% for European roulette and 47.4% for American roulette. Since the 0 and 00 pockets are not part of the even or odd bets, if the ball lands in either of these slots, you don't win.
Highs/ Lows are bets on either all the high or low numbers. Chips are placed either on 1 – 18 or on 19 – 36. A winning payout is 1 to 1. Again, since the 0 and 00 pockets are not part of the even or odd bets, if the ball lands in either of these slots, you don't win.
 Pros suggest that you should lean towards outside  bets over inside bets.  Even though the payouts are lower, the win percentage is higher so in the end, the experts say, there's more chance that you'll come out a winner overall with an outside bet.
Budget
Budgeting your deposits and winning payouts is a piece of advice that is applicable to any casino game but it needs to be emphasized that you must stick to your budget. Losses and wins are a part of any game that is, even partially, based on luck to win.
Don't ever go beyond your gambling budget.  Casino gambling is an entertainment expense and should be regarded as such.  In the same way that you'd budget a night out at a restaurant or concert tickets, you need to budget your casino expenses.
When you do win, hold onto the winnings.  If you start gambling with one hundred dollars and win two hundred, pocket the two hundred and keep gambling with the one hundred.  That way you'll come out ahead.
There's no sure-fire way to win when playing roulette but if you follow these steps, you'll have more of a chance of keeping money in your pocket as well as adding to the original stake.