Online Casinos Increasing Reliance on Mobile Roulette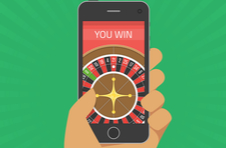 Online casinos, such as Springbok, which were once focused on slots as their biggest draw, are finding that mobile roulette apps are drawing more players, both new gamers and returnees. Roulette is one of the oldest casino games but its staying power is proving as powerful in the 21st century as one of the casino's most popular online casino games as it has been in centuries past. 
Casino Gambling
Gambling has been part of societies around the world, in one form or another, for thousands of years. Archaeologists and anthropologists have discovered sticks, playing boards, dice-like cubes and other gaming tools on every continent that date back to ancient civilizations.
Gambling began to be a more organized activity in the 18th century when European countries gathered multiple gambling games into one room.  These "casinos" drew wealthy socialites and members of European royalty. Casino gambling became even more widespread when the casinos of Las Vegas opened. Vegas casinos aimed to draw casual gamblers and they created an industry that is now a major part of the economies of many countries.
All of these casinos featured roulette, a game that has its roots in 18th century France.  Roulette has always been a popular casino game among all levels of players thanks to its engaging combination of luck and  betting strategies.
Online Casinos
Online casinos have been operating since the 1990s and today they are more popular than ever. Online casinos are safe and convenient online spaces where players can enjoy their favorite gaming activities for free or for real money. 
Roulette has always been a featured game at online casinos and now players have the opportunity to play in the way that suits their individual needs. For roulette enthusiasts who prefer to play on a desktop, there's a download casino where you can download the casino software into your laptop or desktop and play on a big screen. The roulette software downloads together with the rest of the casino and requires no additional effort. 
Mobile users have access to the casino on their mobile device. The introduction of mobile gaming actually caused the biggest jump in roulette gaming because it gave people the chance to play on their own handheld mobile device.  Today, mobile users can open the casino and play at any time and from any location via Wifi or cellular connectivity. 
The mobile casino operates on both Android and Apple devices so all players can sign into a casino account and play roulette at their leisure, regardless of their operating system. The biggest question is how to choose a gaming operator that gives you the kind of roulette experience that you want to enjoy. 
Casino Choice
Competition is fierce when it comes to online Roulette. It's the most popular casino game and casinos that want to attract new players are hard-pressed to make sure that they offer all possible roulette options.  Whereas land-based casinos have more leeway in what they offer, online casinos know that, if they don't give gamers the kind of gaming experience that they want, the player will, with a few clicks of the mouse, move to another online venue.
Therefore, the best online casinos - like our very own Springbok Casino - offer players a choice of European Roulette AND American Roulette. These choices allow each individual to decide whether to play a game with higher or lower odds. Both of the games feature roughly the same betting tables so each player can decide on the betting strategy that suits his/her needs – risky inside bets, less risky outside bets or a combination of both. 
Casino Bonuses
Ultimately, the choice of where to play roulette generally rests with the extra give-aways that make a roulette event turn into a lucrative and rewarding adventure. Online casinos are experts in going the extra mile to make sure that players can win as much as possible.
There are numerous types of roulette bonuses at the online casino including a New Player bonus, VIP clubs for high rollers, loyalty programs and more. The online gaming industry attempts to make Internet gaming profitable for players and operators alike. Thanks to the various give-aways the online casino roulette is attracting younger audiences – something that other types of games are struggling to accomplish.
Future
For all the technology, the game of roulette has remained fairly static for many years. Gaming companies, however, are always looking for the new frontier and the genre of Virtual Reality may bring that new frontier to the game of roulette. 
Gaming designers are already hard at work trying to develop a roulette game for VR. They say that the game is compatible with VR technology and that it's something that dedicated roulette players have wanted for a long time. 
How that may play out remains to be seen but the possibilities are intriguing.