Best Roulette Betting System for the Online Casino South Africa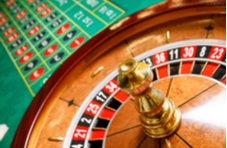 One of the classic real money games you can play right now at Springbok Online Casino South Africa is roulette.  It is a quintessential part of the casino experience and instantly evokes images of well-dressed gamblers cheering on the little black ball as it spins around the wheel.
A Game of Fortune
If you have played roulette at our online casino South Africa, you will be aware that luck plays a major role in the outcome of each betting round – more so than in the skill-based casino games like blackjack, baccarat and poker. 
In truth, there is no real way that you can influence the game results, especially in the virtual gaming environment when every action is completely random.  In other words, there is no roulette strategy per se that you can memorise and adopt in your game play.
Having said that, there are certain tactics that you can employ to improve your win-loss ratio.  In this article we zoom in on a roulette betting system that gives you the best possible chance of banking ZAR.
Popular Roulette Betting Strategies  
Some of the most successful roulette players only focus on the so-called outside bets; the bets that pay out even money - column bets, dozen bets, odd or even, red or black and so on.  It is a relatively low risk strategy that allows bettors to accumulate winnings - slowly but surely. 
Others go for the inside bets that have richer odds but a lower probability of winning.  They generally also double their bets the moment they lose a round.  The idea is to recoup some or all of the losses.
Both these strategies have been known to work but they do tend to concentrate the bets in just one area of the layout.  The ideal would be to spread the bets so as to maximise the probability of hitting at least one winner with every spin of the wheel.
A Betting System That Covers Most of the Inside Layout 

Thanks to a particularly cunning fellow called Kavouras the ideal is now a reality.  He has come up with a rather ingenious roulette betting system that makes maximum use of the layout.  It also clusters the bets on areas of the board that pay out winnings at the sweetest of odds.
How does the so-called Kavouras betting system work at our online casino South Africa?
Well for starters it is a system that is designed for single zero European Roulette.  That is just as well as the European version of the game has a much lower house edge than its American double-zero counterpart.
It is also a multi-bet system that is totally flexible but based on consistency.  Say what?  Well the entire premise of this tactic is to cover as many numbers as possible - any numbers - but to play the same numbers over and over again.
To do that you have to choose 20 contiguous numbers on the inside layout and bet on those numbers using chips valued at either R1 or R2.
In reality you can choose any chip value but we recommend you start off with the smallest denominations until you have a positive balance in the game account.  You can also select your own numbers but it is vital that you cover as much of the inside layout as you can.
A Multi-Bet Sample for European Roulette  
Here's an example of how you should arrange your bets:
Place a R1 chip on zero, 1, 2 and 3 - these numbers pay at odds of 35:1
Place two R1 chips on 31, 32, 33, 34, 35, 36 - they also pay winnings at 35:1
Place a R1 chip on each of following splits - 8 and 11, 13 and 14, 15 and 18, 17 and 20 and 27 and 30 - they pay at odds of 17:1
You can obviously adapt the system by betting on any 20 numbers, provided you stick with the same sequence for at least five to six betting rounds.  That will allow you to assess whether there are numbers that are consistently coming up that you haven't bet on and to make the adjustments accordingly.
Generating Profit Playing European Roulette  
In a 20-round betting session I won R275 and lost R240 on exactly the same numbers and chip values outlined above, giving me a net profit of R35.  That may not make anyone swoon with delight but it does prove that the system can work.
You may not be able to give up your day job when you use the Kavouras betting system but you can extend your gambling sessions and register a profit – albeit a small profit.
Remember there are no hard and fast rules pertaining to the numbers you bet on or the amount of money you wager on each round.  There is also nothing stopping you from swopping your numbers around if and when you hit a losing streak.
That is one of the myriad benefits of playing roulette at our online casino South Africa - you can track the winning and losing numbers at the top right of the screen and modify your bets whenever you want.
Test the Roulette Betting System for Free at Springbok Online Casino South Africa
Thanks to Kavouras, you now have a better understanding of what it takes to enhance your chances of winning a few rand here and there when you play roulette.
Now it is time to put the system to the test and at Springbok Online Casino South Africa all our games - including European Roulette - are available in the fun mode.
That means you can finetune your tactics in a no-risk gaming environment that is, for all intents and purposes, exactly the same as the real deal.
Go on; pick your 20 winners and give our best-ever roulette betting system a shot at the top ranked online casino South Africa… we guarantee you will be pleasantly surprised at the results!