5 Films with Roulette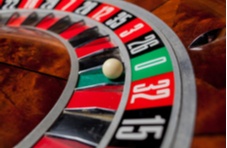 Casinos feature many table games and online casinos feature numerous online casino games. Regardless of whether you're playing on-site or online, the game that always characterizes the casino is roulette.
The image of gamers standing around a roulette table, waiting for the ball to drop, is one that is thought of when thinking about a casino.  Even today, with roulette played online as well as at Vegas casinos, the image of a roulette table continues to define how we think about casino gambling.
Imagery of roulette gambling is often used in film-making to depict a casino atmosphere. Some of the best-known movies that put roulette front and  center include:
California Split
Bill Denny (George Segal) and Charlie Waters (Elliott Gould) love gambling and they set out to find a big score. At the outset, Bill, a magazine writer is not an obsessive gambler but once he hooks up with Charlie, a wisecracking joker and experienced gambler, he starts to get hooked. After the two are wrongfully accused of cheating they start spending more time together.
Bill starts to become addicted and goes into debt to a bookie, eventually hocking his possessions to fund a trip to Reno. Charlie adds his money to Bill's to stake Bill and Bill wins $18,000. Bill convinces himself that he's on a hot streak and wins more and more money playing roulette, blackjack and finally craps.
It's the craps that brings Bill to his senses and after splitting his winnings with Charlie, he goes home, leaving Charlie to continue his adventures at the casino. 
Diamonds Are Forever
Roulette always plays a prominent place in James Bond movies but nowhere more so than in the Diamonds are Forever movie in which agent James Bond pursues Ernest Stavro Biofeld, an evil mastermind who creates Biofeld look-alikes who are sent out to do his nefarious deeds.
Bond is then sent out to find a smuggling ring that is stockpiling and then dumping diamonds in order to depress prices. Bond poses as a professional assassin and smuggler and travels to Amsterdam, picks up Tiffany Case and then travels to Los Vegas with hidden diamonds. 
Bond then goes to a casino-hotel owned by reclusive billionaire Willard Whyte where he instructs Tiffany Case on how to retrieve the diamonds at a second casino. Tiffany rescues the diamonds but Bond is captured and left to die. When he escapes he raids Biofeld's lab where he uncovers Biofeld's plot send a laser satellite into orbit with the goal of destroying the nuclear weapons of the major powers in order to achieve global nuclear supremacy.
Bond identifies Biofeld's base of operations off the coast of Baja, California, Biofeld tries to flee in a submarine but Bond stops him.
Indecent Proposal
David Murphy and Diana Murphy are a young, happily-married couple who have started their respective careers, he as an architect and she as a real estate broker. Diana finds the perfect spot to build David's dream house but they must take out loans to finance it.
When the recession hits they can't keep up with the loan payments and they stand to lose everything they own. They decide to go to Las Vegas to have one shot at winning the money that they need with their last five thousand dollars. Their luck is bad but after they lose their money they are approached by John Gage, a billionaire and high-stakes gambler. Gage offers them a million dollars if he can have a night with Diana.
Diana and David reluctantly agree to get out of their financial dilemma but the test comes after the night – can their love survive the test?
Casablanca
Even movie-goers who have never seen any of the Golden Oldies of the '40s have probably at least heard of Casablanca, the epic story of war, patriotism, love and honor.
The storyline revolves around Rick Blaine, a cynical world-weary ex-patriate who lives in Casablanca where he runs a nightclub. During the early stages of WWII Morocco was under Nazi control but Rick manages to avoid politics in his nightclub and while the Germans aren't happy with his lack of cooperation, they allow Rick the freedom to run the venue as he sees fit. 
Among the visitors to the nightclub are refugees who are seeking to obtain illicit letters that will help them make their way to Lisbon and from there, to America. Two of those refugees are Ilsa and her husband. Ilsa was a former lover of Rick and Rick must put his personal feelings aside to make sure that Ilsa and her husband make the necessary move.
Dirty Rotten Scoundrels
Lawrence Jamieson is a wealthy ex-Brit who lives in Beaumont-sur-Mer on the French Riviera. Jamieson earns most of his money by conning wealthy women. Police Inspector Andre, a corrupt police officer, helps  Jamieson by providing him with intelligence. Jamieson's butler Arthur also gives assistance as Jamieson pulls his scams.   
Jamieson is quietly pulling his cons, including pretending to be a ruler of a foreign country who needs money to free his people, when brash American Freddy Benson arrives in Beaumont-sur-Mer to turn the tables upside down. 
Freddy Benson is also a con man and he has the same targets so Jamieson and Benson find themselves competing to see which of them will have more luck in bleeding the lovely ladies dry. Jamieson tries to get rid of Freddy but his efforts to do so are unsuccessful and in the meantime, Freddy plans to blackmail Jamieson to go to work for him.